After much of Cape Breton's oyster sector closed in 2002, Dr. Sarah Stewart-Clark, an assistant professor in the Department of Animal Science and Aquaculture in Dal's Faculty of Agriculture, was determined to find a way to rebuild this 100-year-old economic and cultural activity.

The sector's closure was the result of a pathogen found in oysters located in the Bras D'Ors Lakes. Known as the Haplosporidium nelsonii parasite (MSX), the disease causes high mortality in oyster populations but has no impact on humans.

"This parasite impacted Cape Breton's wild oyster fishery, oyster aquaculture, and First Nations access to the oyster populations that they have been connected with throughout their history," says Dr. Stewart-Clark. 
Applying specific knowledge to find the best solution

Three years ago, the Aquaculture Association of Nova Scotia brought together a group of stakeholders to help fix the damage the outbreak had caused, look at solutions to prevent it from spreading, and find a way to make the oyster sector in Nova Scotia successful long-term. This included members of the oyster industry and First Nations communities, along with researchers from Dalhousie and Cape Breton Universities.

"Through the Aquaculture Association of Nova Scotia, we are able to use every resource needed in the province in a very efficient method and are working to ensure that the oysters sector is backed up by a connected group of scientific and political funding resources," says Dr. Stewart-Clark.

Dr. Stewart-Clark and her team have been responsible for leading a component of the project that has three different goals:
Discover genetic markers from the oysters that have survived the outbreak in the Bras D'Ors Lake to facilitate the generation of oysters with disease resistance
Help oyster farmers use triploid technology to decrease the time oysters may have come into contact with MSX during the production cycle.
Develop hatchery and nursery SOPs so that the industry is able to have science based data to optimize the production and survival of oyster larvae in hatchery settings.

She believes that this research will be beneficial not only to Nova Scotia, but will be a part of the science conducted to ensure the long-term stability of the oyster fishery and aquaculture sectors all across Atlantic Canada.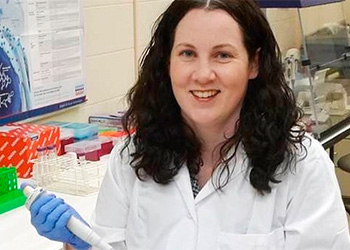 "There is always the possibility that the MSX parasite will eventually spread across Atlantic Canada, and if that occurs, having a resistant strain of oysters would save these sectors from collapse," says Dr. Stewart-Clark.

The project has also had the added benefit of training Dal students, Gillian Tobin Huxley and Ian Sewell, on the science of oyster conditioning, spawning and hatchery rearing.

"Having these trained experts will be critical in the future as the industry continues to evolve," says Dr. Stewart-Clark.

With the project in its third year, Dr. Stewart-Clark and her team are looking toward phase two. They hoping to use the genetic markers discovered in phase one to generate oysters that are resistant to the MSX parasite.

Cutting edge aquatic research facility

Although she's based at Dal's Agricultural Campus, Dr. Stewart-Clark has relied heavily on the expertise and facilities available at Dalhousie's Aquatron facility in Halifax to produce the oyster larvae needed for the project.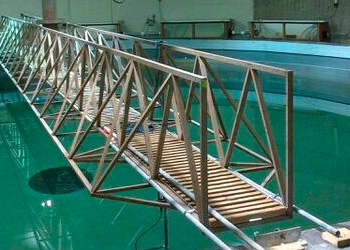 In existence since 1974, the Aquatron is the largest university aquatic research facility in Canada. It is located in Dal's Life Sciences Centre, and is both an academic and commercial research tool used by researchers and organizations around the world for both short and long term projects. It contains six large tanks, which hold a combined volume of over 2 million litres of water, and a wide variety of smaller tanks, research space and equipment.

"Due to the presence of this incredible facility and the expertise of the staff, I have been able to develop research programs that are unrestricted by facilities," says Dr. Stewart-Clark. "The Aquatron has allowed our research team to expand as fast as funding allowed and we have only been able to do so to thanks to the incredible capabilities of the facility and of their staff."

This is not the only project Dr. Stewart-Clark is conducting at the Aquatron.

"There are some other really exciting projects on shellfish that our lab is conducting at the Aquatron. We have essentially developed a fitbit for mussels and oysters and lobsters, and Stephanie Hall and Dr. Fraser Clark are conducting trials to see how different changes in the environment impact their heartrate and their overall health."

John Batt, Aquatron manager, says the facility is a great fit for projects like this.

"The Aquatron is very pleased to be able to host projects and help with research from the Faculty of Agriculture and look forward to more involvement with the faculty," he says.
Dalhousie's Industry Liaison & Innovation supports collaborative industry-academic research partnerships. To learn more about initiatives at the Aquatron or to explore your research interests with Dalhousie, visit dalinnovation.com.