This article is part of a series on graduates of Spring Convocation 2017. Read more grad profiles or, to learn more about the ceremonies, visit the Convocation website.
Tiana Kira knew that her future would somehow involve the film industry, and that her passion for film would make a huge contribution to her studies.

After considering her options, the Dartmouth, N.S. native ended up enrolling in Dalhousie's BA in Theatre – Costume Studies program (along with courses in Film Studies), even though she didn't quite know what she was getting herself into.

"What surprised me the most was the amount of detail put into the program," recalls Tiana. "I was thinking I would go in, learn how to sew and move on. When I discovered it is a lot more than that I was pleasantly surprised. Not only are you taught to sew, but the drafting, draping and designing is something I did not expect. I was also happy to learn the history and see how far costume has come throughout known history. It's a unique program!"

Overcoming obstacles

Tiana admits that her time as a Costume Studies student wasn't always smooth sailing. This past winter, she spoke at an Open House event to prospective students, and shared with them that her sewing skills had been quite weak when she began her degree. She adds that the main obstacles that she faced were her own and that for most of her first three years in the program she was scared of the projects.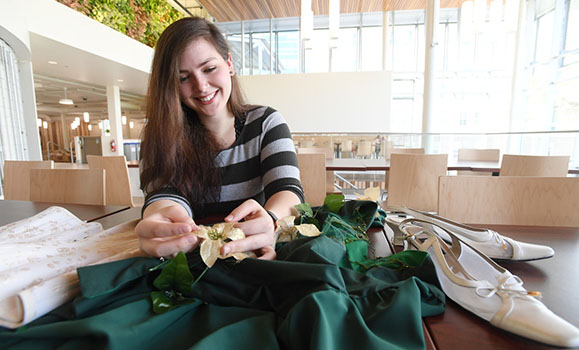 But once she accepted that she was the only one standing in her own way, and sought help and advice from her instructors, she gained the confidence she needed to get her work done.

She expresses her appreciation for the instructors that helped her get through the struggles she experienced in the program.

"I will always have a place in my heart for Dianne Kristoff," she says. "In first year she inspired me with stories of her experience sewing in the 'real world.' She always took the time to answer my questions, even when I was emailing her at 10 o'clock at night asking a sewing question that I had already asked maybe 20 times before."

She also credits Anneke Henderson for her patience during tailoring class as well as John Pennoyer. "Without him I would not have made it through second year. I would not be graduating and as much as I hate to say it, I may have dropped out."

Growing confidence

She's seen enormous changes not just in her ability, but her confidence. "I would be so nervous to sew something as simple as a dart, and now I do that and so much more with an ease of mind and body."

Jacqueline Warwick, director of the Fountain School of Performing Arts has watched Tiana grow as a Costume Studies student over her four years in the program.

"Tiana's gifts are her dedication, her perseverance, and her willingness to take initiative," says Dr. Warwick, adding that Tiana took on the main leadership role in planning this year's historical costume show at Government House.

"Tiana not only corresponded with officials at Government House," adds Dr. Warwick, "she also inspired her classmates to commit to the project, and even found ways to include students from other areas of the Fountain School of Performing Arts in the final presentation. Her creativity, energy, and vision truly represent the values of the Fountain School and Dalhousie."

Seizing opportunity

Tiana's talents and dedication to costume design have already earned her a full-time job. Tiana had previously worked as an intern in the summer and evenings and weekends during the school year for local designer Katrina Tuttle.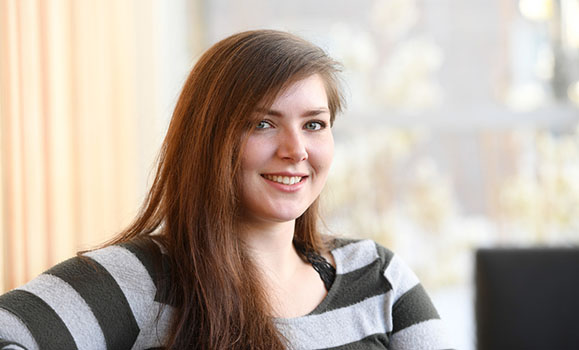 As of April 30, Tiana has been employed full-time as studio manager for Tuttle's company, based in Halifax, which develops custom wedding dress designs for for brides all over the world. Her duties include gown creation, bridal fittings and consultation appointments.

Tiana is very fortunate to be moving right into a position straight out of university, and she advises current and future students to follow what it is they love.

"You cannot go into this program thinking you will stitch a couple pretty things and move on. I will not lie, it is hard work, but if you have the motivation and the drive to do it, you will absolutely love the program. You will come out knowing so much more than you ever thought you could learn about sewing and costume, still craving to learn more and graduate as part of one of the best costume programs in North America. It is so much fun and so fulfilling to be able to create something so beautiful and intricate with your bare hands."

She also advises students to "be your own detective" and start seeking out real-world experiences (like her internships) early on in their degree.
The future is looking bright for Tiana and she knows that she can only go up from here.

"I worked very hard throughout my four years to get where I am today with a career right out of university and I do not plan on slowing down. Who knows, you could go to the movies in the future and see my name in the credits. We shall see!"