On Tuesday May 16, Dalhousie University partnered with the Halifax Partnership and Immigrant Services Association of Nova Scotia to host a one-day professional development conference for new immigrants.

This event was an opportunity for job-ready immigrants to develop their skills for a successful career in Nova Scotia. The event, which attracted nearly 100 attendees, included presentations, panel discussions, networking opportunities and a career resource expo.

Mari Zulfiqar Ali, an event participant originally from Pakistan, worked in water conservation in the public sector for roughly 12 years before immigrating to Canada in September 2016.

"I have the opportunity see job opportunities and education opportunities I wasn't able to before this," he said. "I was able to network with people and met a few that could potentially be great contacts for me."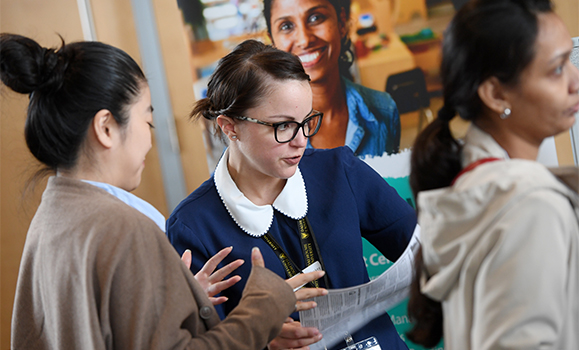 The event was organized by two Dalhousie groups: the Human Resources department and the Dalhousie Professional and Mangerial Group (DPMG).

"The idea germinated last December when we were brainstorming within HR for the 200 anniversary legacy event series," says Sundari Pashupathinathan, who works in Employee Relations. "We wanted to do something with the community but we knew we needed expertise so it became a joint thing between HR and DPMG."

The goal is for the series — Growing Communities — to become an annual event focused on servicing the immediate needs of our community through access to Dal's resources, services and partners, leaving a legacy linked with Dal's 200th anniversary. For 2017's inaugural edition, the decision was made to focus on new immigrants and career development, and to bring in Halifax Partnership and Immigrant Services Association of Nova Scotia to help put the event together.

Helpful advice and guidance

The event's panel discussion involved immigrants and their ongoing journey to further their careers. Panelists discussed the greatest rewards they experienced in their careers thus far and shared advice for individuals embarking on their career journeys.

"The panelists giving their exact experience was really helpful," said Asia Ivery-Peters (below), who immigrated to Canada from New Jersey in the United States. "Some of the things they said I could really relate to. You can't sit behind your desk and apply, you have to get out and network and learn your environment."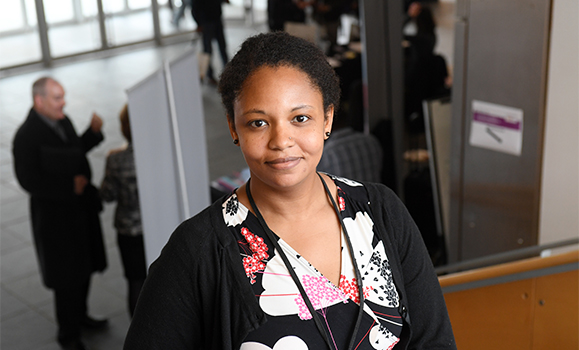 The main takeaways from the panel discussion were to make connections, be flexible and adaptable and open to career changes.

Attendees also heard two presentations from the Halifax Partnership —  one on the current labour market trends in Nova Scotia and another about its Connector Program, which included a networking session.

"We work really closely with the university and colleges and we're really happy to be partnering with Dal on this," said Sasha Sears from the Halifax Partnership, who coordinates the Connector Program. "It's a great opportunity to bring the community to Dal and spread more of Dal with the larger community of Halifax."

The Halifax Partnership acts as a home base and support for newcomers to Halifax through the connector program, facilitating networking within the city to help people find work and stay in Halifax.

"The Connector Program is great fit for this audience," said Sears. "Newcomers to Halifax need this network to succeed and find the help they need to find a great job in their field. We know it works and we've seen the success of this program."

Making connections

The career resource expo was an opportunity for participants to explore the resources available to them to support their career search.

"My degree is in cell biology and my work is in biomedical engineering, but I'm open to all aspects of that," said Ivery-Peters. "I learned that my training is transferable and I need to be more relational than what I am on paper."

Representatives from Immigrant Services Association of Nova Scotia (ISANS) and Dal presented on how new immigrants should best position themselves in Nova Scotia to ensure their career success.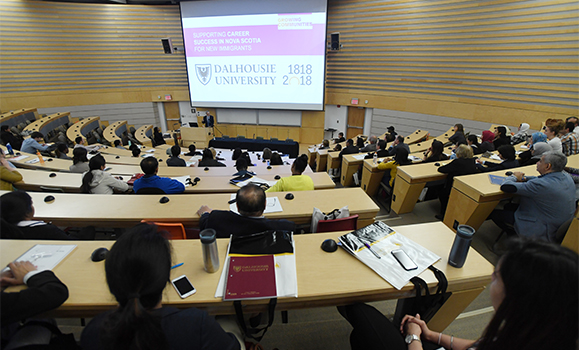 "The most valuable thing about these types of events is the opportunity for an immigrant job seeker to orient themselves in this sea we call labour market and learn valuable new tips and information, and gain leads to successfully gain employment," said Tanja Matthews, coordinator and pre-employment workshops facilitator at ISANS.

The event's sponsors also included Mercer, Eckler90, Blue Cross, Manulife, Johnson Insurance and ZedEvents.

To learn more about this event, and the Growing Communities Event Series, visit its website.