Three Faculty of Agriculture graduate students will be travelling to Ethiopia this week to participate in the first ever Ethiopian agricultural diploma education conference as part of the Agricultural Transformation through Stronger Vocational Education (ATTSVE) project – one of the largest international development projects ever awarded to a Canadian university.

The conference, subtitled "Improving Agriculture, Improving Lives," will bring together 16 agricultural vocational and technical institutions in Ethiopia along with Canadian government representatives, federal and regional government stakeholders and industry and community leaders. In total, 300 delegates are expected at the conference, which takes place April 3-5 in Adama, Ethiopia.

"Facilitating collaboration among the agriculture technical and vocational training colleges in Ethiopia as well as external stakeholders is a key objective of the development project announced two years ago," explains Hannah Pugh, International Office project coordinator. "There are many barriers for the colleges to this kind of collaboration including finance, IT and networking skills and the conference is a key step to building these networks."

The conference is part of ATTSVE, an $18 million development project aimed at enhancing current Ethiopian agricultural education programs available at agricultural colleges with a goal to help evolve the country's agricultural practices and education beyond its subsistence-based foundation to meet the entrepreneurial and labor market demands of the present and future.

Currently, most agriculture technical and vocational training colleges in Ethiopia are located in rural areas and focus largely on competency-based learning.  They are increasingly interested in programming that emphasizes rural growth through agriculture. They recognize that more emphasis is needed on marketing and entrepreneurship, as well as curriculum development and content delivery.

Rural growth through agriculture

Deney Augustine Joseph completed three years of a Bachelor of Science in Agriculture at Annamalai University in India and traveled to Dalhousie's Faculty of Agriculture, where he also completed a Bachelor of Technology in Environmental Landscape Horticulture.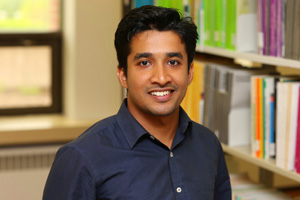 "To me, it was a great opportunity to explore globalization," he says. And explore he did: Deney was the first recipient of a Global Citizenship Impact Award and is currently pursuing his Masters of Science in the field of Entomology under the supervision of Faculty of Agriculture researcher Chris Cutler.

Deney's career path was shaped by growing up in a farming family in Kerala, India. "We grew plantation crops such as coconut, rubber trees, cocoa and other spices," he explained. "It influenced me to get into the field of Agriculture and it was here that I found my interest in entomology."

Deney's research is focused on carrot weevil, a major pest of carrots in Eastern Canada. He hopes to develop a model for carrot producers that will help optimize timing and efficacy of control tactics and allow growers to alter carrot planting dates.

"This conference is a once-in-a-lifetime opportunity to explore my scientific skills at such a prestigious event and to experience global exposure in entomology," said Deney.

Deney plans to pursue a career in agricultural research and hopes to return to his family farm in India.

Carolyn Wilson, who is also taking part in the conference, is studying compost and its ability to improve soil's physical properties: its density, compaction, structure and water retention. Her research was recently supported by a $10,000 Nova Scotia Research and Innovation Graduate Scholarship.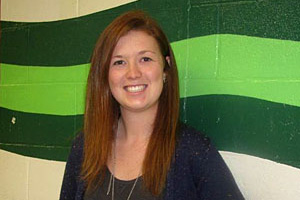 "My research is part of a larger project looking to improve potato yields in eastern Canada," says Carolyn. "Our project, in partnership with Agriculture and Agri-Food Canada, compares the effect of five different compost amendments on quality and potato productivity of the soil."

Carolyn grew up on her family's 300-acre farm near Rexton, N.B. where her father raised beef cattle and her grandmother raised Dorset sheep. "It was truly a family enterprise: I shovelled manure, moved cattle, washed sheep for show and raked hay."

"It is truly a privilege to attend this conference, being the first of its kind in the country," she added. "The opportunity to share my research work in this capacity is really exciting. The potato is an important, up and coming agricultural crop in Ethiopia and I hope that my talk can generate some discussion about potatoes, compost and soil quality!"

Learning about entrepreneurship

You don't have to grow up with a farming background to uncover a passion for agriculture — something that Plant Science graduate Morgan McNeil knows all too well.

Morgan, also attending the conference, grew up in the small residential community of Hantsport, N.S. and was drawn to plants by taking the gardening project in 4-H and learning to grow her own food.

"I am very passionate about agriculture," she says. "I love gardening and growing plants. It's rewarding to harvest a healthy crop."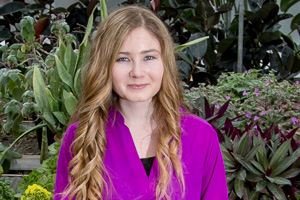 Morgan also grew up admiring her mother's hard work and the excellent reputation she had built for herself in their community as an entrepreneur. Being involved in agriculture, Morgan was interested in one day marketing her own crops. So she joined Cultiv8, an entrepreneurial program on campus for students to gain insight into business ideas and the potential to develop them for profit.

"I am currently working on a project to reduce the apple pomace waste from apple cider production," explained Morgan.  She and her team are using this waste product to produce pet food treats, mainly for horses and dogs.

Morgan will be presenting to an audience of 30-60 people in a workshop session at the conference in Ethiopia on Cultiv8, its programming and the business model canvas.

"I have never been to the African continent and aside from going to England, I've never traveled outside of Canada," she said. "I think this conference will be a great chance to meet other people passionate about agriculture and entrepreneurship and to make a positive contribution to society."
An opportunity for dialogue


The conference is a forum to dialogue, learn and exchange on key challenges and opportunities to unlock the potential of the ATVET system in Ethiopia.

"This event is a great opportunity to share ideas, concepts and insights and enable participants to develop a collective insight into issues and solutions for ATVETs," says Pugh. "The key outcomes are to seek a joint commitment from all stakeholders of the country towards the agricultural transformation through stronger vocational education and training and develop a set of recommendations and commitments."

The conference is a three-day session of presentation and interactive workshops from Canadian, Kenyan, South-African and Ethiopian speakers covering themes requested by the ATVET colleges including Leadership and Sustainability, Gender and Agriculture Education, Student Success and Cultivating Entrepreneurship, and Environment and Agriculture

"The project partners are thrilled about the opportunity to bring three Faculty of Agriculture students to this event, as well as faculty members to speak and raise awareness of their research to our Ethiopian partners which may lead to exciting research collaborations in the future," adds Pugh.
"This is also a great learning and networking opportunity for our students. The project will be providing further opportunities for students to carry out their research during the Ethiopian summers of  2017 and 2018 and is keen to provide these opportunities linking ATTSVE project activities with Dalhousie research where possible."