Katie Flanagan is a bit of a veteran.
Every March, for the last four years, the Rowe School of Business commerce student has slept outside for five days to raise funds and awareness for those who struggle with homelessness.
This year was a bit different, though.
"Coming into the campaign as a fourth-time participant I kind of knew what to expect, but at the same time, weather's so unpredictable that you never really know what's going to happen," she says.
Flanagan and the other student sleepers endured temperatures of -17 C, rain and wind that left their sleeping bags soaked and unexpected snow. It was hard, but as Flanagan reflects, "You have to go back to that original idea that some people deal with this on a regular basis. For us, sure, it's been a bit of a challenge, but it's nothing compared to what they go through."
Raising awareness


Katie is talking, of course, about those who are homeless. She and her commerce classmates — Breanna Buhler, Max Georgopoulos and Kenny Johnston — are part of the national campaign 5 Days for the Homeless, which was started at the University of Alberta in 2005. The object of the annual campaign — which has now spread to 22 campuses across the country — is to raise awareness of the prevalence of homelessness in Canada, and to raise funds for organizations that help those who are homeless or at risk of becoming so.
The core student group, plus different "guest sleepers" each night, spend five nights outside and follow strict rules. These include eating only what is donated to them; refraining from communicating on cell phones; and only using washrooms in open campus buildings. The students collect cash and online donations.
Dalhousie is the only university in Atlantic Canada to participate, with the Rowe School running the campaign for four years. The students raise funds each year for Phoenix Youth Programs, which provides shelter and a variety of services to homeless or at-risk youth in Halifax. Katie says each year taking part has given her more appreciation for Phoenix.
"It's such an incredible organization and provides so much for youth who are experiencing homelessness or are at risk," she says. "They have so many different programs. For me, it's great to be able to give them the monetary donations, but also to support them in other ways: raising awareness, especially media attention, is really great for Phoenix because it helps people understand what services they are providing."
In fact, 2017 is a milestone year for Phoenix, as the organization celebrates its 30th birthday. "It's huge," says Katie. "It just makes it that much more special."
The 5 Days campaign closes Friday with a ceremony at 11:00 a.m., at which Phoenix staff members will be present.
Meeting their goal


The Rowe team has a goal of raising $10,000 for Phoenix this year.
"So far we've been incredibly blessed with donations," says Katie. "As of [Wednesday] night we were at $6,500 online. We're also collecting cash during the day, so the total is adding up."
Aside from funds and awareness, the team is also donating food to the shelter. The national 5 Days campaign mandates that extra food donations to teams should be donated, and Dalhousie's team, says Katie, made a pact to eat only the bare minimum so that they can donate more to Phoenix.
"The community's always generous and quick to support us. We see that year after year," says Katie. "We've been able to bring a lot of the food to the shelter, which has been a really big deal for us."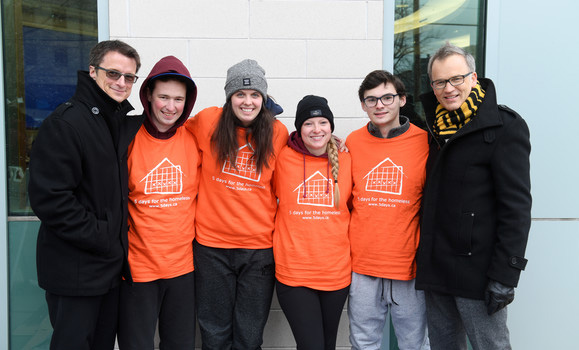 Dean Sylvain Charlebois (left) and Dal President Richard Florizone (right) pay the team a visit.
With community support like this — which has even involved a faculty member leaving her dog during the day to lend some body heat to the group — the Dal sleepers know they're lucky.
"People who are homeless have to deal with the same things we do night after night, and they might not have the warm sleeping bags we have and they can't go in somewhere at 7:00 a.m. to warm their toes, so it really puts this in perspective," says Katie. "That's the whole reason we're doing this. Year after year, it's very eye-opening, and it's a huge reminder about homelessness."
And dealing with a few days of bad weather also deepens appreciation of organizations that help those who need it.
"Phoenix supports all these youth who have to deal with the things that we found challenging, but there is so much more to deal with on top of the weather, and Phoenix provides so many other things," she says. "It's incredible that we get to support them through the campaign."
Donations to Dalhousie's 5 Days for the Homeless campaign can be made at http://5days.ca/schools/dalhousie-university/ until March 31.