It's a key part of the university's annual budget planning process: bringing the Budget Advisory Committee's (BAC) initial recommendations to the Dal community for feedback and discussion.

Over the past week and a half, Provost and Vice-President Academic Carolyn Watters has led three separate campus budget sessions in Halifax (including an open presentation to the DSU council) and a fourth on the Agricultural Campus in Truro. Dr. Watters also presented the latest BAC report to Senate on Monday, February 27.

The sessions were a chance for students, faculty and staff to learn more about how the BAC came to its recommendations for the 2017-18 operating budget, as well as ask questions.
View Dr. Watters's slides and learn more: dal.ca/budget
They were also an opportunity for members of the Dal community to see how their contributions from earlier in the BAC's process — including town halls and a survey in November/December that generated 1,300 responses — found their way into the recommendations.

"We wanted to try and get people talking about what the big budget pressures are, from their perspective," said Dr. Watters at a session on Sexton Campus. "Where do you feel there are pressures and, where resources are more flexible, where should they be allocated?"

The challenge Dal faces is that the vast majority of its resources are not flexible: 74% of expenses are spent on Dal's people (compensation for faculty and staff), and those expenses rise every year at a rate faster than revenue. For 2017-18, if Dalhousie were to not implement any tuition increases or budget reductions, it would be facing a $10.6M deficit.
Infographic: Dal's operating budget by the numbers (click to enlarge)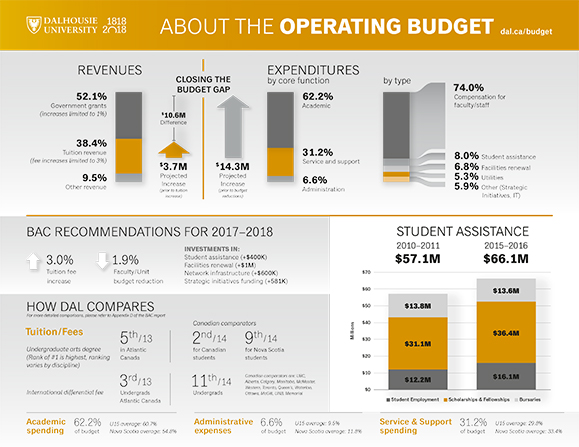 In her presentation, Dr. Watters walked through several more extreme scenarios to balance the budget, such as relying on tuition increases or budget reductions alone (scenarios anyone can experiment with using the BAC Budget Calculator). In the interest of supporting Dal's mission and competing priorities while still balancing the budget, the BAC is recommending a mix of budget reductions (1.9% applied to all Faculties/units) and tuition increases (3% across all programs) for next year.

Where there are flexibilities for funds, Dr. Watters explained how the BAC based its recommendations on what it heard from the Dal community. Funding increases in facilities renovations, student financial assistance and technology infrastructure all were among the top five priorities raised by both students and faculty/staff in the fall's survey and town halls.

Learn more: Budgeting for Dal's future

Attendees at the sessions asked questions and made comments about a wide range of topics: the university's efforts to lobby and work with the provincial government on funding; the impact of ongoing increases in tuition fees on students' ability to attend university; payment for senior administrators; and the applicability of across-the-board budget reductions.

All of the feedback was collected to help inform the next iteration of the recommendations, due out later this month. In responding to questions, Dr. Watters and Ian Nason (vice-president finance and administration and BAC member) frequently referred back to some of the longer-term strategies the BAC is recommending. This year's BAC report lays the groundwork for a three-year planning structure for the Dal budget, based on several key strategies:
Continuing to add to student financial aid to offset the impact of tuition increases for those most in need of assistance
Lowering the percentage of budget cuts to allow more money to stay within Faculties and service units
Supporting renewal of network infrastructure
Growing and stabilize facilities renewal funding
Maintaining Dal's Strategic Initiative Fund to provide important support for teaching/research
Reducing use of one-time reserve funds

You can learn more about the budget at dal.ca/budget, and comments on the budget plan can be submitted by email to BAC@dal.ca. The BAC is requesting comments by March 15 so that they can be considered ahead of its revised report and recommendations, which will be shared with the Dal community prior to their being submitted to the Board.

"We want to hear from you — your thoughts and ideas," said Dr. Watters.

Final tuition and fee recommendations will go before the Board of Governors for approval in April, with the final operating budget plan set to be voted on in June.