Dalhousie's operating budget pays for salaries for faculty and staff, scholarships and bursaries for students, upgrades to aging facilities, funding for key university priorities and more — key supports for the university's tri-fold mission (teaching & learning, research, service).

The role of the university's Budget Advisory Committee (BAC) is to present an overall plan that supports that mission and the strategic priorities of the university.

"Dal's expenses rise every year, based on scheduled compensation increases for faculty and staff and other inflationary costs," says Provost Carolyn Watters, chair of the BAC. "At the same time, we also have critical investments we need to make in various areas that support our ability to deliver on our core mission."

Given Dal's challenging funding environment — where revenues do not keep pace with rising expenses — those investments need to be carefully considered.

Each fall, as it begins mapping out its recommendations for the upcoming year's operating budget plan, the BAC turns to the broader campus community for input. This year, its process was even more robust: in addition to its usual meetings with deans, unit heads and student groups, the BAC expanded its consultations to include two public town halls and an online survey in December that generated 1,300 responses. (You can see a summary of the results in Appendix B of the report.)

Learn more: dal.ca/budget

Released on February 10, the BAC released its first draft 2017-2018 budget plan. Alongside its recommendations for closing this year's funding gap — including a 3% tuition increase and a 1.9% reduction to Faculty/unit budgets — it also recommends $2.6 million in additional spending in four key areas, based on feedback and input from the university community.

Here's a look at those four areas in more detail.

Student financial assistance

Recommendation: $400,000 more for scholarships, bursaries and student employment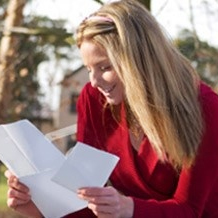 Dal currently invests $66.1 million in direct student financial support per year, including scholarships, bursaries and student employment across all the university's various funds. Over the past five years, that number has grown by by $9.1 million due to operating budget investments, new endowments, faculty members attracting additional research funding, and new graduate student funding from the province.

More than half of Dal's total student assistance funding comes through the operating budget. In fact, Dal spends more of its operating budget on student assistance (7.3%) than the average of Canada's U15 leading research universities (5.3%).

In its report, the BAC recognizes that further commitment to student assistance is required to meet longer-term expectations, especially related to retention, access and completion rates. Additional funds could be used strategically to retain target groups of students, including African Nova Scotia, Indigenous, and rural students. Funds could also be targeted to programs with additional capacity, such as Arts and Agriculture.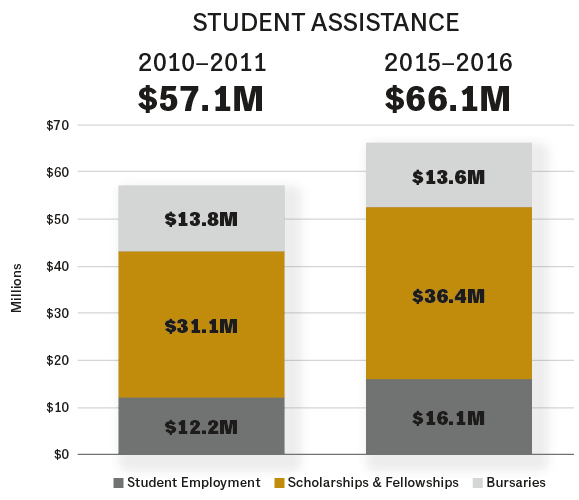 As well, student financial assistance ranked in the top five priorities cited by both students and faculty/staff in this fall's budget survey.

"We've heard from our community that student assistance is an important concern," says Arig al Shaibah, Dal's vice-provost of student affairs. "We are committed to enhancing student access and success through robust financial assistance programs, which include needs-based bursaries and merit-based scholarships."

The BAC's draft plan has total Student Assistance increasing by $892,000 next year. That number is based on a $400,000 investment in the operating budget, along with estimates of $125,000 in additional support from Dal's endowment and $367,000 more through the Nova Scotia Graduate Scholarship program.

Facilities renewal

Recommendation: $1 million more for continuing upgrades to Dal's aging campus infrastructure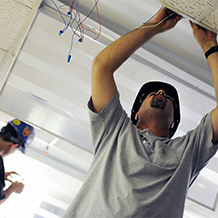 Dalhousie has approximately 5.8 million square feet of building space in 162 buildings across its four campuses. Some of those buildings are new additions to campus over the past 20 years or so, with more new construction on the way (the Sexton Campus IDEA project, the new fitness centre, etc.) But many were built decades ago — some of them 100 years ago or more.

Those buildings often require upgrades and maintenance to meet the needs of today's Dal community. And, like at many campuses across Canada, there's a lot to be done: as the BAC points out in its draft report, 40% of Dal's buildings are rated as being in poor or very poor condition according to the Facilities Condition Index (FCI) standard.

When Dal's buildings have necessary work that isn't gotten to right away, it's called "deferred maintenance." And Dal's deferred maintenance backlog is substantial: $371 million, at last count. While initiatives like the IDEA Project are set to reduce that number somewhat, Dal still expects it to sit around the $350-million range at the end of 2018-19.

"Our buildings support our academic mission, and the more comfortable a building is, the better it is for learning, researching, teaching, working and living," says Jeff Lamb, assistant vice-president of Facilities Management. "For example, many of our busiest buildings are at an age where we know the heating and ventilation systems will need to be replaced in the near future and it is essential that we provide consistent heating and cooling to allow everyone in our community to focus on their work or studies."

Last year, Dal spent $20.4 million in facilities renewal. While that number should ideally be larger (about 2% of its total asset replacement value each year), the BAC has recommended a plan be prepared to stabilize the impact on the operating budget going forward.

Facilities conditions ranked among the top priorities cited by both students and faculty/staff in the recent BAC survey. Comments ranged from the need for more study spaces to fixing leaking roofs on campuses.

That's why the BAC is recommending an additional $1 million for facilities renewal in each of the next three years to continue revitalizing and renovating Dal's aging buildings.   
Technology infrastructure

Recommendation: $600,000 to upgrade network capacity and address related issues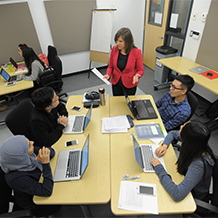 You don't have to look far to see how demands on Dal's information technology (IT) infrastructure have changed rapidly in recent years. There are more people with more devices consuming more network bandwidth. There is also the need to keep our networks secure from the ever-increasing threats of cyber attack.

Network infrastructure is critical to supporting the work of the university— but Dal's current network is limited by aging equipment in need of replacement. It was made clear from the academic community that expansion of the depth and dependence on wireless coverage is vital.

"The university is performing significant network and data centre upgrades to keep pace with increasing demands of researchers, instructors and students," explains Dwight Fischer, chief information officer and assistant vice-president of Information Technology Services at Dal. "We are also working to install new network security management tools to keep users' data safe, protected and accessible."

To help address with these initiatives, the BAC is recommending a base investment of $600,000 targeted for network capacity and infrastructure requirements per year for the next 3 years to bring the commitment for network renewal to $3 million, with a review to be undertaken at the end of the period.

Strategic priorities spending

Recommendation: Maintain the Strategic Initiatives fund budget of $2.7 million for allocation in 2017-18 while emphasizing that the majority of funds be used for multi-year initiatives that align with strategic priorities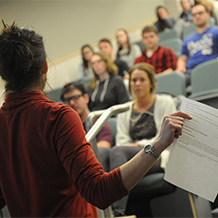 Improving the Dal experience for all and meeting the priorities laid out in the university's Strategic Direction sometimes requires additional one-time funding be given to specific projects. That's where the Strategic Initiatives Fund (SIF) comes in.

First launched in 2003-2004, the fund provides some flexibility in spending to allow the university to support key multi-year initiatives related to teaching and learning, research, service and infrastructure that arise as Dal evolves, in line with the university's strategic priorities.

"This fund enables us to help support those transformational initiatives at the university, ones that will make a difference for years to come," says Dr. Watters.

The hiring of a full-time Aboriginal student advisor and a full-time ombudsperson on campus are just two of the recent initiatives made possible by the fund. (You can review a list of projects funded in 2015-16 in Appendix I of the BAC report.)
Learn more about the Dal budget: dal.ca/budget