"Everything you say is absolutely sound and true, but you see, Mr. Kingsley, the trouble with me is — I'm stagestruck. The theatre beats me and starves me and forsakes me, but I love it."
 
This is the passionate declaration of the vivacious, theatre-loving actor Terry, a character in George S. Kauffman and Edna Ferber's Stage Door. They're also words from the latest production from Dal's Fountain School of Performing Arts, directed by faculty member Jure Gantar and featuring third-year acting students.

Terry is one of several actors living at Mrs. Orcutt's "club," a boarding house for actresses in New York City in the 1930s. The young women struggle to maintain personal and artistic integrity in the face of commercialization and the lure of fame and fortune Hollywood provides
Passions and pitfalls

Ursula Calder, who portrays Terry in FSPA's production, is thrilled to play a part that resonates so deeply with her.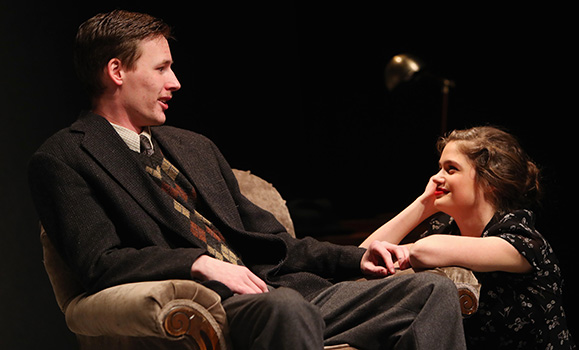 Taylor McMillen and Ursula Calder.
"I love her so much," says Calder. "She cares about theatre more than anyone else in the whole world. Acting is everything to her. [Her] love of theatre is the reason I wanted to play her so desperately. [...] I've never felt so close to a character before, actually. Ever. It's a really, really cool thing."

However, the play also emphasizes the struggles of working in the theatre.

According to Dr. Gantar, the play is "about the position of theatre in contemporary society, specifically the position of actors when confronted with new media. I think it's about how hard the profession of an actor is, and even more, how hard it is for women."

Film, fame, fortune

Terry watches one of her friends, Jean, go to Hollywood and knows she can't make a similar choice.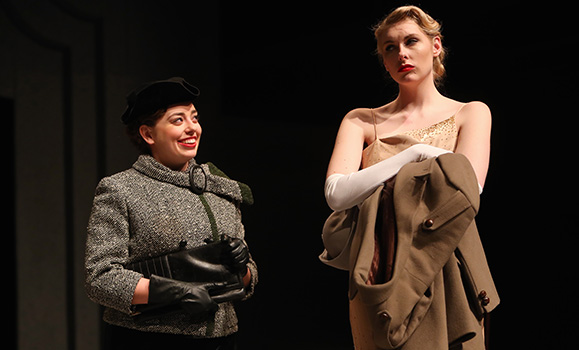 Lindsey Ross and Meg Fenchak.
"She doesn't see film as real acting; it's a commercial thing to do," Calder says. "It's there to entertain everyone. It's not the passion, it's not the real — it's not what acting is, in her mind, because you don't have to be a good actor to be in film. You just have to look good, and that's not what she cares about, or what she wants to stand for."

Sophie Schade, playing another of the actors, Judith, observes something similar: "For [Judith], the most important part of where she is, is the friendships she has [...] and acting well, not just putting on a front — which is why she talks about Jean not being a good actress, even though she's so famous and her career's doing so well: it's not real."

Although the play emphasizes the joys and energy of live theatre rather than cinema, lovers of film need not despair: "We love the film aspect, too," says Dr. Gantar.

This production bridges elements of theatre and film, at times through the use of technical elements such as cinematic, 1930s-style projections. It draws on tropes of the silent-film era, as well.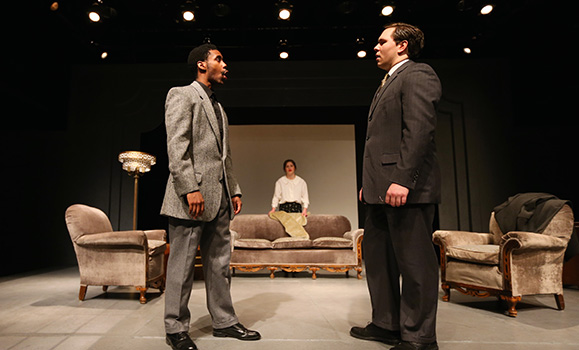 Delany McCormick and Jonah Campbell
As Schade says: "[Jure] loves comedy, and so we've been trying to incorporate a lot of silent movie gags, or Charlie-Chaplin-style things, and so there's a gag at the beginning of every act, which was either semi-written into the play already, or we put it in to add something or fill in something."

Aspiration with integrity

Lovers of 1930s film will recognize the show's fast-paced, witty dialogue, and conventional "types" of characters, who are nonetheless imbued with humanity and realism. "We are trying to make the characters our own, as well," says Schade, in addition to drawing on these observable "types" in 1930s entertainment.

At its heart, the play is concerned with friendship, personal aspirations and integrity, and telling stories in an honest and unique way: aims that are common to both theatre and film.

Stage Door will be performed in the Dalhousie Arts Centre's David Mack. Murray Studio Theatre, opening Tuesday, February 7th and closing on Saturday, February 11th. Performances take place peach evening at 7:30 p.m. with a 2 p.m. matinee on Saturday.  For more information, visit the Dalhousie Arts Centre Box Office.