Throughout the afternoon of January 27, the panel of speakers at the 12th annual International Humanitarian Law Conference shared their expertise on the issues surrounding cyber warfare with around 80 people in Room 105 at the Schulich School of Law.

The conference was hosted by the John E. Read International Law Students' Society (JERILS) and Dalhousie's Law & Technology Institute, in partnership with the Canadian Red Cross. Schulich Law alumna Catherine Gribbin (LLB '06), senior legal advisor for IHL at the Canadian Red Cross, was the moderator.
The keynote speaker was Colonel Gary Brown of Marine Corps University, a former judge advocate with the United States Air Force who speaks on cyber operations law and policy.

In addition to Gribbin and Colonel Brown, the panel consisted of Schulich Law Professor Jonathon Penney; Stephanie Carvin, assistant professor of international relations at Carleton University's Norman Paterson School of International Affairs; and Major Max Reede, legal advisor to Joint Task Force Atlantic and Maritime Forces Atlantic.

Schulich Law Dean Camille Cameron welcomed the speakers and attendees, taking a moment to praise the law students for organizing the conference.
"Hats off to our students who have worked so hard to pull this together," she said, "It's an important educational event not only for our university community but also for the broader community."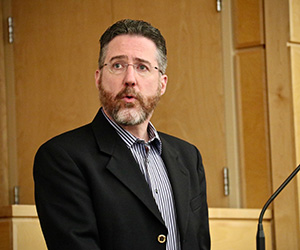 Schulich Law Professor Robert Currie, director of the Law & Technology Institute, says the topic is timely.
"Cyber warfare has landed in the news recently because of the [alleged] Russian hacks on the U.S. election," he says. "While militaries have been working on the front line of trying to develop the law, it's important that other civil society voices be brought to the table. This conference brought together different viewpoints on a front-burner topic. The Schulich School of Law, with its strong tradition of engagement with both international law and technology, was the ideal place to have it."

Understanding cyber warfare

According to the International Committee of the Red Cross, cyber warfare has been defined as any hostile measures against an enemy designed "to discover, alter, destroy, disrupt, or transfer data stored in a computer, manipulated by a computer, or transmitted through a computer."
Examples of hostile use include computer attacks on air traffic control systems, oil pipeline flow systems, and nuclear plants.

Lawyers and technical experts such as information security professionals working at security firms like CrowdStrike and ThreatConnect agree that the potential of computer network attacks is massive, leading to questions about how to apply international humanitarian law (IHL) and how to define "armed conflict."

While there is no specific mention of cyber warfare or computer network attacks in the Geneva Conventions or their Additional Protocols, the principles and rules in these treaties governing the means and methods of warfare aren't restricted to situations that existed when they were created. Those who work in IHL clearly anticipate advances in weapons' technology and the development of new means and ways of waging war.

Cyber warfare adds a new level of complexity to armed conflict that may pose challenging questions for IHL.
"There's so much that's unknown — that's why we're excited to be here today," said Gribbin. "We must understand the legal context in which cyber warfare is being conducted."

"Cyber is interested in you"

Colonel Brown made the audience laugh with his first slide, which read, "You may not be interested in cyber, but cyber is interested in you…" He explained that all of the systems we use now rely on cyber systems.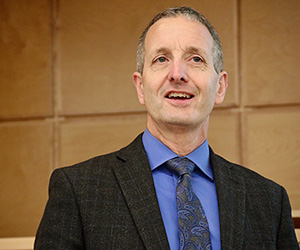 "Is anyone here concerned about your privacy on the Internet?" asked Brown. "Well, forget it! We gave it up a long time ago. We assume things like the webcams we buy are safe and secure, but everything that touches the Internet is a potential 'bot' in a cyber attack."

Brown explained that cyber "disruptions," as opposed to warfare, are events that only cause inconvenience but no direct injury or death or property destruction; for example, limiting access to bank machines. Among global nations, he cited Russia and China as the best at manipulating data.

Professor Penney said that he confronts international humanitarian law and cyber warfare in his research.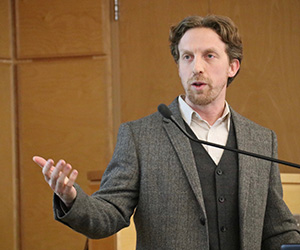 "We throw around legal and public policy terms like cyber warfare, but we have to focus on how IHL and other laws influence or don't influence cyber attacks," he said. "In other words, do state and non-state operatives think about international human rights law and other legal requirements of war when they carry out these attacks — focusing on military rather than civil targets, for instance? And if not, why not?"
An area of significant challenge


Major Reede said that in the foreseeable future, cyber warfare is an area of "significant challenge" and an important area of growth and development for the Canadian military.
"It's easy to understand a [traditional] bomb, but it's less easy to understand a logic bomb," he said. "What makes it even more challenging is that the cyber weapons of today might soon be obsolete."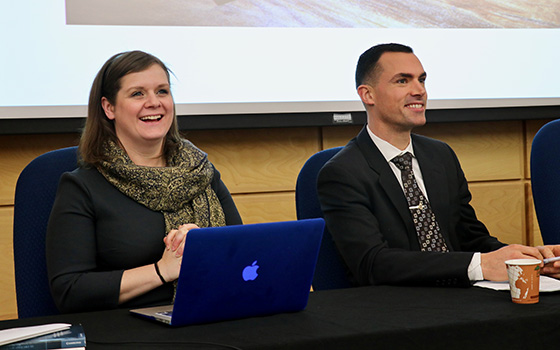 Professor Carvin pointed to the increasing role that artificial intelligence will play in cyber defence and security in the future. There's also no international standard practice on how data should be stored and maintained, or who should have access to it and when it should be deleted.
"Governments are good at protecting themselves," she said, "but small and medium enterprises aren't." She advised the aspiring lawyers in the room to think about this question: What is the right to data privacy under IHL?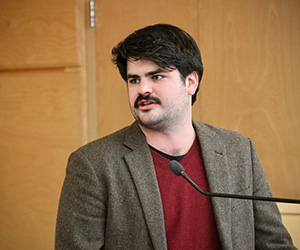 Third-year law student Dylan O'Leary helped organize the conference.
"The support and participation of the Canadian Red Cross, the Law & Technology Institute, and the student organizers made the conference a great success," he said. "Creating a legal regime that can tackle the problem of cyber conflict is one of the foremost challenges that we face as a society. We're grateful to the speakers for sharing their expertise and encouraging us to work through the tools and concepts necessary to confront this challenge."