At the grand opening of the newly renovated Student Union Building (SUB) Wednesday afternoon, Dalhousie President Richard Florizone decided to ask the crowd a bit of trivia.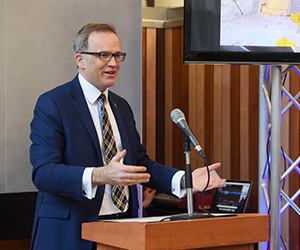 "How many students were there at Dal in 1968?" he asked. A person or two made a guess, but they were a bit off. The correct answer: Dal had 4,500 students in 1968, the year the SUB first opened its doors.

Contrast that with the nearly 19,000 individuals studying at the university today, and the need for a larger, revitalized SUB becomes clear.

"It's grown four-fold, so it sure was time for an expansion and renovation," said Dr. Florizone, thanking the DSU for their leadership in making the overhaul a reality.

To map out a vision for what a newly imagined SUB might include, the DSU's student executives and full-time staff went straight to the individuals who use it most: students.

Through interviews, public meetings, feedback sessions and other consultations that began roughly five years ago, a picture began to emerge of what students wanted to see in the updated space.

Reimagining student space

Walk through the front doors of the SUB today from University Avenue and you begin to notice the changes right away. What was previously a dark, segmented lobby area has been opened up into a bright, public square-style space with benches and a clearly marked information desk.

Keep walking straight into the building, though, and you'll see hints of something bigger beyond the lobby, beginning with the multi-hued wood panelling adorning a new hallway that used to lead into the Grawood Pub. That clean and cheerful design is carried into the new restaurant itself, which wouldn't look out of place on one of the city's trendier strips.

Adjacent to the refreshed pub is a large new study/eating area with room for hundreds of students, and a community kitchen that houses the Loaded Ladle and is open to others who might need it.

A new wellness centre in the basement, a society hub that provides office space for Dal's hundreds of student societies, and revamped second-floor offices and new council chambers for DSU executive and staff are just a few of the other improvements included in the building.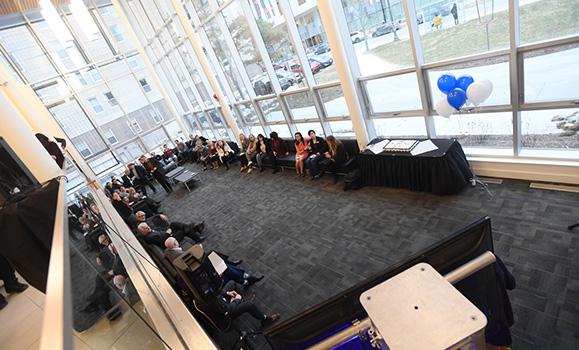 But perhaps the most noticeable change of all is the addition of a huge new atrium space in a brand-new wing of the building that opens out onto LeMarchent Street. The perimeter of the glass-encased space is lined with comfortable couches and other flexible seating that beckons to students and others working on collaborative projects.

Powerful partnerships

The atrium served as a fitting backdrop for Wednesday's event, which included remarks from Larry Stordy, chair of Dal's Board of Governors; Craig Kennedy, general manager of the DSU; and Kathleen Reid, the DSU's current president.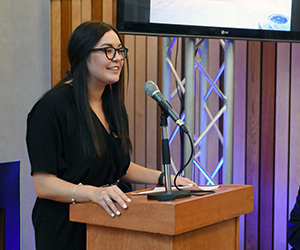 "I think the term 'it takes a village' has never been more true than for this project," said Reid, a Creative Writing and International Development Studies student. "This project is clearly what happens when a community decides upon a common goal and goes after it."

Reid even penned a poem in honour of the project, which she delivered at the opening.

Kennedy, who helped shepherd the project from its earliest stages to fruition, acknowledged the tremendous amount of work that so many university administrators, architects, builders and, of course, students puts into making the renovation and expansion happen.

"A project of this magnitude can be complicated enough, but when you consider that it took six successive and very different student executive teams who had to agree, buy in and stay true to this vision, well, that's something quite remarkable," he said.

The total cost of the project was $10.8 million, with students stepping up to fund the majority of those costs. The university contributed $2.4 million (through its facilities renewal fund and for sustainability upgrades) and the remaining costs will be funded through a student renovation fee of $25 per year over the next 25 years.

Linking past, present and future

Wednesday afternoon's festivities also included a video segment featuring best wishes from the past DSU presidents who have had a hand in working on the project during their terms. One of them, Sagar Jha (2013-2014), was able to attend the opening in person and serve as its MC.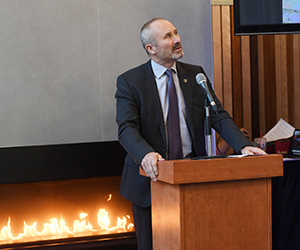 Stordy, a two-time Dal grad himself, emphasized just how vital the SUB has been to the Dal community over the years. He noted how important student wellness and supports are to Dal's Board, and that the new SUB will be instrumental in upholding those priorities.

"As you look around the campus, this is just another example of a building that is really going to help students succeed," said Stordy.

Architect Keith Tufts, Marco Builders, planner Nathan Rogers, the Office of Sustainability's Rochelle Owen and various DSU staff and executives were among the others singled out for praise during the event.

With construction on the project now complete, Reid looked forward to finding new ways to use the space and urged students to use it to its full potential.

"We put a lot into it and we hope that you get a lot out of it."