The Dalhousie Alumni Association (DAA) has a new president and she's pumped for Homecoming 2015.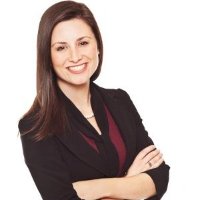 With fall in the air and preparations for Homecoming on the home stretch, newly-minted DAA president Courtney Larkin is jumping in with both feet.

"Homecoming is my first major event in my new role and from what I've seen of the lineup, it promises to be an awesome weekend," she says. "I'm pumped to connect with as many alumni as possible and celebrate our Dalhousie community."

The role of president of the DAA is a natural fit for Larkin, former Dalhousie Student Union president (2008-09), award-winning peer mentor and Progress Club of Halifax/Cornwallis Young Woman of Distinction award recipient (2012). An elected member of the DAA board since 2010, she says of her volunteerism, "it's just what I do."

Larkin has a clear list of goals for her two-year term as DAA president.

"I want to create an awareness that all alumni can stay engaged with each other and with students — no matter where they are." This involves adding more cities to the chapters program and identifying initiatives where Dal alumni can connect to their communities. "I would also love to see each faculty embrace mentoring in its own unique way."

Her greatest challenge will be trying to connect with as many of Dal's 125,000 alumni as she can. "I may only have two years in this role, but I plan to stay involved. Dalhousie Homecoming weekend is a great place to start."

Some of the events Larkin says she's looking forward to most are the President's Fun Run/Walk on Saturday, October 17th and the Concert on the Quad with Party Boots on Friday. "Our new Dalhousie Alumni Halifax Chapter is also co-hosting an Alumni Lounge with Fusion Halifax right before the concert, complete with cash bar, appetizers and lively conversation."

And for those looking to re-group with classmates from their Dal days, Faculties campus-wide are in party-mode. "From breakfasts and golf tournies to lectures and awards gatherings, opportunities to re-connect at Homecoming run the gamut," says Larkin.
For more on Homecoming, visit its website.