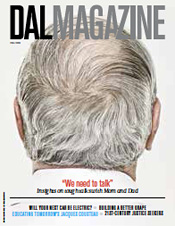 This article is taken from the Fall 2013 issue of Dalhousie magazine, which features a whole new look and feel. Read the full issue online.

These days, electric vehicles (EVs) are getting a boost, due to recent technological improvements and gradual consumer acceptance. But what will manufacturers, car buyers and policy makers need to consider as the electric car gets into gear?
Dal's experts look at the automobile from a number of different perspectives. Here are just a few:

Batteries
For electric vehicles, or EVs,  batteries are a source of power—and frustration, given their charging time and expense. Lukas Swan in the Department of Mechanical Engineering and Jeff Dahn in the Department of Physics and Atmospheric Science both hope to mitigate the vexation. Swan, principal investigator of Dal's Renewable Energy Storage Laboratory, is looking at renewable energy options, including EV battery second life—using them "to support the electricity grid." Dahn is aiming to increase the lifetime of rechargeable lithium-ion batteries, now used in cell phones, laptops and EVs. "Soon, [batteries will] be an essential part of transportation," says Dahn. "We're trying to make them last 30 years and to find cheaper materials." When that happens, batteries will outlast cars.
Dal chemistry professors are also working on technologies that will provide cars with alternative power sources.
Dr. Heather Andreas is developing carbon-based supercapacitors, which can provide a bigger boost of power but for shorter durations than lithium batteries. "Supercapacitors are useful for situations like air bag deployment, where you need instant power." Supercapacitors also have the potential to replace current lead acid batteries that are used in vehicle ignition. Another benefit, she says, is that carbon-based supercapacitor materials are inexpensive: "They can be made from coconut shells, or waste materials. Anything organic can be made into carbon."
Dr. Mark Obrovac's team is developing better rechargeable batteries for electric vehicles and other uses, "concentrating on sustainable materials that are in high abundance and easily recyclable," specifically sodium and magnesium batteries. Because the raw materials used in sodium ion batteries are inexpensive, if battery hardware is the same, Dr. Obrovac estimates up to a 20 per cent reduction in materials costs. Magnesium-based batteries may offer high energy in a small size and weight, enabling electric vehicles to have longer range, for example. "Magnesium batteries are an entirely new field with a whole new set of materials problems," he says, adding that this is long-term research.
Materials
Steve Corbin in the Faculty of Engineering is developing lighter materials for the automotive and aerospace industries, to reduce fuel consumption and energy use. Steel is cheap, "so using lighter materials often involves an increased cost," Corbin says. However, car manufacturers, keen to reduce weight, "offer part suppliers cost incentives: $10 per kilogram of weight savings," a move that could prompt quicker conversion to lighter materials.

Motors
Braden Murphy (MASc'13) is the president of Atlantic Motor Labs, a start-up  developing high-performance pneumatic and hydraulic motors. While a pneumatic-gasoline hybrid car would "require more components than a gasoline-only vehicle," such hybrids would be "particularly attractive," he says, because they'd eliminate EVs' large batteries and electric motors, and reduce the overall environmental impact of vehicles.

Changing attitudes
"North America has embraced a car culture for decades," says Dr. Ahsan Habib, of the Dalhousie University Transportation Collaboratory (DalTRAC). "Changing attitude and behaviour is a slow and difficult process." But government policy shifts—offering consumer incentives to make EVs viable, and adopting standards and permit procedures to encourage new infrastructure such as charging stations—could make a difference, he says. Still, personal attitude shifts may be just as important, says Jill Grant of the School of Planning. As urban living gains popularity, more people may forgo car ownership, she says. However, unless car ownership becomes "unfashionable," those who can afford cars will likely continue to buy them.
History repeating itself?
Todd McCallum of the Department of History teaches "The Political Economy of the Car: Fordism and Post-Fordism in International Perspective." In the last 20 to 30 years, "we've seen an explosion of movies portraying life without oil or as a scarce commodity. Are we collectively wondering if some disaster will take care of the problem for us?" McCallum asks. But he adds it's likely that in another 40 years, "people won't be able to imagine life without EVs."