Childhood is full of small obstacles: learning to crawl, taking first steps, speaking first words, overcoming the fear of that first day of school.

But for many children across our region and around the world, the obstacles of youth are anything but small. Each day, they struggle to overcome poverty, abuse, discrimination and systemic challenges of all stripes.

"This is a call to action to all of us," said Tim Crooks, executive director of the community-based youth support organization Phoenix, speaking to more than 80 people gathered in the atrium of the Life Science Research Institute.

The occasion: a celebration to mark the official launch of the Children and Youth in Challenging Contexts (CYCC) Institute, hosted at Dal. It's a collaboration that responds to the alarming need for interdisciplinary research to support marginalized kids and teens locally, nationally and globally.

"What they are looking for is the very kind of thing that today we gather to celebrate," said Crooks. "It's a collaboration born of a common ground, a common passion and a common understanding. It's born of a desire to come together and to share our very best so that we can create relevant support and an innovative response."
Making a difference together

The CYCC Institute brings together researchers from a number of post-secondary institutions to examine the various factors that pose serious risks to children and youth exposed to adversity, across various contexts and cultures. It aims, then, to translate that research into tangible policy and programs that improve the lives of children, bringing together academia, governments and community organizations.

"We are about getting best practices initiated; it's about creating research consortiums; it's about creating community partnerships," said Michael Ungar, Killam Professor of Social Work at Dal and scientific director of the institute.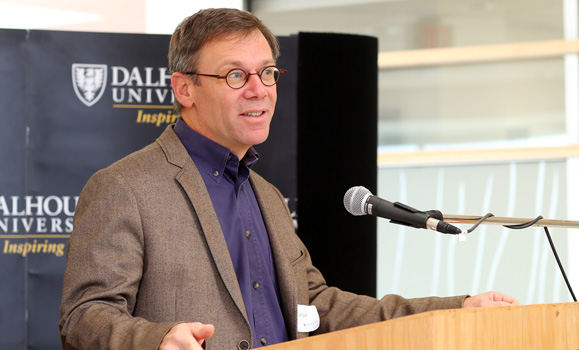 "There's a lot of momentum immediately because Dalhousie, and also our sister and brother universities across the region, has an incredible amount of interest in children who are made vulnerable by social, economic, political, intellectual challenges, etc., and to look at how we can address their particular needs."

The CYCC Institute is currently is undertaking three community research projects in Nova Scotia:
An examination of the political framework through which the state takes up the issue of child poverty and marginalization, led by Lindsay DuBois
A longitudinal study on the development of immigrant pre-school children whose first language is not English, led by Sophie Jacques
A study exploring the programs and resources available to young people to help them transition into post-secondary schooling, led by Joan Versnel
The institute also includes the CYCC Network, a knowledge mobilization network funded by the Networks of Centres of Excellence to improve the mental health and well-being of children and youth in challenging contexts. (Dr. Ungar is also the network's director.)
Bringing research to the community

Wednesday's launch was one of several nationwide events this month as part of "Open Doors: Open Knowledge 2013" organized by the Association of Universities and Colleges of Canada (AUCC). The series involves universities and colleges opening their doors to their local communities.

"Our community, HRM and Nova Scotia, is really our lifeblood, and having this institute and the CYCC Network right here at Dal is a great opportunity for us," said Dal President Richard Florizone, speaking at the event. "It's really a perfect fit. It gives us an opportunity to consider how we transfer our knowledge and have an impact right in our community."

"The issues facing our children and youth and the supportive adults who work with and for them have never seemed so complex," said Lynn Hartwell, Nova Scotia's minister of community services, citing concerns including poverty, homelessness, social exclusion, bullying and sexual violence.

"The idea that we have a research community wrapped around us, as we deliver those services and supports to children and youth that are affected by them, is an incredible opportunity and we're pleased to be part of it."

The event ended on an inspiring note, with more than 20 members of Phoenix's Community Choir singing heart-stirring renditions of "Let It Be" and "Hallelujah," inspiring a standing ovation from the crowd.

"Some days are so full of hope and promise that you just have to travel with a choir," said Crooks.
Next week, to celebrate National Child Day (November 20), the CYCC is bringing renowned developmental and clinical psychologist Dr. Gordon Neufeld to Halifax. The author of Hold On to Your Kids: Why Parents Need to Matter More Than Peers will give two research seminars in the morning and afternoon, followed by a public lecture at Citadel High Wednesday evening.

Learn more: CYCC Network website