Five years in the making, next Monday will mark the beginning of the first annual EMS Research Week put on by the Division of Emergency Medical Services at Dal (part of the Department of Emergency Medicine). One project at a time, its team is looking to revolutionize the face of emergency medicine.

"The traditional way we do health care needs to change," says Jan Jensen, research leader for Emergncy Health Services and lecturer within the Dal Division of EMS. "It needs to be modified to become more efficient and tailored to meet the needs of patients better. So it's an exciting time to be in EMS, because we've made a lot of interesting changes."

After graduating from the paramedic diploma program at the QEII 13 years ago, Jensen is thrilled to find herself working with the Dalhousie EMS division. As a research leader, her responsibilities are a combination of conducting her own research and overseeing all the research that happens within the Emergency Health Services system in the province. On top of this, Jensen is also qualified as an advanced care paramedic.

"My full-time job is doing research, but I take a shift out in the field every month or two to try to stay in touch with the issues that are important to paramedics," she says.

In terms of EMS research, a large portion of the faculty's ideas come from front-line staff suggestions. Paramedics or other first responders identify room for improvement, and from there, a team is compiled to collect data and make a recommendation for policy change.

"Every team for each project is different," Jensen says. "Each summer we often take a med student through the Dal research program. More recently, we've been taking students from the master's in Health Admin program, and we've started working with industrial engineering. We're networking more and getting involved in different departments."
Improving delivery

This multi-disciplinary approach is something that makes the EMS research at Dal stand out. Right now, the division is focusing the practical application of their research and how it can improve the delivery of emergency services in the Maritimes.

Some of the current EMS research projects at Dal have examined the effect of new services. Among these are the extended care paramedic program and collaborative emergency centres. Both are preventative initiatives where paramedics and nurses work together to improve efficiency in emergency departments.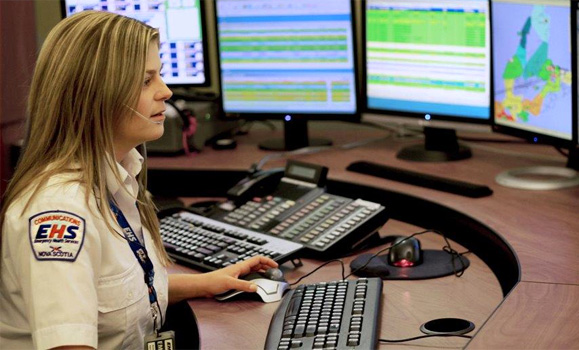 Another branch research team has worked on eliminating long wait times by employing an offload zone, where an EHS paramedic and a nurse from the health authority work together in the hallway to free up ambulances and get them back on the road. This research team, led by Dr. Alix Carter, is collaborating with the Faculty of Engineering to create a process map and craft the most efficient ways to move patients through the emergency room.

"We're doing a lot of research around utilization and satisfaction of those [projects]," Jensen says. "But we're always looking for new ideas. These projects and several others will be presented at EMS Research Day next Tuesday. We are excited to share our findings with our colleagues."

This open mind for new ideas has resulted in a designated day during research week where students, paramedics or other frontline responders are invited to propose their ideas to a panel of researchers.
    
"We're hoping to give feedback and have some open dialogue back and forth. Maybe we'll get some teams formed right in that one evening."

So far, over 250 attendees have registered, both from Halifax and from across the country. The upcoming week aims not only to provide awareness about innovations in emergency medicine, but to let people know that the division of EMS at Dal is very active in research.  

"We are an academic part of the university and we want to continue to move that forward," says Jensen. "EMS, and EHS specifically in Nova Scotia, is continuing to improve, but not just based on political whim — we're trying to ground it in good data and evidence-based decision making."
Learn more about Research Week at the Division of EMS website.