Each year, the Dalhousie Alumni Association Awards recognizes a number of Dalhousie alumni for their outstanding accomplishments and contributions. These remarkable individuals are carrying on a nearly 200-year tradition of building a better world.  

The awards were presented at the 2013 Alumni Dinner on Thursday, October 3.
Christopher J. Coulter Award – Dr. Jordon Sheriko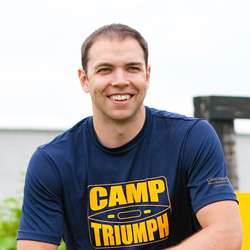 The Christopher J. Coulter Award recognizes recent graduates for innovative accomplishments and notable contributions to society, the community or Dalhousie.

The idea for Camp Triumph was born of Dr. Jordon Sheriko's (MD'11) own childhood experiences. His father, Tom, was diagnosed with brain cancer when Jordan was just four years old and battled the disease for more than 18 years.

"Our lives revolved around his care, treatment and appointments. We wanted to give kids who are going through similar things an opportunity to get a break from the demands of their everyday life, and be exposed to new experiences, to build self-esteem and confidence with others who can truly relate to their situation," says Dr. Sheriko.

The summer camp is dedicated exclusively to children who have a family member with a chronic illness – not just cancer. And it's the only camp of its kind in North America.

Dr. Sheriko spends most of his spare time running the camp, which can be more like a full-time job than an extracurricular activity. "We look after everything, from the day-to-day activities to all the behind-the-scene jobs like accounting, paperwork and fundraising," says Dr. Sheriko, who launched the project with his mother Kathi in 2005. "Once it got rolling, it was too big to stop. It got to the point where it was a lot to handle, but we had to keep going because people were relying on us."

Fundraising is integral to the success of the camp. "The financial impact that a chronic illness has on families is often overlooked, so that's why we offer the camp free of charge," he says. "The camp is entirely staffed by volunteers and we raise money to cover the hard costs. So, to a large extent, it's fundraising that dictates how many weeks we can operate each summer."

What started as a one-week camp at a temporary location in rented army tents has become a full-blown summer camping extravaganza. Now in its ninth year of operation, the camp has a permanent location in a corner of Cabot Beach Provincial Park in PEI with beautiful new facilities. It operates five weeks a year, with approximately 70 campers each week.

"Chronic illness affects the entire family," says Dr. Sheriko. "Everyday life is centered on the person who is ill and children often have to take on extra responsibilities. The focal point of our camp is to give these kids an experience that is all about them."

A. Gordon Archibald Award – Scott Shepherd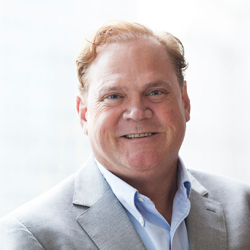 The A. Gordon Archibald Award recognizes alumni for outstanding volunteer contributions to Dalhousie.

Scott Shepherd (MBA'83), president and CEO of Northstar Trade Finance Inc., has never been shy about rolling up his sleeves and jumping in.

"There are many ways to contribute time, money and expertise," says Shepherd. "Not everyone has the financial resources to write the big cheque, but it's still possible to support the university in a meaningful way, using the skills and abilities you have at your disposal."

Given the array of volunteer roles he has played at Dalhousie, Shepherd knows what he's talking about. He served on the Board of Governors, assisted on two major fundraising campaigns, is an advisor for both the Faculty of Management and the School of Business, offers eight-month work terms to students in the Corporate Residency MBA Program, and has established six awards for students in the Faculty of Management.

Shepherd's own experience at Dalhousie — namely, realizing that he didn't have enough money to finish his first-year studies — plays a key role in his ongoing commitment to the university. "I spoke to a clerk and she found a bursary that was established just for a situation like mine," he recalls. "In three days, I had a cheque for the exact amount I needed. Without those extra funds, I wouldn't have been able to continue."

Shepherd also received two fellowships, one with the Department of Foreign Affairs, which took him to the Philippines for a work term, and another with Transport Canada. "These experiences were amazing. They gave me tremendous insight about how to put what I was leaning into action. It had a big impact on my career.

"Dal is an important part of my life," he continues. "You can't take something out without putting something else back in and by volunteering and donating, I have a profound sense that I am putting seed back in the ground. It's very fulfilling."
Award for Excellence in Teaching – Dr. Arunika Gunawardena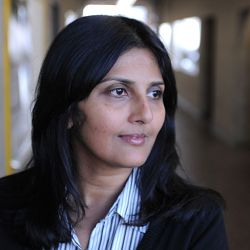 The Award for Excellence in Teaching recognizes a professor who, in the eyes of students and peers, displays the qualities of superior teaching, enthusiasm for the subject and interest in the needs of students.

Dr. Arunika Gunawardena says she's "humbled" to receive the university's top award for teaching.

Dr. Gunawardena, an associate professor in the Department of Biology whose research focuses on programmed cell death in plant development (http://pcdlab.biology.dal.ca), is no stranger to acclaim. In addition to a Faculty of Science Killam Prize for her research in 2011/12, she received a DSU Teaching Excellence Award in 2011 and a 2013 Outstanding Graduate Advisor Award.

"We are really fortunate to have such a dedicated, hands-on professor who is always there for [us] when we need help," says Adrian Dauphinee, a PhD student who works with Dr. Gunawardena. "It makes a huge difference."

What is Dr. Gunawardena's secret? The kindness she shows her students, treating them as equal partners in their education. Creating interactive lectures and implementing an open-door/open-house policy, Dr. Gunawardena puts her students at ease, something she says results in "higher productivity" and more smiles in the classroom. For her, teaching is a reciprocal relationship.

"I think I can learn from my students too, from their questions and observations. Sometimes it's unbelievable the types of amazing questions that they ask."

That questioning environment is a critical component of her classroom. "Before I start my lecture I ask if they have questions from the previous class. If they say no, then I say, ok, well I have questions [for them]. And this is how they become engaged and slowly develop the confidence to start asking questions. That's the part I love."

Dr. Gunawardena teaches two plant biology courses: a larger second-year course and a more intensive fourth-year plant cell biology course. She takes the time to try and put herself in her students' shoes in order for them to succeed and to understand what they're learning.

"Teaching is such a rewarding experience," she says.
Volunteerism Award – Terry Michalopoulos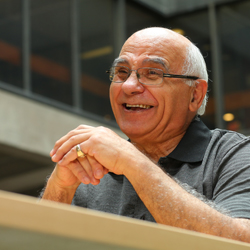 The Volunteerism Award recognizes extraordinary alumni whose volunteer efforts have resulted in the creation, expansion or the continued success of a program that has a significant impact on the local, regional, national or international community.

At 71, Terry Michalopoulos has figured out a few things about life. "It's not about the getting," he says. "It's about giving."

The decorated volunteer, who enrolled at Dalhousie in 2007 at the age of 65, has made it his mission to help make our world a better place. Over the course of his time at the university, Michalopoulos has received the Community Spirit Award from the Lieutenant Governor, a certificate of appreciation from Immigrant Settlement and Integration Services (ISIS), an Alumni Citizenship Award from Dalhousie's Department of Spanish and Latin American Studies, and a Student Impact Award from the Dalhousie Student Union.

These awards recognize his contributions on campus, in the community and internationally. It began in 2008 when, at the age of 66, he walked the 820-kilometer pilgrimage along the Camino de Santiago de Compostela through France and Spain to raise money for the Nova Scotia Heart and Stroke Foundation in honour of his late wife Anna – an expedition he repeated in 2010.

In 2009, he volunteered as an English Teacher at ISIS, which led to an offer to volunteer in Mexico with a program that takes English workshops to rural communities. Michalopoulos returned to Mexico to volunteer with the University Autonoma of Campeche this summer and fall.

On campus, he is a known for inspiring and mentoring students and for speaking to classes about his experiences on the Camino de Santiago.

Michalopoulos' living philosophy was inspired by his experiences with his wife, who in 1997 was given just a year to live. He left his management job, and they simplified their lifestyle to spend more time together. Anna survived another nine years.

"When we're young, we all want the big career, the big pay cheque and the big house," Michalopoulos says. "But those nine years I spent with Anna, when we didn't have any of those things, taught me about what's really important in life."
Lifetime Achievement Award – Dr. Margaret Fitch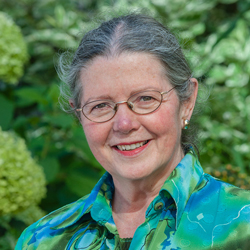 The Lifetime Achievement Award recognizes alumni for exceptional accomplishments in career and community service.

Dr. Margaret Fitch (BScN'73) is always looking ahead, trying to understand how we will need to deliver cancer care in the future.

In doing so, her research, practice and professional leadership has had a defining influence on health care, not only in Canada but around the world. Her contributions and accomplishments fill an 88-page CV and have earned her recognition from the Canadian Association of Psychosocial Oncology and the National Council of the Canadian Cancer Society. And it all began here at Dalhousie.

"I still quote the theories of nursing that I learned in my undergraduate degree at Dal," says Dr. Fitch. "The university was unique in that it had a real sense of family. There were only 35 students in my class, but it was located in the midst of this regional centre of excellence for health care. I felt very connected to my classmates as well as to what was happening in the broader medical community."

With her dad a physician and Dalhousie Medical School alumnus, and her mother a nurse, Dr. Fitch was naturally drawn to the healing professions. "I always wanted to be able to make a difference, and graduate studies seemed a good way to achieve that," she explains. "In the early 1980s, when I decided to do a PhD, oncology and palliative care were relatively new. There was a real opportunity to shape the future direction of the field."

Currently, Dr. Fitch serves as head of oncology nursing at the Odette Cancer Centre, Sunnybrook Health Science Centre in Toronto. Among many other professional accomplishments, she has also served as president of the International Society of Nurses in Cancer Care and as a founding member of the Canadian Association of Nurses in Oncology. She is also co-author of Supportive Care Framework: A Foundation for Person-centered Care, which has guided care delivery across Canada, as well as in Australia and Europe.