Another spring convocation has come and gone, and Dalhousie now counts 3,200 amazing new grads among its alumni. Here are some highlights and notes from the Class of 2013's celebration.

Dal News coverage


University Awards

Governor General's Gold Medal in Sciences and Engineering
Braden Adam Murphy

Governor General's Gold Medal in the Humanities & Social Sciences
Emma Laraine Curran (October 2012 grad)

Governor General's Silver Medal    
Saptarshi Chowdhury

University Silver Medal    
Patricia Anastasia Knox Oliver

Avery Prize
Rachel Nadine Gomm
University Medals

Andrew James Cowie Memorial Medal - Ellsworth, Julie Caroline
C.B. Stewart Gold Medal in Medicine - Trottier, Amy Marie
Dr. D.S. Precious University Medal in Dentistry - Smith, Stephanie Diane
Eric Dennis Gold Medal in Political Science - Murphy, Michael Jeremy
Sir William Young Gold Medal in Mathematics - Chen, Yuxin
University Medal in Biochemistry & Molecular Biology - Han, Jae Ho
University Medal in Biological Engineering - Burgess, Jesse Alexander
University Medal in Biology - Scott, Brandon Paul
University Medal in Canadian Studies - Dykhuis, Lucy Evelyn
University Medal in Chemical Engineering - Saleh, Fuad Ahmad
University Medal in Chemistry - Purcell, Mary Irene
University Medal in Civil Engineering - Gagnier, David Ross
University Medal in Classics - Ilkay, Hilary Nilufer
University Medal in Commerce - Ritacco, Rachel Patricia
University Medal in Community Design - Wightman, Jacqueline
University Medal in Computer Engineering - Elkady, Abdelrahman Amin
University Medal in Computer Science - Yao, Zhimin
University Medal in Contemporary Studies - Blenkarn, Patrick John
University Medal in Creative Writing - Winter, Mollie Alexandra
University Medal in Early Modern Studies - Villagran Becerra, Gerardo Daniel
University Medal in Earth Sciences - Marshall, Nicole Robina
University Medal in Economics - Li, Peng Fei
University Medal in Electrical Engineering - Latham, Katherine Gwen
University Medal in English - Rowat, Rebecca Ellen
University Medal in Environment, Sustainability and Society - Boggild, Lars Cotter
University Medal in Environmental Engineering - Lywood, Milton Kenneth
University Medal in Environmental Science - Vass, Tiffany Marcia
University Medal in European Studies - Macrae, Emily Anne
University Medal in Food Science - Purdue, Laura Margaret
University Medal in French - Willms, Gabrielle Susan
University Medal in Gender & Women's Studies - Logie, Lindsay Dawne
University Medal in German - Somerville, Alexander Charles
University Medal in Health & Human Performance - Melong, Chauntelle Terez
University Medal in Health Sciences - Wentzell, Meghan Laura
University Medal in History - LeBlanc, Alyssa Mary Lilliane
University Medal in History of Science and Technology - Duchesne, Julia Harriet
University Medal in Industrial Engineering - Couch, John Wesley
University Medal in Informatics    - Wheaton, Michael
University Medal in International Development Studies - Pickerill, Kelly Jean
University Medal in Italian Studies - Abdo, Sara Adel
University Medal in Law - Darcy, Michael James Patrick
University Medal in Linguistics - Somerville, Alexander Charles
University Medal in Management - Martin, Jake
University Medal in Marine Biology - Francis, Fiona Tsun Yen
University Medal in Materials Engineering - Dowling, Allison Dawn
University Medal in Mechanical Engineering - Felling, Andrea Jane
University Medal in Microbiology & Immunology - Worthen, George Laurence
University Medal in Mineral Resource Engineering - MacPherson, Kyle Joseph
University Medal in Music - MacDonald, Emily Anne Paige
University Medal in Neuroscience - Gomm, Rachel Nadine
University Medal in Nursing - Jackson, Lindsay Victoria (October 2012 grad)
University Medal in Pharmacy - Carragher, Brett James
University Medal in Philosophy - Holland, Theo Jan
University Medal in Physics - Oliver, Patricia Anastasia Knox
University Medal in Psychology - Cherry, Kathlyn
University Medal in Religious Studies - MacCormick, Grace Alexandria
University Medal in Russian Studies - Marcoux, Nicole
University Medal in Social Anthropology    - Staker, Ivy Jeanne
University Medal in Sociology - Muir, Adam Joseph Wayne
University Medal in Spanish - Walker, Jordan Danielle
University Medal in Statistics - McMillan, Miranda Lee
University Medal in Theatre - Blenkarn, Patrick John
Agricultural Campus awards
Agricultural Business - Longfeng Weng
Agricultural Economics - Wei Lu
Animal Science - Robyn Susan McCallum
Aquaculture - Xiang Lin
Engineering - Steven Carl MacQuarrie
Environmental Landscape Horticulture - Annie Elisabeth Jivalian
Environmental Sciences - Julie Maureen Vermeer
Integrated Environmental Management - Yougui Chen
International Food Business - Susan Ella Sipos
Plant Science - Dustin Eric MacLean
Around campus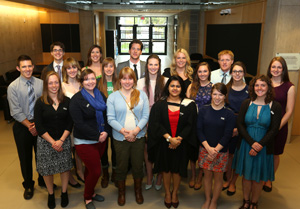 Environment, Sustainability and Society celebration

Proud family and friends experienced the diversity of the SUST community at the College of Sustainability's convocation celebration on Tuesday. This year, close to 50 students graduated with an ESS major (Environment, Sustainability and Society) — across four faculties, with five different degrees and almost 20 different second majors or minors. Parents, friends and family gathered at the College in the beautiful Mona Campbell building for lunch, awards, and the presentation of a small, symbolic gift to each graduate. Each received a polished pewter "change" pin, cast in a solar-powered kiln in Lunenburg. A few of last year's grads were on hand to congratulate this year's crop. Emma Norton, now the Energy Efficiency Coordinator at the Ecology Action Centre, said, "Not only did the college give me the sustainability skills I need for my job, but the fact that I studied with so many different kinds of students from so many different departments and faculties really gave me a huge capacity to understand and work with different perceptions and opinions."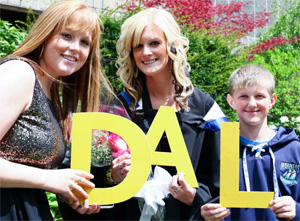 School of Nursing

This year, the school marked a new tradition. The students marshalled at the School of Nursing in their academic regalia and processed up University Avenue to the Rebecca Cohen Auditorium for convocation. Accompanied by a piper, colleagues from the IWK Health Centre and Capital Health were welcomed to come out and celebrate their newest nursing colleagues.
Departments of Music and Theatre

In advance of the launch of the School of Performing Arts, the Departments of Music and Theatre combined their annual graduation receptions into one event. Held on the fifth floor of the Arts Centre, the event celebrated graduating students and their families and presented awards from the Alumni Association (Women's Division).
Faculty of Dentistry

At the Faculty of Dentistry's annual Graduation Dinner, students congregated one last time before walking across the stage at convocation ceremony. Along with congratulating each other, they also honoured some of the faculty members who made a difference during their four years of dental school. This year's recipient of the Dr. Wayne Garland Award for preclinical education is Dr. Mervyn Creighton (DDS'74), the recipient of the Part-Time Clinical Instructor Award is Dr. John Christie (DDS'71), and the recipient of the Dr. Gorman Doyle Award (formerly the Full-Time Clinical Instructor Award, renamed last year after the award's six-time recipient) is Dr. George Zwicker (DDS'65).
Facebook photo albums