Take a look around campus and you'll notice one of the best things about attending a school like Dalhousie: the mix of people, from all kinds backgrounds, all kinds of places. It's true diversity that makes the campus a rich, stimulating experience.

The Pathways program, part of the Dalhousie University College of Continuing Education (DUCCE) plays a crucial part in helping achieve that campus diversity.

The College has long been involved in programming that leads its students into credit study at Dalhousie. One of its earliest successes, the Transition Year Program (TYP) just celebrated its 40th anniversary. Three years ago, Carolyn Watters, vice-president academic, recognizing the value of the College's courses and programs, indicated that a central mandate of the College would be to focus on "pathways" programming that would increase enrolments in the university's credit study programs.

"What's most exciting for us is we bring mature students to the university," says Jennifer Hann, the College's director of mature student services/university prep programs.
"[These are] those that come from an 'untraditional' path — not direct from high school — because their marks were inadequate to get into credit programs, or they took a hiatus for family or personal reasons or financial reasons. It's very different for these students than the ones coming direct from high school. For example the University Prep program is exciting because it helps these students gain the academic prerequisites they need to get admitted. Every one of our 180 degree programs has an admission requirement so we offer those necessary programs."
Opening doors of possibility


Those programs also include the TYP, which provides a first-year qualifying year to African Nova Scotian students, and celebrates hundreds of alumni that have gone on to receive undergraduate and graduate degrees at Dal. With successful completion of this eight-month program, students are awarded tuition fee waivers for their undergraduate degree and are given an academic foundation that will maximize successes for this diverse group of learners.

Former TYP student Jasalynn Handman says the training she received through the College provided her the foundation to embark on her new academic journey.

"Despite how fast you go through the material, you come out with a great and confident understanding of the subject," she says. "I'm grateful for (the College of Continuing Education) because it allowed me to get the courses I needed in a timely manner to become a nursing student."

Another key program for the College of Continuing Education is the series of sessions based around English as a Second Language (ESL) training which includes English for Academic Purposes (EAP), ESL Testing and the Global Assessment Certificate. These courses/programs seek to recruit international students who must attain a suitable level of English language proficiency, ensuring that their language experience in an undergraduate or graduate degree will be appropriate.

"ESL is extremely important to Dalhousie because students who need this kind of training, and may have gone elsewhere historically, are coming to Dal now for ESL training and testing — as many as 150 international students that wouldn't be here otherwise," notes Hann. "This enables us to get introduced to these students early on and to make connections that last."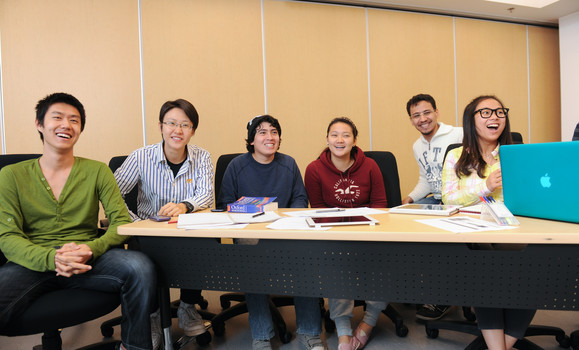 These programs have become a key bridge for non-traditional students to the credit programs at the university. Simply put: without the College of Continuing Education, they wouldn't have an achievable pathway to Dalhousie.
As Hann points out, "There are a whole lot of mature students who are working and have families and other life commitments who always put university on the backburner because there were no options for upgrading and many people unable to attend a full-time endeavor to get here. Many by necessity need to explore part-time learning to bridge to a degree." It's the flexibility and problem-solving options the College provide that makes this university experience possible.
Making the successful leap to Dal


And these students are definitely making the leap to credit programs. In 2011/2012, those enrolled in four key programs at the College, which include the more recent Refining your Learning Skills program (in which academically dismissed students get the opportunity to complete a study skills workshop and refine their learning styles, focusing on getting back to studies versus "sitting out" an entire academic year) are crossing over to different areas of study at Dal. Last year 688 students enrolled in these courses or programs at the College and 478 of them are now are enrolled in credit study and/or have active student files that indicate they are about to begin credit study. Almost all ESL students make the transition.

Looking to the future, Hann is looking for opportunities to reach out to the community. She notes that Dalhousie's primary undergraduate recruitment efforts are largely focused on high school students interested in taking that next step to post-secondary education. Students at the DUCCE typically range from their mid 20s to their 40s, often people who are looking at new career options or hoping to upgrade skills pertaining to an existing job.

Being creative in recruitment efforts is important to the College being able to reach new students "where they live." Continued flexibility in programming will be on the menu too. Two areas Hann would like to explore include summer programming customized for international students to "test drive" a Dal experience and a move to online formats for some courses. She is also hoping to see a doubling of ESL enrolments as word continues to get out about the program.

Whether providing a "second chance" to students on academic probation, helping non-traditional students like members of the military transitioning after a tour of service, or accommodating learners with challenging schedules, the DUCCE is providing creative options to ensure the pathway to Dalhousie is welcoming, flexible and clear.