A Co‑op Internship abroad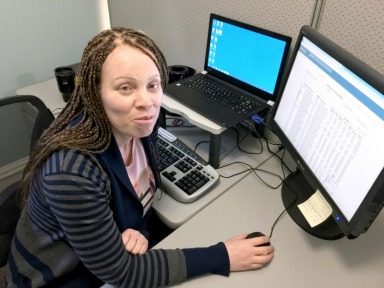 Lillian pictured at the SITE Co-op Office 
In 2016 Lillian Ajebon made a major life decision. She moved to Canada to pursue a Master of Electronic Commerce (MEC) at Dalhousie. "It was my first time at Dalhousie and living by myself in an entirely new country," she says, "the move was an adjustment, but I was excited to take the steps toward making the education and career path I envisioned for myself a reality."
At the time, Lillian was working in Nigeria's banking industry in the information security and control department of a major bank. Though she enjoyed the role, she had a strong desire to merge her technical skills with a better understanding of the business operations. That desire led her to Dalhousie's MEC program choosing the Co-op Internship stream.
"I was intrigued by what the program offered, she said, "I saw it as an opportunity to combine my technical knowledge with business and to gain valuable work experience in Canada through the Co-op Internship." I have a strong technical background, but I also want to be a business person – I want to know what the customer wants, and how IT can help solve business issues. Since beginning Dalhousie's MEC program, I've gained a variety of skills and I'm able to focus on the areas that I'm most passionate about."
Students like Lillian are often drawn to the program due to its technical content blended with business and legal curriculum. "My peers in the program are extremely dedicated and passionate about what we're learning, explains Lillian, we've gained tremendous knowledge and broad insight from the program, and we're able to directly apply the skills we've learned when we venture out to do our co-op internships."
Students in the program come from diverse educational backgrounds. For instance, her Bachelor of Computer Science Technology gave her the knowledge-base to be successful in her former role at the bank. Combining such diverse academic background and real-life experience with the MEC program creates a unique blend of talents providing qualified co-op employers with tremendous value. By studying this multi-disciplinary curriculum in data mining, predictive analysis, ERP systems policy and more, students are prepared to tackle multi-faceted challenges found in industry. This enables them to make a difference and add-value for Co-op employers right away.
During the remainder of her time in the MEC program, Lillian is keeping her eye on the prize and hopes to one day work for herself as a successful business and IT consultant. She credits the MEC environment as a key factor that will help her reach her goals. 
"The professors at Dal see your potential and they really help you along the way," Lillian shared. "Ultimately, I want to have my own business someday, one that is IT related but business facing. I want it to be my own creation, but one that would be valuable and that customers want to use."

Over the summer months, Lillian is completing her Co-op Internship with Dalhousie's SITE Co-op office, where she will be assisting with data analytics, business intelligence and information management projects. Lillian explained that she knows how to manipulate data, but that the MEC program has provided her with a better understanding of the importance of visualizing data. She plans to apply those skills and knowledge to assist the Co-op office.

"Working in the SITE Co-op office, I get the opportunity to do cool data visualizations and reports using Tableau," she explained. "This makes decision making easier and effective. There is a lot one can do with data, no matter how big and the MEC program teaches you how to get wisdom from your data."

As much as Lillian looks forward to returning to her studies this fall with concrete real-world experience, she also has a longer-term goal in mind that she hopes to achieve:

"I want to contribute to the development of my country. IT and ecommerce is gaining traction in Nigeria but there is dire need for experts and professionals in this field. I'd like to be in the position to help advise them in a consulting way and to help them grow, while also allowing myself to grow in Canada."