Co‑op in the time of self‑distancing
»
Go to news main
Co‑op in the time of self‑distancing
When the world came to a grinding halt earlier this year, no one knew what to expect. But what we've since learned is that life continues to move forward, despite the chaos that surrounds us. Here are the stories of four Dalhousie co-op students who share their experience grappling with sudden change this past summer term, and how they have been supported by the companies who hire them. 
If there is something to be said for the experience, according to these students, it's that resilience can be maintained even in the face of utmost uncertainty, the traditional 9-5 office hours we've come to normalize for decades have changed, and the office setting … well, it definitely no longer looks the way it once did.
Makayla Rozsa-Grover
Co-op student at Irving Oil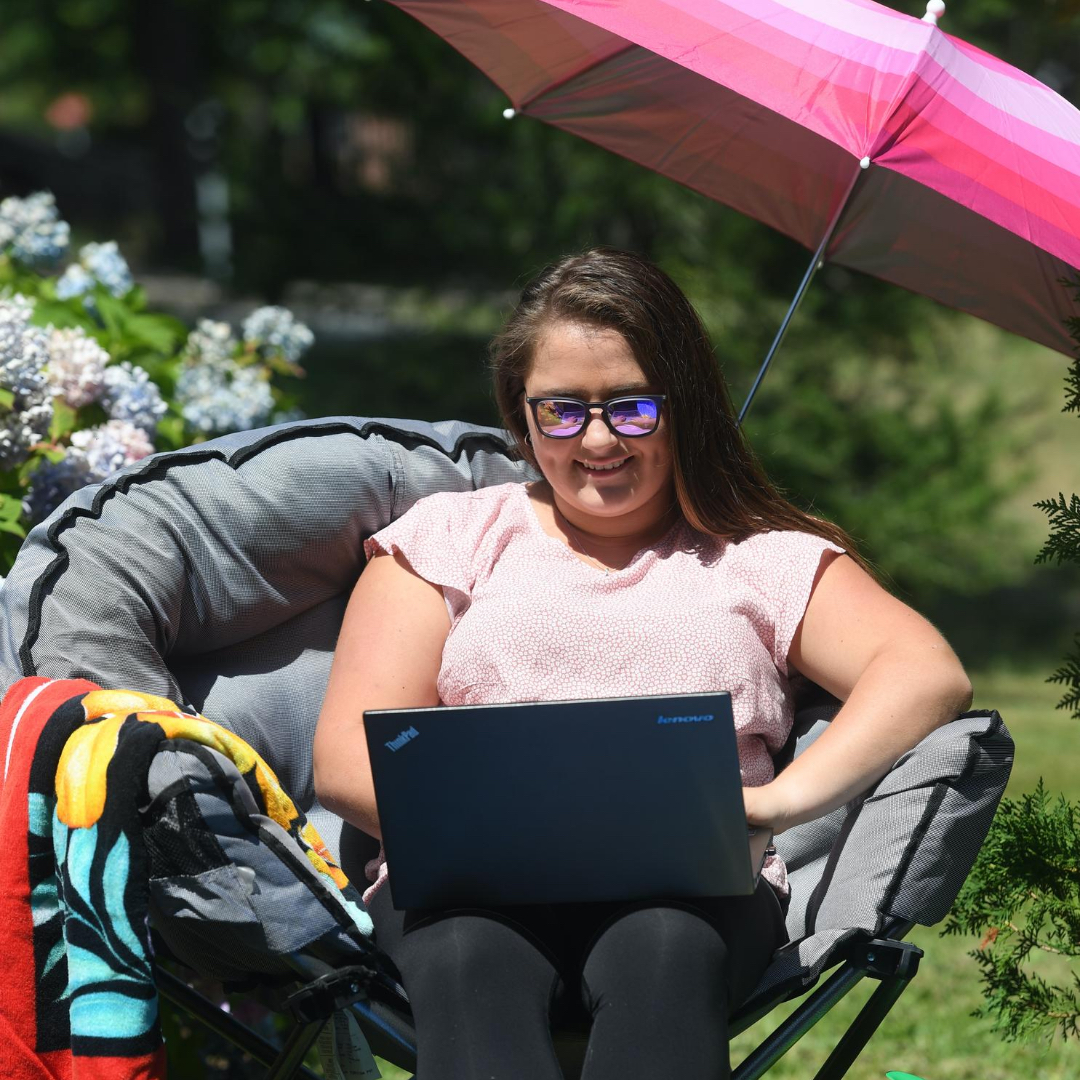 (Photo: Danny Abriel)
From her tiny bachelor apartment in Halifax, Makayla Rozsa-Grover shares how quickly life changed for her this past March.

Working for Irving Oil in Saint John, Makayla started an eight-month work term with the company this past January. Her work term was off to a great start and Makayla describes her team as a close-knit group. 
When the pandemic began to impact Canada, Makayla says Irving Oil was very clear: employee safety was their number one priority. Students working outside their home province were encouraged to make the journey home before border closures could impact interprovincial travel.  
Makayla says the company was helpful in organizing these quick changes, making sure employees were safe and healthy. Accommodations were made to support employees through provincially-mandated self-isolation periods, encouraging employees to focus first on their health and wellness.
"We were all just figuring this out," she explained, "and they wanted what was best for us."
Settling into her place in Halifax, Makayla's scope of projects were initially shifted in the early days, as short-term planning was challenging. Would they be home for a week? A month? No one could have predicted in March that work-from-home measures would last the entirety of her summer term. In-person meetings moved online, and trainings that would have been done in the refinery were now conducted virtually.
The very nature of the changes caused by COVID-19, though, eventually created new work opportunities for Makayla, including developing employee back-to-work risk assessments, and digitizing internal processes to create efficiencies.
These projects, though different from those she was originally expected to do, kept her very busy in the early days of working from home. And without in-person meetings, Makayla noticed that she suddenly had extra time in her day to take on more work.
"We were always travelling offsite for meetings before, but now we're doing everything online. It's been more efficient."
But for the positives that have come out of the experience, Makayla admits that the transition has still been a big adjustment for her, though she's learned a few strategies that have made it easier.
"I live in a small bachelor apartment. So there's no separation for myself and my work. That adjustment took me a bit to get used to and to be able to get focused. 
You need to find a balance. Sometimes I'll catch myself working for hours without a break. In an office, you're up grabbing a snack or chatting with a colleague. At home you really have to force yourself to take mini breaks. Go for a walk. Schedule your day and set goals for yourself. If I set a goal that's unrealistic, I'll work through the day and catch myself working into the evening. As long as you're getting your hours in and getting your work done, that's what matters."
Makayla says what has worked for her this summer is to be able to begin her work day extra early in the morning, and then reward herself with a break in the afternoon. As long as she's available during critical work hours, Irving Oil has offered this flexibility to their staff.
As she prepares to hit the books this fall — still from home — Makayla imagines that co-op students starting a fall work term this September will have some advantage over their summer student counterparts, having already gone through this transition to an online world.
With everything that COVID-19 has taken from us all these past few months, Makayla still chooses to see the glass as half full. 
"Working from home has been a valuable experience for the field I'd like to go into after I graduate. Being a part of the Irving Oil team has been a great experience." 
Akshay Reddy Poturi
Internship student at RBC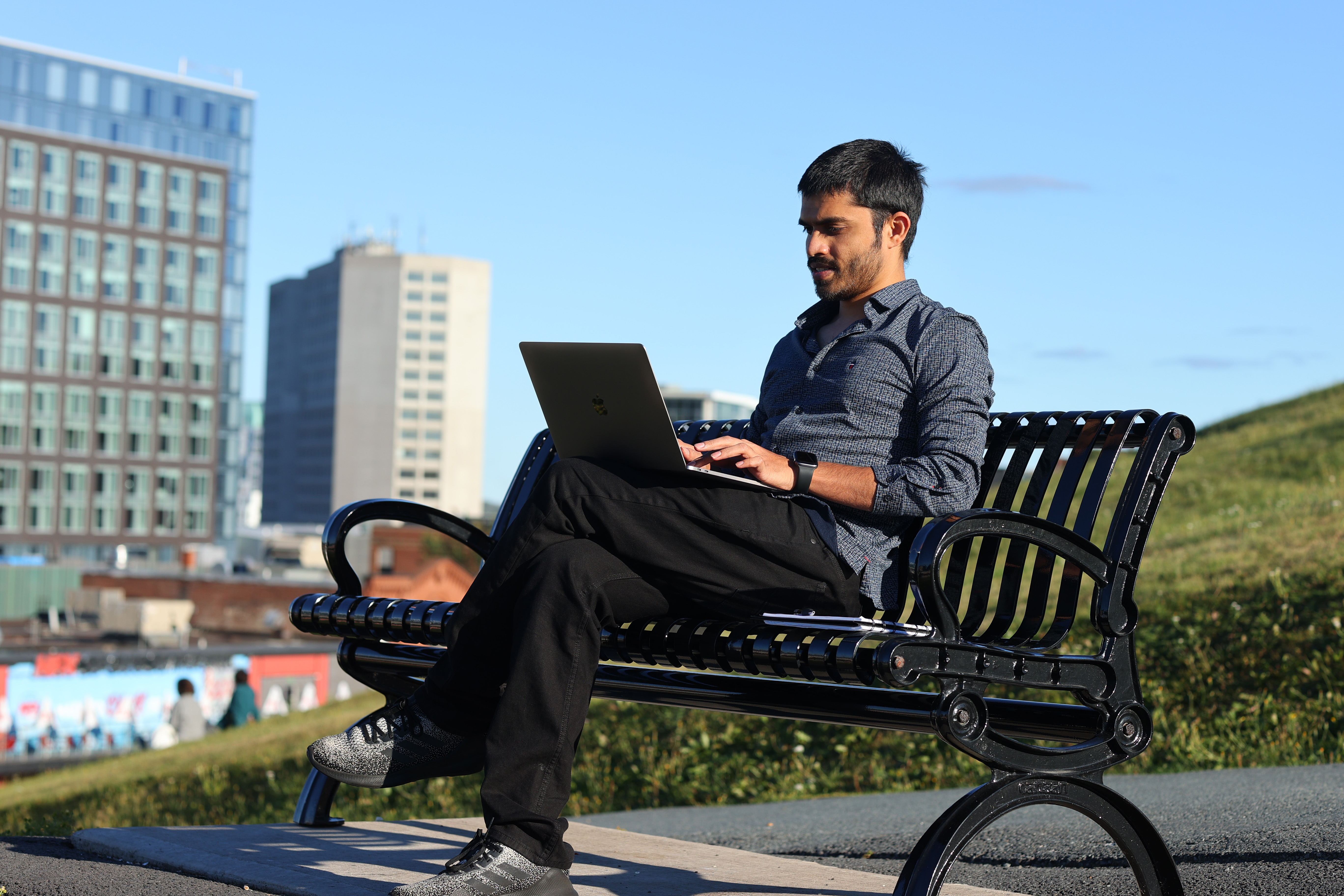 (Photo: Nick Pearce)
Akshay Reddy Poturi considers himself pretty fortunate when it comes to his summer internship job with RBC. The Masters of Applied Computer Science student shares that despite the chaos and uncertainty in all other aspects of life this past spring, very little changed for him when it came to work.
"Many of my friends were impacted," he shares, describing how in the early days of the pandemic, numerous co-op jobs were cancelled, leaving students suddenly unemployed for the summer months and scrambling to start over in their job search.

Akshay, however, maintained his planned start date in early May, and RBC swiftly provided him with all the equipment he needed to complete the internship from his home.

Originally from India, Akshay came to Dalhousie in 2019 to do his master's degree.

As Technical Systems Analyst with one of Canada's largest banks, he spends his days working on Java programming, but says that his supervisor is very supportive and allows him to take on projects in other areas that interest him as well.

Akshay says that RBC has been flexible in more ways than just the projects he gets to work on. Instead of imposing strict working hours like the typical 9-5, they have eliminated restrictions for most of their employees. He's encouraged to connect at any time he wants, and to end his day on his own schedule too. As long as he's successfully accomplishing his work tasks and connecting to calls, he's been supported to work according to what best suits him.

"There is more output from everyone," he shares.

RBC has also offered Akshay an extension on his work term, where he'll get to continue his role (from home) until the end of December. Pleased to continue on, he says he's lucky to learn something every day in this role.

"The only thing is that you miss the interaction with the team. You're just speaking on the phone, so there are faces I don't even know," he says, when asked about how he's connecting with his teammates, many of whom aren't even located in Halifax.

To keep some semblance of normal, he has regular check-ins with his team and supervisor to make sure he has the support he needs, and the team gets together on Fridays for a more social call, just to keep up morale.
"You need to consider this to be an advantage rather than a disadvantage. The way you work will be different, but you will have more flexibility and the output will be greater — that's what I believe." 
Aya Ghalib
Co-op student at Nova Scotia Power Inc.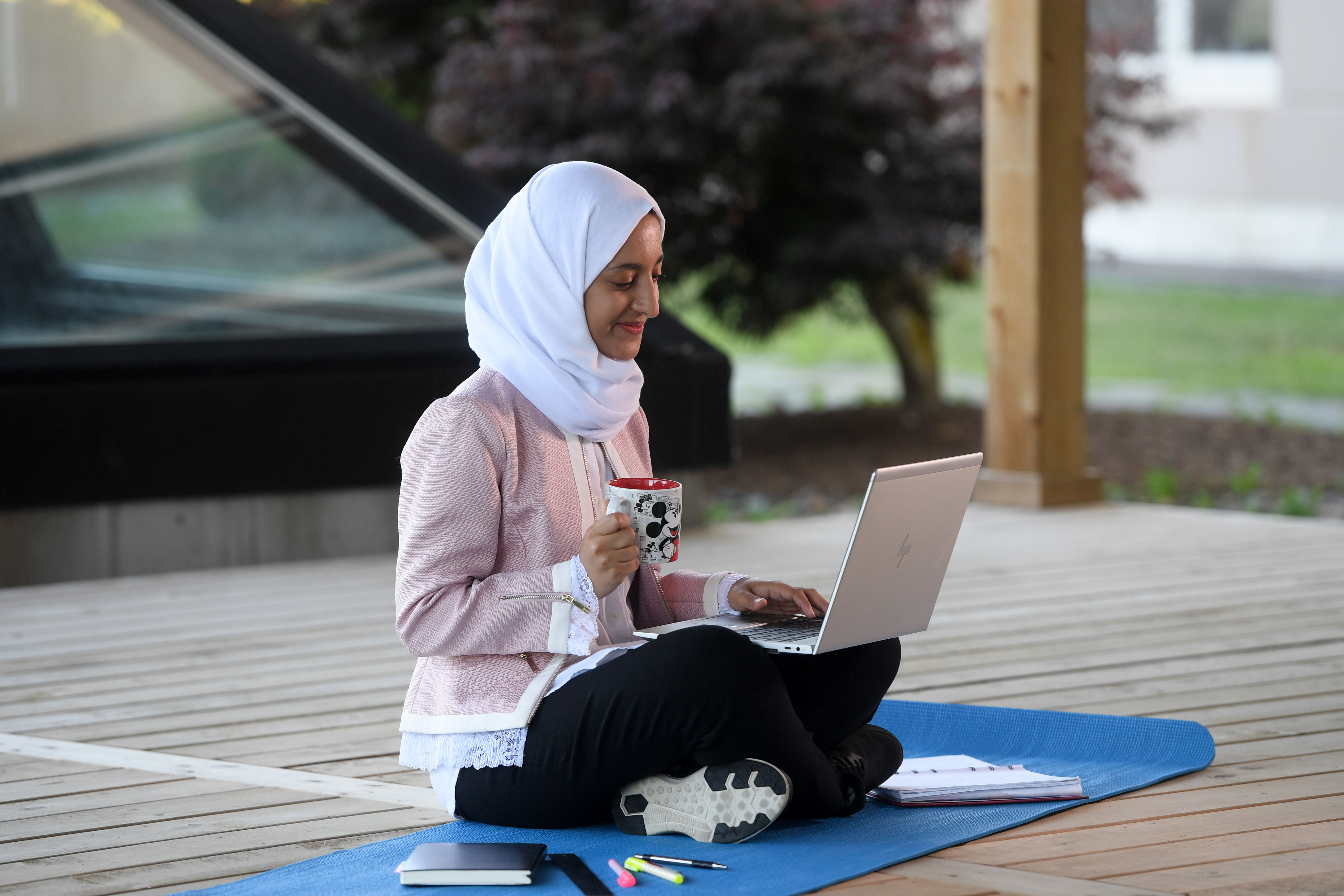 (Photo: Danny Abriel)
As a self-described homebody, Aya Ghalib admits that working from home hasn't been all that bad.
Originally from a small city in Yemen, Aya moved to Halifax four years ago to pursue her engineering degree, joining her older brother who moved to the province several years earlier. Though she acknowledges that it can be overwhelming at times to be in a new country with a different culture and traditions, she reveals that the co-op program is helping to give her new experiences while contributing to her education.

"I feel like I'm improving my communication and interpersonal skills. I'm much more confident now."
Aya has been spending her summer working for Nova Scotia Power Inc.'s Asset Management Office, working on several capital projects that involve problem-solving, communicating and coordination of project tasks and resources. This includes a project related to the province's hydroelectric systems owned by the company— in other words, power harnessed using water stored in dams. The work is particularly fitting, since her interest in renewable energy and sustainability resources, is what led her in the pursuit of mechanical engineering in the first place.
"Everything I do is computer-based," she explains when describing her current role. And though she doesn't exactly need to be in the field to be able to do her job, she was looking forward to seeing the dams in-person, as she would have had it not been for the present situation.  
"It would have been much easier if I could go to the sites to visually analyze the systems rather than trying to understand them from pictures and drawings," she adds, wistfully.
Her supervisor at Nova Scotia Power had hoped that restrictions would ease at some point during the summer that would allow her, and other team members, the chance to visit at least one site, but that hasn't been the case. 
"The company is taking extra precautions regarding site visits to keep everyone safe."
Aya says that the organization has been very supportive of her as a co-op student, from the very start. A week before she was expected to begin her work term, they sent all the necessary  equipment she needed, including a laptop and monitor, to her home. New employee orientation was done online, of course, and the company hired about 30 other co-op students this summer.
Having already worked for Nova Scotia Power on a previous work term, she was familiar with their systems and processes, giving her a bit of an advantage when it came to orientation for her new role.
Aya's one complaint about working from home is a relatable one: the physical difficulties that come with sitting at a desk for "seven or eight hours a day straight".
But her supervisor's helping with that, too. For the first two months of her co-op term, her supervisor organized weekly short online yoga breaks for anyone interested to join. The opportunity to stretch and move has reduced bodily tension and has helped with team morale, too.
With a supportive supervisor, weekly check-ins, and regular updates and feedback, she has felt connected throughout it all. Her supervisor ensured that she gets every opportunity to develop both her technical and non-technical skills. She was given the chance to present her term's work in a department meeting which built on her confidence and self-esteem.
"I'm so grateful for having such an amazing mentor. I'm developing new skills that I never thought I could have and it's all thanks to her and my supportive team"
Her department has also organized a fun online resource that connects the team for weekly challenges, like trying and sharing a new recipe, sharing pictures of their happy places and more.
"They made me feel like I'm part of a family. I've felt included from the start."
Adam Parrish
Co-op student at Michelin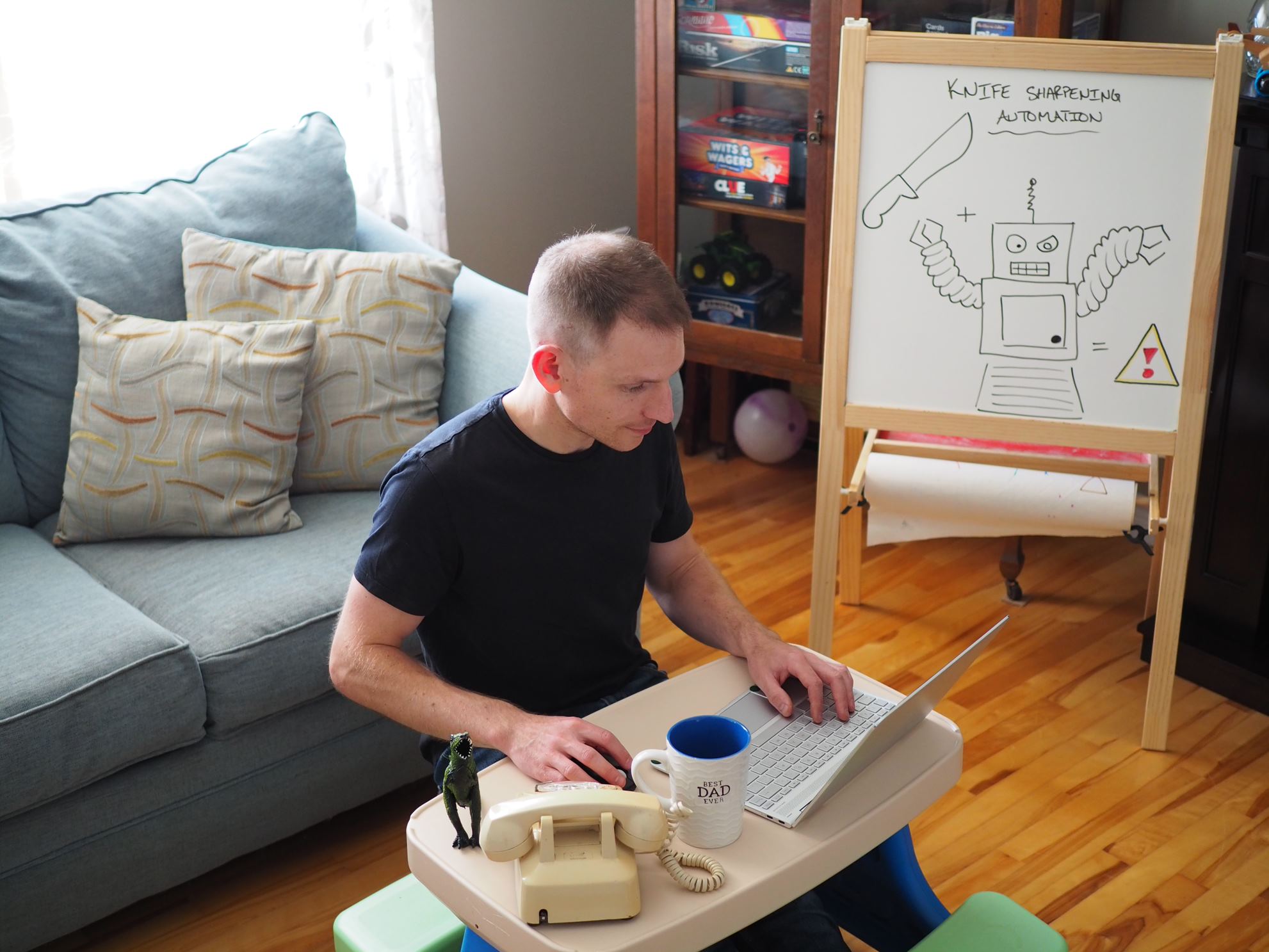 (Photo: submitted)
Mechanical Engineering student Adam Parrish says that it was the co-op program that going back to school possible. With an established home and work life in rural Nova Scotia, the flexibility of working while studying eased his return to academics. 
After graduating in 2009 with a degree in chemistry, Adam started a career in the military. But after more than five years as a full-time reservist, he couldn't help but feel like there was something more out there for him.
Fast forward to today, Adam remains a member of the Army reserve (now on part-time service), while also working towards the completion a degree in engineering. He's spent his final co-op work term at Michelin in Waterville, N.S.
The only tire manufacturer in Canada, Michelin Waterville is deemed an essential service. The transition to online work in the early days of the pandemic wasn't possible for all employee functions, but the company did their best to transition staff to work-from-home when their work tasks permitted it, to reduce the number of staff on-site at any one time. The expectation was that anything that could be achieved from home, would be done from home and that staff would only come into work as needed.
With a young family, he shares that child care was challenging to manage, but his family has been doing well keeping healthy.
As restrictions have begun to ease, Adam explains that he has been able to return to work, albeit with countless safety measures in place, including increased attention to cleanliness, wearing face masks, and orders to stay home if symptomatic.
With his project — a robotic-based knife sharpening operation — requiring him to be largely hands-on, being back on-site allowed him to complete prototyped robotic sharpening solutions for two types of knives before his term ended. The automated knife-sharpening tool will be a key efficiency driver for the plant, reducing operational need for hand sharpening the approximate 20 thousand knives used every month in tire production at Michelin Waterville.
Even though so much of his work is hands-on, Adam explains that with a little creative thinking and desire to venture into the unknown, productivity was more than possible when physical distancing made it challenging to work on-site.
"Ingenuity is doing what you can with what you have and where you are," he says, quoting Theodore Roosevelt, all while neatly summarizing the collective experience of our dramatic work — and life — interruptions this year.