News
»
Go to news main
"The best education experience of my entire life": MREM grad Ben John is now a Climate Change and Energy Specialist at the Georgian Bay Biosphere Reserve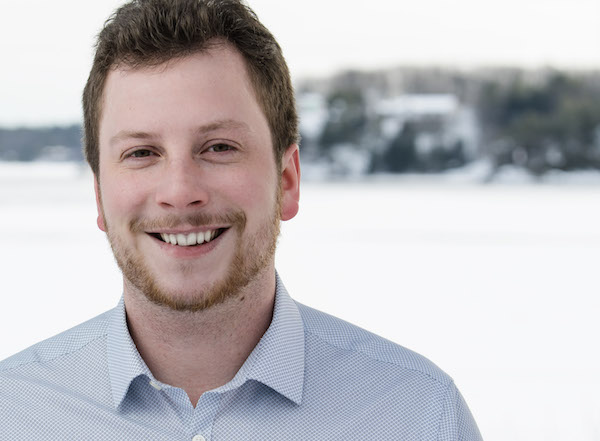 Recent Master of Resource and Environmental Management (MREM) graduate Ben John sees his new degree as the "perfect combination of knowledge lenses: environment and business." After earning an Honours BBA with a major in business sustainability and a minor in environmental studies from Wilfrid Laurier University in Waterloo, John knew he wanted an education that would offer him both knowledge and experience.
"Dalhousie drew me because I heard amazing things not just about the MREM program, but everything Dal does from an environmental perspective. Their programming is renowned. Being part of that cutting-edge knowledge, research and thinking – I didn't want to pass up that opportunity."
The 16-month MREM is internship-based. For John, this offered a "better cost-benefit analysis" than a traditional master's program. "You're building tangible hard and soft skills, and you're getting paid for it."
John lives just a little north of Parry Sound on the shores of Georgian Bay and grew up in a small town north of London called Lucan. He secured an internship at the Georgian Bay Biosphere Reserve, where he served as a Conservation and Natural Heritage Interpreter Intern. "In Canada, there are 18 biosphere reserves," he explains, "including the Bay of Fundy in New Brunswick and Clayoquot Sound in BC. It's a designation from UNESCO, like a world heritage site but for environmental significance. The eastern coastline of Georgian Bay is the largest freshwater archipelago in the world, so it's an extremely environmentally significant area."
Biosphere reserves are considered model regions for sustainable development. They work to promote the conservation of biological and cultural diversity in addition to economic and social development. During his internship, John provided interpretation for visitors; did biodiversity work, including species-at-risk tracking with rattlesnakes and turtles; and helped manage community gardens. "I really got involved in and helped develop the Biosphere's Climate Action Strategy," adds John.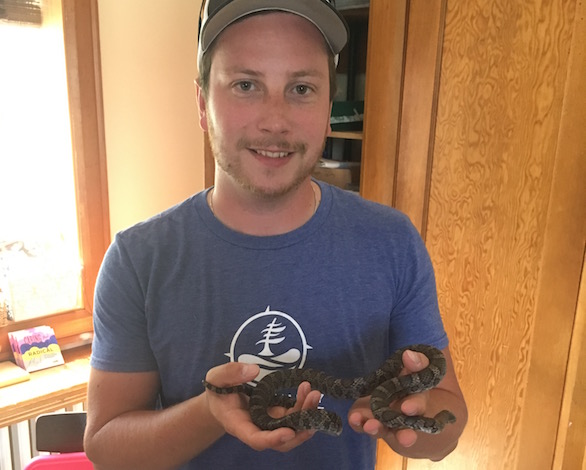 That internship evolved into a job as a Climate Change and Energy Specialist at the Biosphere Reserve. "I came right out of the program into a full-time position as a direct result of my internship – and I get to be at home, too. I couldn't have been luckier."
John's new role has him heavily involved in greenhouse gas accounting, and he's helping initiate a collaborative regional project called Integrated Community Energy and Climate Action Plans (ICECAP). Because the reserve is a charity that relies entirely on donations and grants, John also contributes to communications, research, and partnership building. "Part of my role is staying informed and on top of anything and everything related to climate change and energy in the biosphere region, Ontario, and Canada."
John credits his time at Dalhousie's School of Resource and Environmental Studies (SRES) with setting him up for success. "I think people would be lying if they said they went into a master's knowing exactly what they wanted to do and then walking out with it," he laughs. "The MREM program helped me learn what kind of niche subject matter I enjoy and led me to learn more about how the energy industry is directly related to climate change. It's what's led me into my position today."
Small class sizes, close relationships with faculty, and making friends "for life" from a wide range of academic backgrounds are a few of the highlights of the MREM program for John.
"The relationships and the networks I built are phenomenal and have set me up for success in the working world. Our trip to Ottawa to network with different government agencies was a real eye-opening experience. Former MREM students facilitated and they were so open and receptive. Some were from the first MREM graduating class! It really speaks to the student body that both MREM and Dalhousie has."
John almost followed a very different path. An experienced drummer and drum teacher, he started his post-secondary career planning to get into the music business. He still has a few drum students. "One of my favourite places I taught was School of Rock, at the location in Kitchener-Waterloo. It's exactly how the movie describes it – you learn by playing the songs and apply the theory to it afterwards. The youngest student I've ever had was 4 and the oldest was in their 50s."
Someday, John would like to be one of those MREM alumni who supports students. "I would like to thank the professors and staff of the SRES and the Faculty for making it so exciting and engaging," says John. "It was the best education experience of my entire life."