Dalhousie Science News
»
Go to news main
Meet Hal Whitehead, marine biologist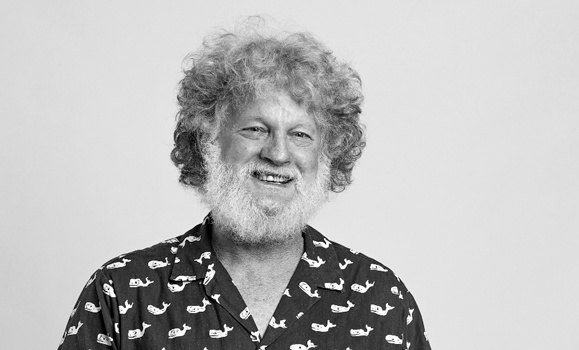 Hal Whitehead's path to becoming a marine biologist wasn't cut and dry. He completed an undergraduate degree in pure mathematics at Cambridge University but decided that a career as a mathematician wasn't for him. He was more inspired by his childhood trips to visit family in Maine, where sailing was a way of life. So, the young Dr. Whitehead interned as a yacht designer for a short time, but that wasn't really what he had in mind for a career either.
When he decided to sail up the eastern coast of North America to Newfoundland, Dr. Whitehead met a marine biologist and used his own sailboat to help track whales for his new friend. That was the experience he needed to seal the career deal. Dr. Whitehead went back to school to obtain a master's degree in statistics and a doctorate in zoology.
Today, Dr. Whitehead is a professor in Dalhousie's Department of Biology. A handful of graduate students join Dr. Whitehead at sea to track sperm whales and northern bottlenose whales for weeks at a time. They collect visual, acoustic, and biological data on how the whales behave and communicate with each other.
In this week's episode of Sciographies, host David Barclay sits down with Dr. Whitehead to talk about his career path and research on the cultural lives of whales.
Listen to a preview of Dr. Whitehead's episode
 
The Sciographies Podcast · Preview - Hal Whitehead, Marine Biologist

Here are some excerpts from the episode, edited for clarity and length.
The early days…

Barclay: You were born in Derby, England — a pretty landlocked place. So, I'm curious how you ended up here on the ocean.




Whitehead: Although I was born in Britain, my mother was American. Every two years we'd come over to Maine where my grandmother lived in a house on an island and my grandfather was a yacht designer and sailor. That was the best time of my childhood. When I went to Maine, there were boats everywhere — people involved in boats, sailing boats, designing boats, racing boats. That was a really important time for me as a kid and I think it led to where I am now.    

Barclay: Despite that, you went to Cambridge to study mathematics. How did you make that decision?

Whitehead: I was moderately good at mathematics. It was fun, I enjoyed it. But when I graduated, I didn't want to be a mathematician. I thought I might become a yacht designer. There were three parts of yacht designing: draftsmanship, the mathematical side, and salesmanship. I was OK at the second one, but I was hopeless at the draftsmanship and salesmanship, so I wasn't sure that was for me either.

The deal that led to a career path…

Whitehead: After I graduated, I came to North America — which I loved — and hitchhiked across Canada and then worked as a labourer in New England. Eventually I bought a little boat and decided to sail up the coast to Newfoundland. I really wanted to go to NL, but the cost of the navigational charts — this was way before electronics — were $5 each and you needed 20 or 30 of them to go around NL. That was a little more than my budget could stand. I was introduced to a scientist at the Bedford Institute of Oceanography (BIO) who was studying whales in NL. At that time, the charts were actually made at BIO, and so the scientist said 'OK, we'll make a deal Hal – I'll get you the charts and you can sail around NL and keep track of the whales you see.'" He drew a field guide to the whales of Newfoundland on the back of one of the charts, and I thought that it was just a fantastic deal. That's kind of how I got into it!        

Discovering whale culture…

Barclay: How did you make that first connection between the sounds that whales make and their behaviour?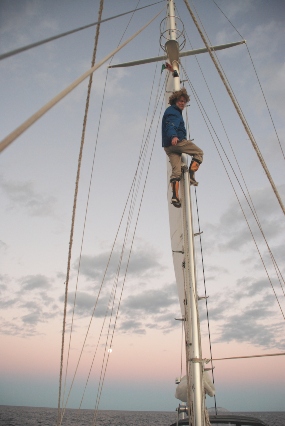 Whitehead: Sometimes it's pretty obvious. When they're socializing at the surface, you hear a certain clicking pattern. When they're deep, you hear their regular sonar clicks [because they're foraging for food]… In 2001, I was writing a book on sperm whales and made what I think was my biggest discovery — purely accidentally. Suddenly I noticed that clans of whales in the Galapagos Islands all had either one repertoire of clicking patterns or another. Social units in Clan One used a rather boring clicking pattern, and social units in Clan Two used a pattern which ended in a click that is sort of similar to the way Canadians say "eh?" We looked further and noticed clan-specific behaviours too… We wondered what was going on, so we took samples of the whales' skin from the water around them and had molecular biologists study their genetics. There was no difference in the genes that code for behaviour in the two clans, but there were differences in the mitochondrial genes that go through the mothers… The implication here is that these differences in behaviour between the clans are being learned. So, that's what culture is — it's what you learn from others and then pass on.