Dalhousie Science News
»
Go to news main
Getting to the heart of the research experience
Posted by
Niecole Comeau
on April 4, 2019 in
All News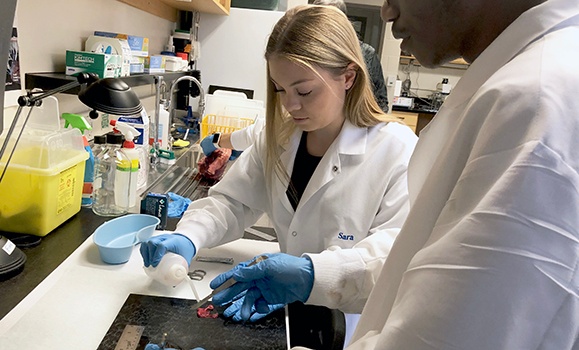 Every Thursday afternoon over the winter term a team of first-year science students could be found in the Tissue Mechanics Lab at Dalhousie's School of Biomedical Engineering, huddled over the work bench with focus and determination.
They've been preparing tiny patches of cow heart tissue and running them through experiments. Why? To answer this question: is heart valve remodelling during pregnancy reversed post-partum?
Cutting-edge science
 
"When a woman gets pregnant, there's a greater volume of blood that needs to pump through the heart to support the fetus and its organs," explains Meghan Hamilton, a first-year student working in the Tissue Mechanics Lab through the Dalhousie Integrated Science program (DISP). "To keep up with an increase of almost 50 per cent more blood flow, the cardiovascular tissue has to adapt and remodel."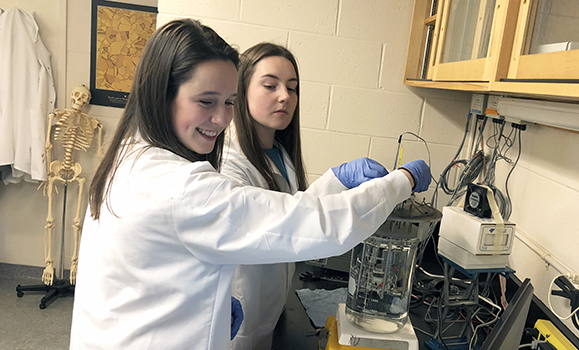 Meghan Hamilton (left) and classmate Sofia Nicolls (right) working in the Tissue Mechanics Lab.

Meghan, along with four other DISP students, were working under the supervision of associate professor Sarah Wells and fourth year honours biology student Meghan Martin.
Since 2012, Dr. Wells has been collecting cow hearts from abattoirs—by-products of the beef industry that would otherwise be discarded—to examine how hearts adapt to an "increased mechanical load" of blood during pregnancy.
"A pregnant woman's heart undergoes remarkable physical and structural changes," explains Dr. Wells, the assistant dean of the Medical Sciences program and associate professor of both biomedical engineering and physics. "Their heart valves expand quickly during early stages of pregnancy. Those same changes look just like cardiovascular disease in other patients."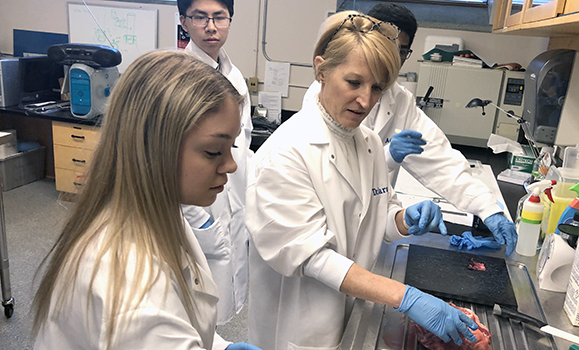 Dr. Sarah Wells (right).
Research exposure
 
The Dalhousie Integrated Science Program (DISP) is a first-year option for Bachelor of Science students that want to jumpstart their exploration of the sciences with hands-on experience conducting studies in labs and out in the field.
Every April, DISP students present their own scientific studies at a year-end research symposium and poster session on campus. These studies—conducted in small groups over the winter term under the supervision of established researchers—expose students to the integrated nature of scientific research.   
For DISP student Jade O'Donnell, learning how to run a study that combines physics, engineering, and medicine in the Tissue Mechanics Lab has been a fascinating experience—one that has opened her eyes to a potential career path.
"I didn't know about biomedical engineering before, but I'm really interested in it now because it's a mix of so many fields," says Jade. "I heard Dr. Wells give a guest lecture once and that's when I knew I had to meet her to learn more about this work."
Discovering answers
 
Meghan H. and Jade join Sofia Nicolls, Kareem Abdulla and Joey Lo to make up the DISP student research team tasked with helping Dr. Wells. Together they aimed to answer a burning question among biomedical engineers and medical researchers alike: do mom's heart valves return to the size they once were after her baby is born? This research team didn't think so.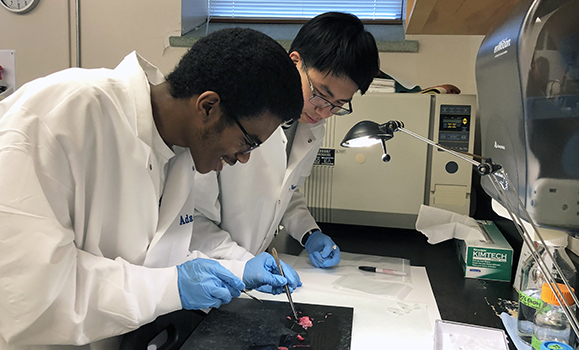 Kareem Abdulla (left) and Joey Lo (right) in the Tissue Mechanics Lab.

To prove their hypothesis, the students used a variety of methods that examined the collagen proteins within tissue samples and compared the surface area of heart valves from both pregnant and non-pregnant cows.
"Their findings suggest that heart valve remodelling is not reversed after pregnancy," said Dr. Wells. "In animals that have had previous pregnancies, valve leaflets were much larger than in animals that have never been pregnant. The thermomechanical properties of the collagen are also very different, suggesting that the molecular structure of the collagen itself is changed."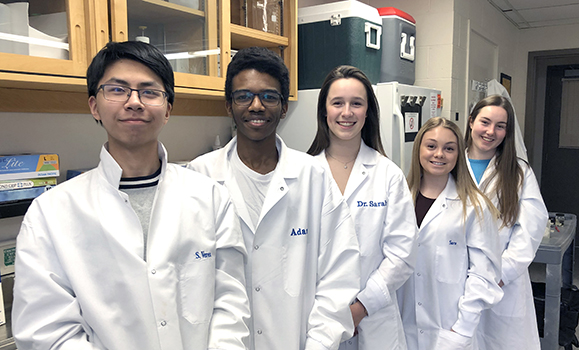 Left to right: Joey Lo, Kareem Abdulla, Meghan Hamilton, Jade O'Donnell, Sofia Nicolls.

The students present their findings at the DISP Research Symposium today (April 4) before displaying their work in a poster session tomorrow (April 5) from 2:30-5 PM in the third-floor lobby of the Life Science Centre. All are welcome to attend.
This year, 29 research projects will be showcased thanks to supervisors from Dal, the National Research Council, and the Bedford Institute of Oceanography agreeing to take on first-year science student research teams. Topics include battery science, changing marine conditions and ecosystems, machine learning, literacy in school-aged children, and more.
DISP Class of 2019 Research Studies

View a list of the students and supervisors behind this year's class.

Scintillators: shining a light on the smallest cancers
Student researchers: Lauren Amos-Schappert, Camryn Gallagher, Madison Scanlan, Adam Vis
Supervisors: Cody Church and John Lincoln – Physics and Atmospheric Science (Medical Physics)
Language and cognition in dogs (Canis familiaris)
Student researchers: Linda Hutchinson, Gabrielle Moulton, Oliver Schnare
Supervisor: Dr. Sophie Jacques – Psychology and Neuroscience
Using assembled gut bacterial genomes to inform our understanding of health changes in CD patients
Student researchers: Heidi Dewling, Emily McDonald, Lauren Natale, Jagger Thornhill
Supervisor: Dr. Katherine Dunn and Joseph Bielawski
Protein purification with TME for high-throughput proteomics
Student Researchers: Mitchel Hanlon, Ryan Hines
Supervisors: Dr. Alan Doucette and Philip Jakubec – Chemistry
Protein purification and quantification in leafy greens using the ProTrap XG
Student Researchers: Katie Halliday, Josh Turner
Supervisors: Dr. Alan Doucette and Jessica Nickerson – Chemistry
Will using a buffer solution create fewer shifts in the NMR spectra of honeys than deuterated water?
Student Researchers: Sophie Haverstock and Cassara McArthur
Supervisor: Ian Burton – National Research Council
Toxicology testing of raloxifene hydrochloride using zebrafish as a model
Student Researchers: Alex Barkhouse and Isaac McKinnon
Supervisor: Dr. John Achenbach – National Research Council
Seaweed as a valuable protein source: amino acid analysis with High Performance Liquid Chromatography
Student Researchers: Sarah James and Joey de Leebeeck
Supervisor: Dr. Arjun Banskota – National Research Council
Bio-optical monitoring of cyanobacteria
Student researchers: Michael Allain, Matthew Holden, Gillian Reston
Supervisor: Dr. Hugh McIntyre – Oceanography
Is heart valve remodeling during pregnancy reversed post-partum?
Student Researchers: Kareem Abdulla, Joey Lo, Meghan Hamilton, Sofia Nicolls, Jade O'Donnell
Supervisors: Dr. Sarah Wells and Meghan Martin – Biomedical Engineering
SiSb anodes for lithium ion batteries
Student Researchers: Ryan Bower, Devin Pottie, Nathaniel Williams-Penney
Supervisor: Dr. Mark Obrovac – Chemistry
Alkyne semihydrogenation using an iron-based catalyst
Student Researchers: Eden Cowles, Julia Linhares Santos, Morgan Schnare
Supervisor: Dr. Laura Turculet – Chemistry
Distribution and movement patterns of Blue Sharks (Prionace glauca)
Student Researcher: Sophie Roy
Supervisor: Dr. Heather Bowlby – Bedford Institute of Oceanography
Quantifying Anthropogenic Effects on Elasmobranchs in Bahamian Reef Systems
Student Researcher: Aaron Judah
Supervisor: Dr. Aaron MacNeil – Biology
The effect of marine heatwaves on American lobster (Homarus americanus) populations off the coast of Nova Scotia
Student Researchers: Caelin Randall-Scott, Calisa Staniforth, Sarah Swim
Supervisor: Dr. Robert Schlegel – Oceanography
The effects of fish farms on the growth of Ascophylum nodosum
Student Researchers: Calum Blackwood, Mackenzie Hartley
Supervisor: Dr. Leigh Howarth – Oceanography
Evidence of Magma Mixing in the South Mountain Batholith by Elemental Composition of K-Feldspar and Plagioclase Megacrysts
Student Researcher: Katherine Lee
Supervisor: Dr. Richard Cox – Earth Sciences
Reading strategies: an analysis of morphological reading errors in third grade children
Student Researcher: Celia Briand
Supervisors: Dr. Hélène Deacon, Dr. Kyle Levesque – Psychology and Neuroscience
Effects of alcohol on behaviour of Drosophila
Student Researchers: Sekerya Fournier, Christian Neira
Supervisor: Dr. Janusz Borycz – Psychology and Neuroscience
Discovering the role of peroxisomes in innate immunity
Student Researchers: Camille Dime, Sarah Murphy
Supervisor: Dr. Francesca Di Cara - Microbiology & Immunology
Characterizing Esperiopsidae sponges from Eastern Arctic trawl surveys
Student Researchers: Nicole Harrington, Alexis Savard-Drouin, Molly Wells
Supervisor: Dr. Gabrielle Tompkins, Integrated Science
Alcohol and conflict in undergraduate romantic dyads
Student Researcher: Kierra Buddecke, Olivia Kerr, Rebecca St. James
Supervisors: Dr. Sherry Stewart, Dr. Raquel Nogueira, Nacera Hanzal - Psychology and Neuroscience
Differences in Transposable Elements in Different Geographical Regions of Lobelia cardinalis Student Researcher: Aleksei Sychterz
Supervisor: Dr. Mark Johnston
Does question phrasing matter? A thematic qualitative analysis of Student Ratings of Instruction
Student Researchers: Marcus Cormier, Gisela Jones
Supervisors: Dr. Jennifer Stamp, Dr. Leanne Stevens and Swasti Arora – Psychology and Neuroscience
Quantifying the rate of groundwater contamination related to 'fracking' in a Colorado oil and gas field
Student Researcher: Hanna Schaefer
Supervisor: Dr. Owen Sherwood – Earth Sciences
Technical Development of an EEG-Based Machine Learning Algorithm for BCI Applications
Student Researchers: Caroline Damus and Erin Chiasson
Supervisor: Dr. Tim Bardouille - Physics and Atmospheric Science
Is searching in time similar to searching in space?
Student Researchers: Kirsten Dickie, Emma Walton
Supervisors: Dr. Ray Klein and Brett Feltmate – Psychology and Neuroscience
Measuring properties of lithium ion electrolytes
Student Researcher: Thomas Nychka and Julia Verboom
Supervisor: Eric Logan (Dahn lab) – Physics and Atmospheric Science
A gentle approach to tooth disinfectants. Assessing the potential of antimicrobial peptides
Student Researchers: Brianna McKinnon, Sarah Spencer
Supervisor: Brendan Leung - Applied Oral Sciences; Biomedical Engineering

Tissue Mechanics Lab.