Dalhousie Science News
»
Go to news main
Reaching for the top: Dal's top co‑op students of the year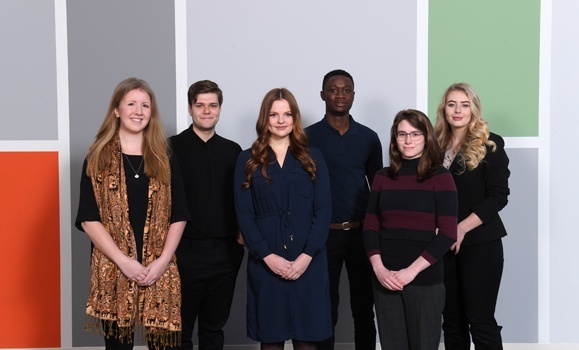 What kind of person do you need to be to earn the title of Top Co-op Student of the Year? Just ask Dalhousie's highest-achieving co-op students of 2018 and they will tell you. Ambitious. Positive. Proactive. Driven. Hard-working. Resilient.

This diverse group of undergraduate and graduate-level students is defined by their incredible ability to apply their academic strengths to their co-op job while pushing their skill sets to new heights, delivering the greatest possible outcomes for their employer.

Having already earned the respect and praise of their colleagues and supervisors, the top co-op students from each Dal faculty currently offering a co-op program will be formally recognized this week at the third-annual Dalhousie Top Co-op Awards. The ceremony, which also celebrates the best co-op supervisors and hiring organizations, affirms the importance of work-integrated learning to enhancing the student experience, preparing graduates to transition into the workforce, and help grow the economy and stimulate youth employment both locally and nationally.

It is no coincidence, then, that the Awards (jointly led by Architecture and Planning Co-op, Management Career Services, and Science Information Technology and Engineering Co-op Education) are held during National Co-op and Work-Integrated Learning Week. 

In 2018 alone, over 2040 work terms were completed by Dalhousie students, representing a five-year growth, and as of the academic year ending 2017/18, Dalhousie demonstrated a five-year growth in work terms with 23 per cent of students participating in work-integrated learning, and a three percent annual growth in co-op work terms over the year prior — a trend that all involved hope to see continue.
Claire Attridge, Bachelor of Science

In grade 11, Claire Attridge took a class trip to Vancouver Island's Bamfield Marine Sciences Centre that would eventually impact her future career in ways she couldn't have possibly imagined at the time.

"I've always been a 'marine dork'" the fourth year Marine Sciences major confesses while laughing. "I knew I wanted to be a marine scientist event when I was young. You know, when kids change their minds all the time about what they want to be when they grow up? Not me."

Growing-up on the West Coast, Claire says she learned to love everything to do with water — diving, surfing, marine life, you name it: "I was enthralled with the ocean as a kid."

It wasn't until high school when she really started to think about her future career. Knowing that hands-on learning was important to her, the co-op program drew her attention to Dal, which also appealed given its location on the country's opposite coast: "I moved here not knowing a soul."

When the time eventually came to embark on her final co-op work term search, her thoughts returned to that high school trip to Bamfield.

"I remember at the time thinking, 'I'm going to come back here one day. I'm going to work here one day.' I fell in love with the place on that trip. And then I realized that I didn't have to wait until I graduate to make it happen.

"I put a lot of effort into pursuing this [co-op opportunity]," she acknowledges. After reaching out to Bamfield, Claire was connected with their director of education. After a few emails back-and-forth, she finally got a phone interview, and the rest is history.

Claire describes her time with Bamfield as a perfect culmination of her academic journey, and one that helped her live out her childhood dream: "It really took my academic skills and the skills I learned at my previous co-op jobs into the perfect smorgasbord of an opportunity."

In a full-circle kind of way, Claire's role at Bamfield had her coordinating the same types of field trips that she experienced there several years ago.
"There was this one evening, close to nightfall, and we had taken the group to a spot called Brady's Beach. There were beautiful sea stacks topped with trees, and it was just us and a perfect view of the water. The entire sky was bright tangerine and red. And this group of like 30 kids saw this and they were completely dumbfounded. They were the quietest they'd ever been all trip. To witness them seeing what I loved so much about Bamfield … it was really special."

With co-op behind her, Claire now has her sights set on spending the final year of her undergrad working towards an honours thesis in Marine Biology and Oceanography, where the skills she learned from her co-op experiences will be put to use in the classroom. After that, it's anyone's guess where the future will take her — travelling, scientific dive training, and pursing a master's degree are all on her list — but she guarantees she won't be far from water. (Allison Auld)
Read about the other winners from different faculties on Dal News.