Dalhousie Science News
»
Go to news main
Learning marine biology in Canada's ocean playground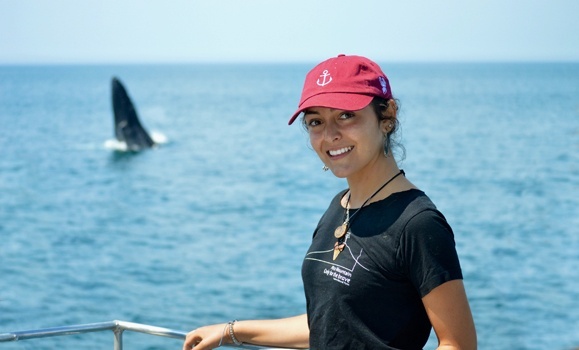 Every summer students registered in a Faculty of Science SEASIDE course know they're going to get their hands wet with experience studying the ocean and its life.
This past summer's Field Studies of Marine Mammals SEASIDE course was no different, but this year it was expanded to accommodate 15 international students interested in having a unique Atlantic Canadian experience learning marine biology.
"A lot of Dalhousie faculty and staff came together to create a special learning experience for students from all over the world," said Cindy Staicer, the SEASIDE Program Director.  "Funding from The Schulich Ocean Studies Initiative via the Schulich Foundation, Dalhousie's Provost and Vice-President Academic, and the Office of International Relations helped us do that."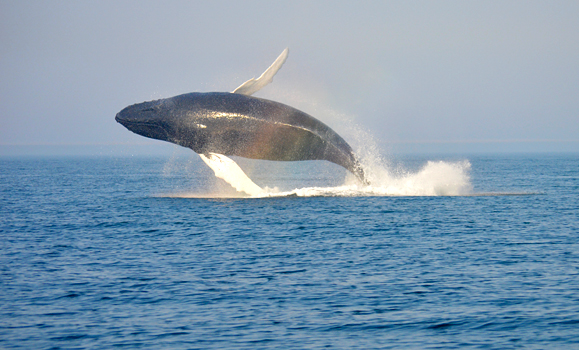 A humpback whale breaches
The field course brought together students from Norway, Sweden, Israel and Canada. Over three weeks, students attended lectures and workshops to learn the ropes of what they'd be seeing and doing during a five-day marine biology field trip to the Bay of Fundy region of Nova Scotia, known for its exceptional whale watching opportunities.
While tourists go to marvel at the beauty of whales, SEASIDE students went to work in groups to collect data on marine mammals for a research project due at the end of the course. Marvelling at the beauty of whales just came with the territory.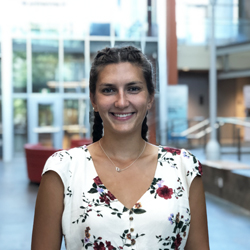 "It felt like so much more than three weeks because we did a million different things," said Karoline Viberg, a visiting student from the University of Bergen in Norway (pictured left). "A lot of our workshops covered things you would do if you had a job. I really liked the lectures too but going into the field was the highlight."
A wealth of wildlife

Viberg had seen humpback whales before but the experience she had in Nova Scotia was one she'll never forget.
"I've never seen humpbacks that close," she said. "I've never seen each and every baleen in their mouth!"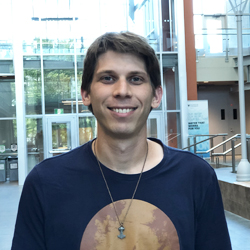 Tom Haran (pictured right), a student visiting from The Hebrew University of Jerusalem, shared Karoline's enthusiasm.
"This was an amazing experience. We saw an exceptional amount of wildlife this trip. Tons of whales, dolphins, seabirds, seals," said Haran. "It's a very good thing to be outside of the classroom and on a boat. That's not something I usually do back home."
A global effort

For Dalhousie marine biology student Laura Raposo, the Field Studies of Marine Mammals course highlighted the commitment and passion that those teaching it brought to their lesson plans.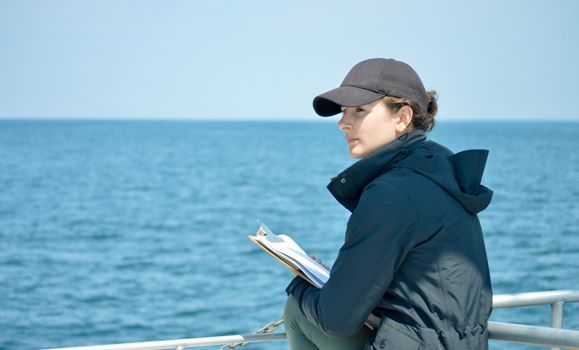 "Their love for and experience with the topic truly deepened my knowledge about marine mammals and sparked a greater passion in me to pursue research," said Raposo, who's currently in her third year.
Damian Lidgard was one of the instructors. For him, bringing students from both sides of the Atlantic Ocean together was one of the most thrilling aspects of teaching this course.
"It was very gratifying to be able to work with students from other countries and provide them with the opportunity to work with some of the remarkable marine mammal life that Canada is fortunate to have," said Dr. Lidgard, a part-time academic with the Department of Biology. "It was especially rewarding to see how the international and Canadian students worked together as a team to tackle their research assignments."
Working in groups allowed all students to tap into the unique knowledge and experience a class of people with an "array of nationalities, ages and gender," has to offer, explained Raposo.
"Research and conservation efforts in area of ocean sciences will only succeed with the teamwork of scientists from around the globe," said Raposo. "This is why classes that allow students to learn alongside their international peers are so important in giving students the proper tools to be able to work together to solve problems concerning the ocean."