Dalhousie Science News
»
Go to news main
Running the (lab) table: Dal researchers win big at 16th annual Discovery Awards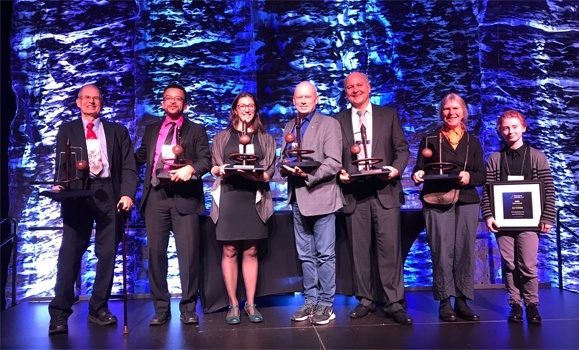 Emerging Professional

Dr. Erin Bertrand
Canada Research Chair in Marine Microbial Proteomics, Department of Biology

Erin Bertrand is an assistant professor in Dal's Department of Biology and Canada Research Chair (CRC) in Marine Microbial Proteomics. She joined the Dal community in 2015 from the Scripps Institution of Oceanography and the J. Craig Venter Institute in California.
Her research is helping understand how warming temperatures and other stressors may change the nutrient requirements of phytoplankton — small organisms that form the base of the food webs that support global fisheries and are crucial in the relationship between the ocean and the amount of carbon in the atmosphere. With a particular focus on the Scotian Shelf and the Southern Ocean, Dr. Bertrand's research shows how the tiniest of things can have a global impact.
Dr. Bertrand was also the 2017 recipient of the Simons Foundation Early Career Investigator in Marine Microbial Ecology and Evolution Award.
"I'm truly honored and grateful to be recognized by the Discovery Centre — an organization that does so much to help people in our province experience science," she says. "I'm fortunate to be leading an excellent group of young researchers in my lab and an pleased to accept this recognition for all of us." 
Science Champion

Dr. Kevin Hewitt
Professor, Department of Physics and Atmospheric Science

Kevin Hewitt is a professor in the Department of Physics & Atmospheric Science and chair of Senate at Dalhousie University. In the classroom, Dr. Hewitt strives to link Physics to the everyday lives of the learner. In his Molecular imaging lab, he has developed novel nanoparticle probes for cancer imaging and treatment, new optical imaging approaches and a prototype medical diagnostic tool for liver steatosis.
Dr. Hewitt combined an interest in science and community engagement by co-founding the Imhotep's Legacy Academy, a STEM outreach program for African Canadian students from junior high to university. He grew this program from a small room in the Physics building to a provincial program with an annual budget approaching $500,000.
Over the course of his career, Dr. Hewitt has attracted more than $3M in research funding, published over 30 papers, delivered over 60 invited presentations in Canada, US and Brazil; universities in China, Ethiopia, the US and Canada; and supervised numerous students. He is also the co-inventor of an instrument to diagnose liver steatosis.
Hall of Fame

Dr. Gerhard Stroink
Professor Emeritus, Department of Physics and Atmospheric Science
Gerhard Stroink is a long-serving faculty member in the Department of Physics and Atmospheric Science, retiring in 2007. A pioneer in biomagneticism, his research in both physics and biomedical engineering has had international reach. But Dr. Stroink's impact in the Nova Scotia science community has been just as profound.
A member and past president of the Nova Scotia Institute of Science and member and chair of the advisory board of SuperNova, he is renowned for his outreach efforts to introduce young people to science. In the 1970s, his "open house" days — where children and youth could come to the Dunn Building to participate in hands-on experiments and other interactive exhibits — grew into a travelling science show at schools, malls and community fairs. Dr. Stroink would take this concept to new heights as one of the three co-founders of the Discovery Centre, leaving a legacy that has inspired generations.