Dalhousie Science News
»
Go to news main
Settling a spirited "Great Debate"
Posted by
Erin Elaine Casey
on November 7, 2018 in
All News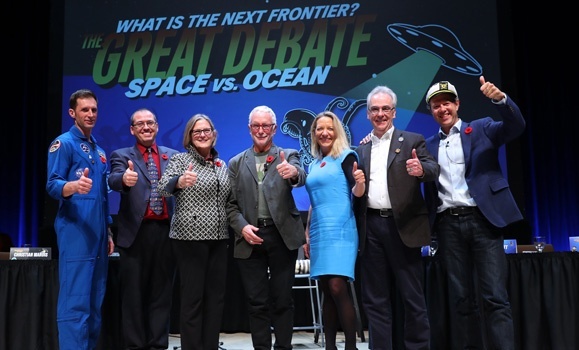 "'Boldly go where no man has gone before' is a lot more exciting than 'Clean up your room.'"
With those words, former NASA astronaut and Dal alumna Kathryn Sullivan neatly summed up one of the central issues Dal 200's Great Debate. At the event's core was a simple question, to be deliberated by six of the world's leading minds in ocean science and space exploration: what is the next frontier, space or the ocean?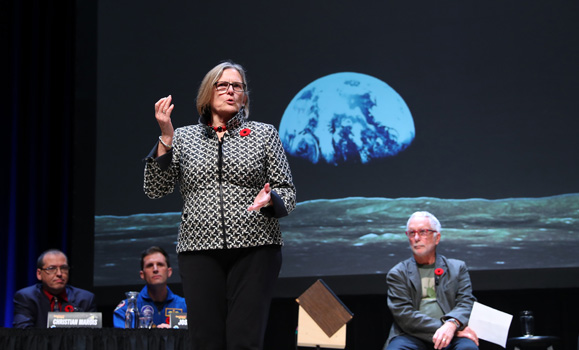 ­­Kathryn Sullivan.
But over the two-hour event it expanded into several other questions, including: is it better to look outward to space or inward to the deep ocean to solve the urgent problems facing our planet?
The battle for scientific supremacy was duked out Monday night (November 5) in front of a full house at the Dalhousie Arts Centre's Rebecca Cohn Auditorium, full of young and old alike. One of the culminating events of Dalhousie's 200th anniversary celebrations, the Great Debate was moderated by author, speaker and science broadcaster Jay Ingram, best known for his time as host of Discovery Channel Canada's Daily Planet. He bravely refereed what quickly became a passionate yet hilarious discussion, with both Team Space and Team Ocean garnering thunderous applause and raucous laughter from the delighted audience.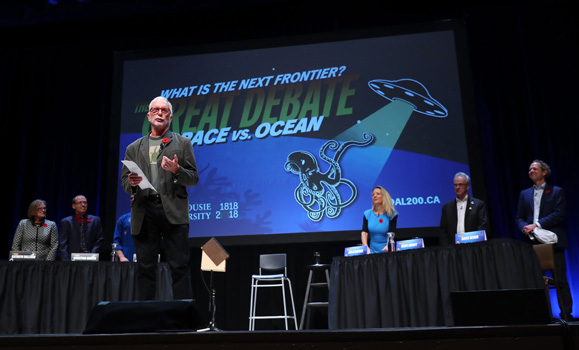 Moderator Jay Ingram introduces the debate format.

Despite her position as first debater on Team Space, Dr. Sullivan, who has a PhD ('79) in oceanography from Dal, turned out to be more of a conciliator than a hardline space defender. "One thing the two frontiers have in common is they give us challenging and exciting perspectives on the origins and futures of life," she said, "both life on this planet and life in the universe."
Capturing the audience's imagination

Team Space included Dr. Sullivan, test pilot and Canadian Space Agency astronaut Joshua Kutryk, and Canadian astrophysicist Christian Marois. Arguing for Team Ocean was Mark Abbott, president and director of the Woods Hole Oceanographic Institution in Cape Cod, award-winning German marine biologist Antje Boetius, and Dal's own marine research ecologist Boris Worm.
Meet the debaters: Read their full bios
The format of the debate had each speaker deliver a three-minute "pitch" to the audience, followed by crosstalk and rebuttal from the other debaters.
Team Ocean captured the audience's imagination from the beginning, with Dr. Boetius describing two-metre white worms with heads full of blood and ancient microorganisms that survive without sunlight, all in places where scientists once expected to find an underwater desert. "We even think we have the clue to the origin of life!" she told the audience, her eyes shining. "Now don't you want to come dive with us and find out what the oceans have in store for you?"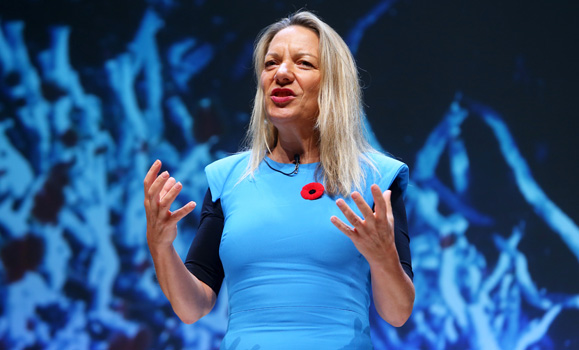 Antje Boetius.
Dr. Abbott talked about the ocean's vast ecosystems, and the need to protect them from exploitation. "Our animals are way cooler than what you'll find in little microfossils on Mars," he quipped, describing the ocean dwellers as "alien meets Dr. Seuss." He urged the audience to put the ocean first now, before it's too late, and to respect our interdependence as species on Earth. "We know we're not alone. We are the world."
Dr. Worm won the audience's enthusiastic approval when he joked, "Outer space and inner space are the same, only we have guaranteed aliens in the ocean… and we've only made friends with about one-tenth of them!" Later, in a white captain's hat he donned in an attempt to compete with Joshua Kutryk's NASA jumpsuit, he conceded that outer space is fascinating, but reminded us that inner space actually supports life: "My life, your life, everybody's lives. And the lives of all those millions of other life forms that we already know are on this planet."
Figuring out our future

Dr. Sullivan led the charge for Team Space, ribbing Dr. Abbott: "When I was born, there wasn't a space age. Mark and I have that in common." She went on to describe watching the space program develop to the point where people from many different nationalities are able to live and work together on the International Space Station.
"The biggest reason to pursue the space frontier is because it is… where the most informative, daring, difficult challenges lie," she said. "It is one of the few arenas that is so unifyingly aspirational that countries that are otherwise openly hostile to each other manage to come together and find some common ground."
Next up was Dr. Marois, who went straight to dark humour, exclaiming, "The future is an earth without water. We're doomed! The only answer is to go to space... and the kids in this room will design the tools. It's not just the next frontier; it's the final frontier."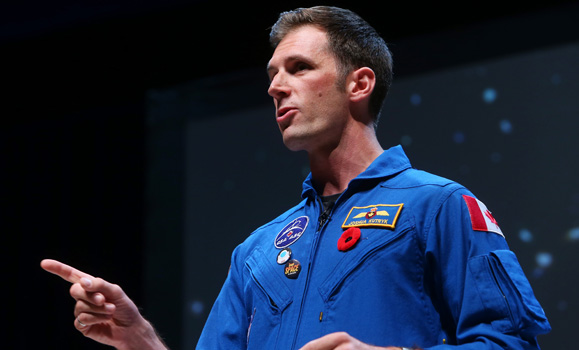 Joshua Kutryk.
Finally, L.Col. Kutryk took to the stage to wrap up the case for space. "Curiosity and a desire to explore are fundamental elements of what makes us human," he said, adding that going into space has become "a survival-based imperative. We have to go into space because we cannot afford to leave in space the benefits and opportunities that await us there."
To put the icing on the cake for the young people in the audience, the astronaut added: "The people who will go to Mars are alive today, and I would ask that you just think about that for a minute. We've never NOT done something as a species because it was too hard."
Finding common ground

As the debate progressed, the two sides appeared to come closer and closer together, grudgingly but good-humouredly agreeing that each benefits from the other's research and technology.
Dr. Boetius confessed to a secret love of space. Dr. Sullivan disagreed with her teammate L.Col. Kutryk about the viability of the "lifeboat theory" that humans can find a safe home on another planet in the foreseeable future. There was a spirited debate about how exciting it is — or isn't — to grow cucumbers in space. All this pointed to a happy resolution. Dr. Sullivan even suggested that the United States government could round up the eight tenths of a penny from every tax dollar that goes to NASA to two cents to be shared equally between ocean and space research.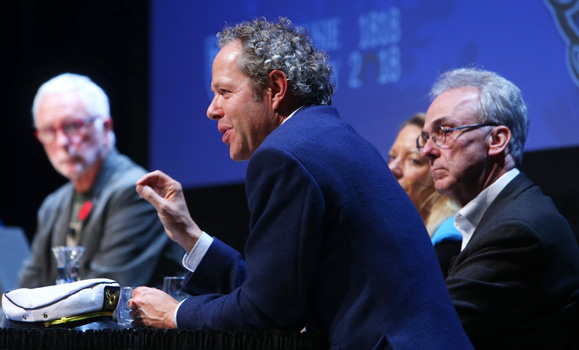 Boris Worm.
The audience then had the opportunity to ask questions. The most impressive came from many of the 300 students from grades seven to 12 who had spent the day on campus taking part in STEMFest, a program of workshops related to science, technology, engineering, the arts, and math.
Dr. Sullivan pressed the youth in the room to take responsibility for their own future. "We can do all of these [debates] that we want, and if all you do is listen for an hour and half, and… then go home and turn on the hockey game and forget about it, then it will never matter that we did this tonight. So the ball is in your court."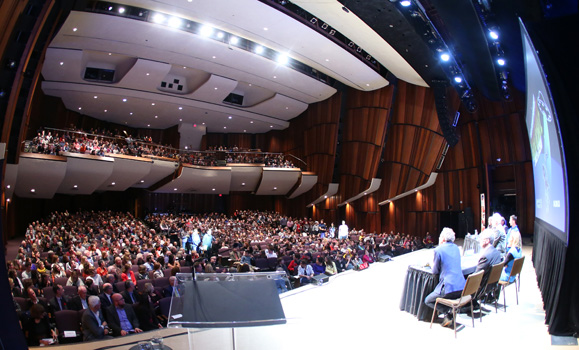 The view from the stage.
At the end of the evening, Jay Ingram asked the audience to vote by applause for the winner: Space or ocean? The cheers for both sides were resounding, leading Ingram to declare, simply, "It's a tie."
In the words of Dr. Boetius, "This tiny little blue marble is worth thinking about," whether you're viewing it from deep within the ocean, or through the window of a spacecraft.