Dalhousie Science News
»
Go to news main
Making time to make a difference
Giavonna Rossi was heading to her locker in the Arts Centre after a summer class in Organic Chemistry when she saw what looked like garbage in the middle of the floor.
She bent down to pick it up and noticed a mouse was inside struggling to free itself from the sticky substance that had stopped it in its tracks. She soon realized, after checking with staff members, that the mouse was caught in what's called a glue trap.
"At first, I was trying to get its feet unstuck but the more I tried the more the mouse kept tearing its fur and was extremely frightful and distressed," she recalls. She pushed the box closer to the wall and asked some faculty members to try and get someone to help the mouse.
Out of the box

When Giavonna realized the traps were used in other Dal buildings, she decided to speak with Facilities Management about finding more humane traps for rodent control across the university.
"We always appreciate hearing our students' perspectives and finding ways to include them in decisions affecting their surroundings," says Mike Wilkinson, FM's Environmental Services Manager. "We did not want to continue with a practice that is inhumane or offensive to some members of our community so we quickly came up with other solutions."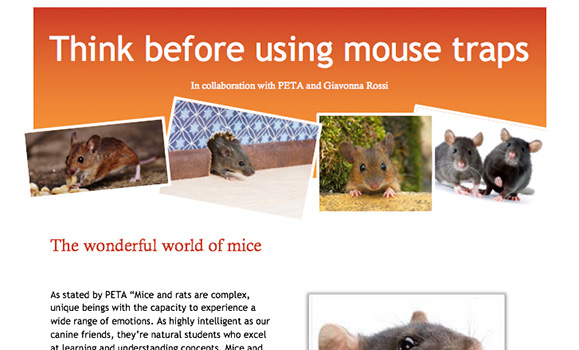 "They were very willing to help and cooperate," Giavonna says. "I had discussed these traps with PETA to find more humane alternatives of getting rid of the rodent problem. That helped us come up with different options and now Facilities Management is in the process of getting rid of all the glue traps from Dalhousie and replacing them with more humane ones — on the Halifax campuses as well as the Truro campus."
Giavonna has also been reaching out to other universities in the area to highlight the issue and encourage them to try a different method. And she'd like to see a national initiative.
"I want to spread the word because I wasn't even aware these existed. It's the 21st century: we're better than that. I know they're banned in other countries and would like to see them banned in Canada as well."
Well rounded

Giavonna's passion for eliminating glue traps encompasses both aspects of her double major in International Development Studies (IDS) and Biology.  The connection to Biology seems more direct but Giavonna says it was her IDS classes that made her aware of issues in the local community and around the world while highlighting the responsibility we all have to take action when needed.
"We're all connected and can do our part in educating ourselves and helping out where we see it's needed even if it seems small. Being more aware of our surroundings that is power; power to make a change and make a difference."
As if a double major wasn't enough, Giavonna is also doing a minor in Music. Music is one of her many passions and she loves making people feel good through her music.
"I've always performed and volunteered ever since I was very young. It's really fun and rewarding to give back in bringing joy to others," she explains. "I know some people who played an instrument in high school but when they came to university stopped playing, I could never do that, I love my music and it is also a great stress reliever."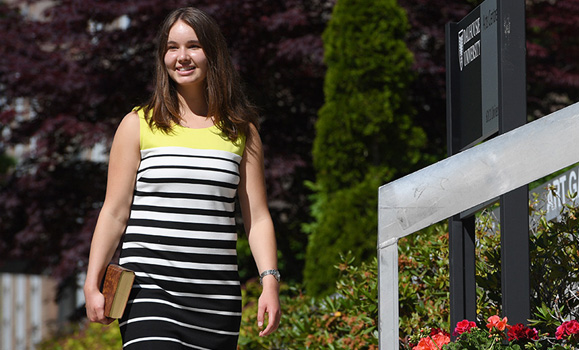 It might seem a dizzying combination of topics to keep straight but Giavonna says it works well for her. "I like to be diverse and well rounded and couldn't imagine focusing on one thing. It keeps it interesting and I love the challenge."
Going beyond

Giavonna enjoys a range of activities outside of her school work as well. This summer she helped form the first ever Dalhousie Pre-Law Society — just ratified in July. When she's not on campus, Giavonna volunteers at the Veterans Memorial hospital, and is studying for her 10th level for piano and ARCT for flute with the Royal Conservatory of Music. She's accomplished the Gold level in the Duke of Edinburgh Award Program and is a third-degree black belt in Taekwondo.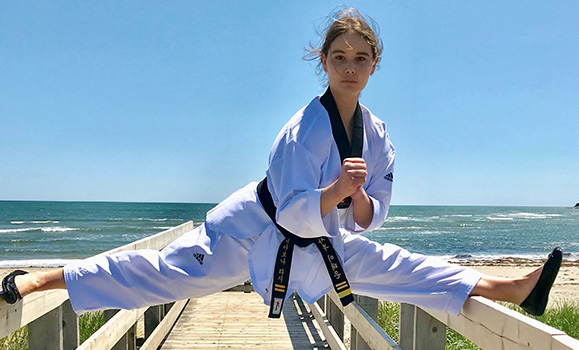 "Overall, I like to make a difference and give back. I feel that's what everyone should do in any small way they can," she says. "If there's something very important to them they should go for it because some people might not realize it's an issue . Like with the mice — a lot of people either don't take the time or they don't know the problem exists. For me education is the start of change."