Dalhousie Science News
»
Go to news main
News Release: low oxygen "dead zone" in Gulf of Mexico will be three times as large as Prince Edward Island, forecast finds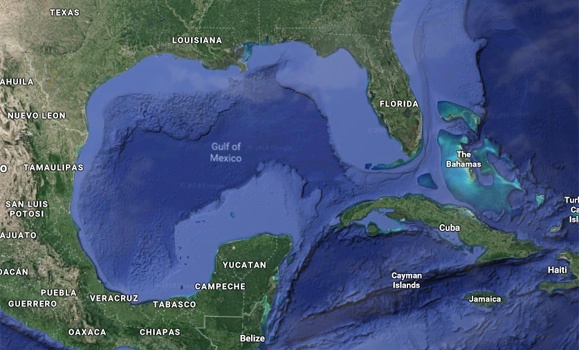 (HALIFAX, N.S.) Thursday, June 7, 2018 - Dalhousie University scientists  forecast that the northern part of the Gulf of Mexico will experience a hypoxic zone, or an area of low oxygen also known as a dead-zone, about three times the size of Prince Edward Island this summer. The Dalhousie forecast has been released simultaneously with the annual dead-zone forecasts from the National Oceanic and Atmospheric Administration (NOAA) and the United States Geological Survey (USGS).
"The hypoxic zone in the Gulf of Mexico forms every summer and is the largest in North American coastal waters. Freshwater and plant nutrients—mostly from unused agricultural fertilizer, and urban and industrial wastewater—travel to the Gulf from the Mississippi River," says Katja Fennel, an oceanographer at Dalhousie University. "These nutrients stimulate a sequence of biological transformations in coastal waters that significantly decrease oxygen levels near the bottom resulting in an environment unable to support most higher marine life forms."
All forecasts of the hypoxic zone in the northern Gulf of Mexico are based on an estimate of spring nutrient discharge from the Mississippi, determined by the USGS every May. The simulation model developed by Dr. Fennel and Dalhousie researcher Arnaud Laurent provides a comprehensive way for scientists to simulate the hypoxic zone's location, size and evolution through the summer season. This level of detail has never before been achieved in hypoxia forecasts.
Dalhousie's simulation indicates that the hypoxic zone in the Gulf of Mexico will reach a maximum size of 17,900 km2 in late July. It forecasts the mean size between July 23 and 29, when a monitoring cruise will map location and extent of the hypoxic zone, to be slightly smaller at 15,900 km2. This is about three times the size of Prince Edward Island, and bigger than the 33-year average Gulf hypoxic zone of 14,000 km2.
Video: Dalhousie's simulation using data from summer 2017. The red depicts hypoxia.