Dalhousie Science News
»
Go to news main
Gail Eskes' spatial neglect research receives $150k from local businesswoman and the Heart & Stroke Foundation
Posted by
Faculty of Science via The Chronicle Herald
on January 18, 2018 in
All News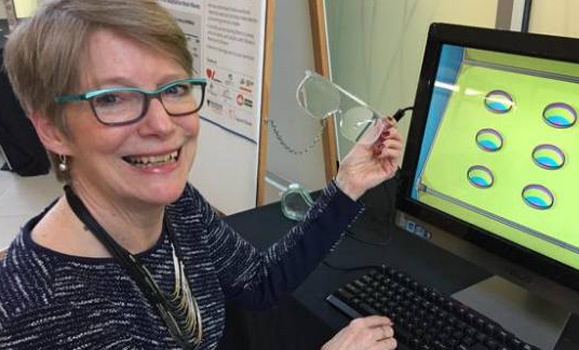 On January 17, Heart & Stroke and Dalhousie University hosted a reception to recognize a generous gift from Diane Campbell for Dr. Gail Eskes' ground-breaking research which aims to improve rehabilitation for people after stroke.
---

Businesswoman gives $150,000 to stroke research project

It's a disorienting sensation when your perception of the world slides in the wrong direction.
I'm wearing a pair of adaptive prism goggles that are tricking my brain into thinking I'm reaching in the correct direction when in fact I'm slightly off-target to the right.
"When you initially put the goggles on and you try to reach the line, what you'll see is you'll miss the line by a few degrees," said Gail Eskes, who was explaining her study of spatial neglect, a debilitating effect of stroke, in the Life Sciences Research building at Dalhousie University on Wednesday.
"As you gradually do that again and again . . . the brain accommodates to that and it learns where the line is now in the new visual world that you've got. Then when you take the glasses off what you'll find is that you're now making mistakes in the opposite direction. That's the self-correction the brain is learning."
After a stroke in the right hemisphere of the brain, about 60 per cent of people suffer spatial neglect.