Dalhousie Science News
»
Go to news main
Taking the experience all in—and giving back too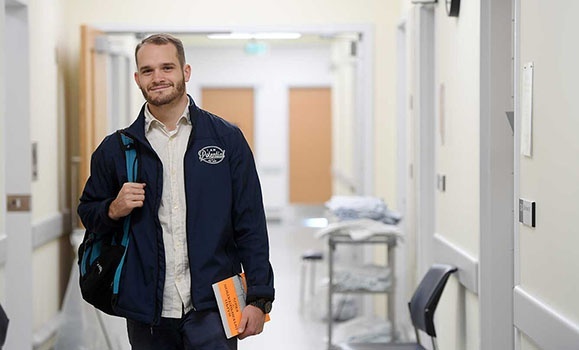 Six years ago, when he began exploring university options, Jordan Boudreau knew he wanted to work toward a medical degree but he wasn't sure how he wanted to get there.
"I didn't know if I wanted to pursue writing or journalism or science because I read a lot as a kid and consumed a lot of stuff and I thought that journalists have an important role in sharing information with the world."
Focused on people

Jordan eventually chose the undergraduate science program at Dal. In his first year, he was introduced to neuroscience and quickly became hooked. In many ways, it was exactly what he was looking for — a science that was people focused. He thrived in the program, which in his case included work in the labs of Donald Mitchell, Kevin Duffy and Nathan Crowder.
"In the first semester, Kevin Duffy was dissecting an eye in class and talking about perception and consciousness and I thought it was amazing. Most of my undergraduate research focused on vision and visual disorders, which is appropriate because I'll graduate from medical school in 2020 — the year of clear vision," he says with a laugh.
During this time, Jordan was building a community at Dal that included his sister, who graduated from the Dental Hygiene program, and his brother, who is at Dal for Nursing. While that certainly influenced his decision to stay at Dal, Jordan says it was the way the medical program appealed to his way of looking at the world that clinched the decision.
"Dalhousie's a school that really values clinical skills and talking to people. It's about sitting with people and finding out what they're about, what their values are and how illness impacts their function in the context of their life. So, I thought, 'why do I need to look any further?'"
The impact of care

Jordan's interest in medical school came from his mom. She was a nurse and he remembers seeing first-hand how medicine can be a wonderful way to make an impact and connect with people.
"It was amazing to watch how much her ability to help was appreciated, how much that was needed and the difference you could make if you had a specific set of skills."
As sure as he was about becoming a doctor, he was uncertain of what he'd encounter at medical school. He'd heard all the tales about medical students being ruthlessly competitive. Fortunately, he had nothing to worry about.
"I was so blown away by my classmates and how compassionate they are. They're intelligent, wonderful people who bring so much to the table. I was totally wrong about what I thought needed to change about the profession."
For instance, this year, nearly half of Jordan's class is engaging with community initiatives throughout the HRM by completing Service Learning projects. Of those that aren't engaged in this formal program, many are involved in other forms of outreach and service.
Learning that matters

Before he entered Dalhousie Medical School, Jordan had been following the work of Paul Farmer, a medical anthropologist and infectious disease physician who co-founded the international health organization, Partners in Health. Dr. Farmer's views about the social accountability of physicians had an impact on Jordan that became further ingrained by working with Dr. Lisa Barrett from the Dal's Division of Infectious Diseases for his Research in Medicine (RIM) project.
"She's driven to eliminate Hepatitis C in the maritime provinces. It's amazing. And it's feasible."
As part of the project, Jordan handed out questionnaires to people to gauge their support of the elimination of Hepatitis C. He was surprised to learn that many of the people he talked to really wanted to dig deeper into the issue.
"One third of people who answered the questionnaire wanted to take more time to learn about it. That suggests it's worthwhile to do more advocacy work — to get the information out there, have town hall meetings, talk to folks, and as you learn things that are important, share them with people because I'm sure they will find it interesting too."
Right from the start

Now Jordan's in the second year of his medical degree but his focus hasn't changed all that much from when he started. He's still an advocate for the value of sharing information with the public and he's looking forward to being able to use his skills to help people in need.
"Once you know certain things about the world, how can you just sit there? I don't really know where this will lead. I just know I want to be a good doctor."