Dalhousie Science News
»
Go to news main
Staying connected: Peer support workers provide mental health advice and support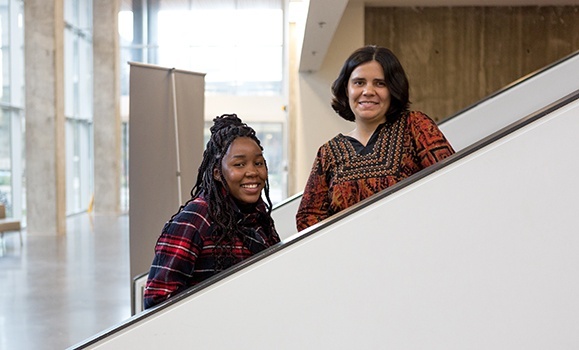 Offered through Student Health & Wellness, the Stay Connected Mental Health Project gives Dalhousie and King's students in Halifax the opportunity to meet with other students who can provide them with safe mental health advice and support.
Tanaka Shumba and Juliana Gomes Pontes are the on-campus peer support workers for Dalhousie students.
Now in her second year of the Medical Sciences program, Tanaka had a difficult time adjusting to university life when she arrived at Dalhousie. It was her first time leaving her home in Zimbabwe and she was overwhelmed with school. She says she wasn't prepared mentally for university and the related stress, and had a two-week period during midterms when she obsessed over her courses while going through a rough patch of homesickness.
"I ended up finding someone to talk to who was also an international student and became aware about mental health," says Tanaka. She then went to the East Coast Student Leadership Conference and attended a session on mental health. That's when her interest in mental health exploded and she has since volunteered for Break the Silence, Beat the Stigma and Dalhousie Defeat Depression Week. "I started talking about mental health all the time."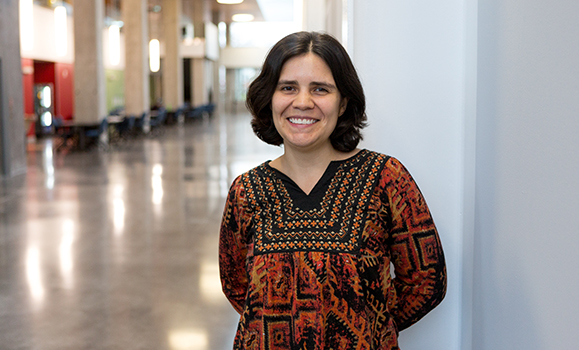 Juliana (above) is now in her second year of the Master's of Social Work program after earning a bachelor's degree, also in Social Work. Arriving in Halifax from her home in Brazil, she also had a difficult time adjusting to life at Dalhousie. She says international students often face challenges trying to adapt to a new university, a new city, a new country and sometimes a new language on their own.
"When you come here by yourself, you don't have your community to support you, and maybe you're not familiar with how things work here," she says. "I was the only international student in my class. No one was experiencing what I was experiencing and I didn't know about the peer support program. If I did, I probably would have used it quite often."
Personal connections

In order to become peer support workers, Juliana and Tanaka underwent 16 hours of training adapted from the Nova Scotia Certified Peer Support Certified Specialist Program. They also have monthly workshop meetings with other peer support workers from Saint Mary's, NSCAD, Mount Saint Vincent and King's as a part of the Stay Connected Mental Health Project.
Both Tanaka and Juliana have had previous struggles with their mental health, which is a core component of the peer support program. They say it allows students to connect with them on a more personal level.
"It gives people hope in the recovery process," says Juliana. "You can see someone who was in the same place as you, and now they have recovered and are able to provide support to someone else."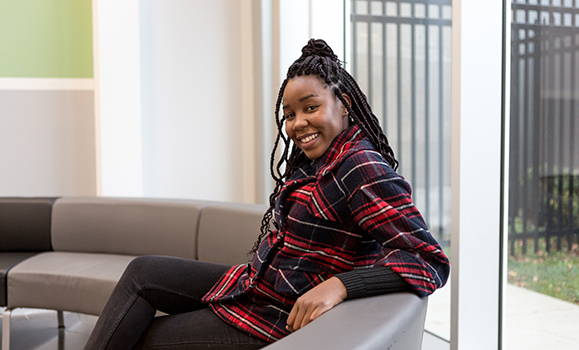 "I feel like sometimes you can feel like no one understands, but we're just here to listen," says Tanaka (above). "It's free, it's nonjudgmental, it's safe, and it's confidential. Peer support is not counselling; this is peer-to-peer interaction. We're here to offer guidance, listen and steer you in the right direction."
Juliana speaks highly of the benefits of a peer support program as a preventative tool for students — particularly because they can visit during office hours at their own convenience when they want someone to talk to who will provide some emotional support.
"Sometimes people just need to talk," she says. "Maybe you don't need a specific form of treatment, but having that conversation enables you to cope with the situation better."
Different types of support

If necessary, they will also refer students to other services on campus such as the Student Health & Wellness Centre and advisors in the students' particular programs or at the Bissett Student Success Centre.
Juliana says the most important step of the recovery process is realizing you are not OK and asking for help. "Dalhousie has a lot of resources, so students should use them!" she says. "They're included in student fees — you don't have to pay more. We're here for free to provide support for students. You don't have to go through this process by yourself — there is help available."
Both Juliana and Tanaka say it's important for students to practise their own self-care skills. This could include things like planning and preparing for things in advance (especially schoolwork) to avoid preventable stressors, talking to friends and family, listening to music, and taking some time to not think about school. But most of all, go easy on yourself.
"Forgive yourself — don't be too hard on yourself," says Tanaka. "School is important, but it's not everything. Just celebrate the small victories. You woke up and got out of bed, yay! You made it to class, yay! You finished an assignment, yay!"
Juliana and Tanaka are available to meet with students in the DSU Wellness Room (basement of the Student Union Building), Monday to Thursday from 4-6pm.