Dalhousie Science News
»
Go to news main
Keeping it "200": Meet banner star Moe Karkada, medical sciences student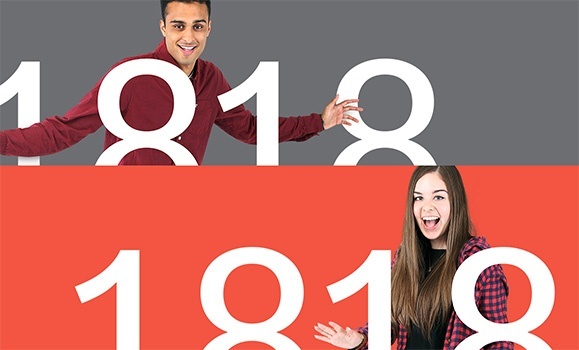 Signs of Dalhousie's forthcoming 200th anniversary are, literally, blowing in the wind. The Dal 200 banner series, which can be found on lamp posts across campus (and was recently featured on the MacDonald Bridge), profiles exceptional Dal students from all of the university's Faculties. In the weeks leading up to 2018, we'll be sharing short Q&As with some of the featured students.
Learn more: dal200.ca
Manolhas "Moe" Karkada 

Fourth-year Bachelor of Science in Medical Sciences (Honours), Faculty of Science
Tell us a bit about yourself
I play forward on the Dalhousie Men's Soccer Team. In addition, I am part of the Dalhousie MedLife chapter and traveled to Peru this past summer to volunteer at one of their mobile clinics. And then, there is my research interest. Currently, I am working on two projects at the QEII hospital. One involves radio imaging in Thyroid oncology and the other one involves histopathology in early breast cancer.
Career ambition?
At the end of high school, I was leaning towards a career in the Health Sciences and my undergraduate years have only reinforced my interest.  I plan to pursue this through the medical field.
What brought you to Dalhousie?
I grew up in Halifax, and it was important to me to go to a school close to home. Luckily for me, Dalhousie is well known for its excellent academics and collaborative research and that factored strongly into my decision.
What's the best class you've taken at Dalhousie and why?
PHYL 3620- a lab-based course in Human Physiology. I enjoyed this course because I have a keen interest in understanding how the human body works and I was fortunate to have an excellent professor, who made this hands-on course so clinically relevant.
What do you think of your banner? Have you gotten any fun reactions to it?
I still find it amusing walking around and seeing my picture hung all over campus. I have had quite the animate reactions from a lot of my friends and I am constantly receiving photos of my banner.  
What does it mean to you for Dalhousie to celebrate its 200th anniversary?
I graduate this year; ours is the first batch of Medical Sciences students to graduate so it will be extra special to be joining thousands of proud alumni as Dalhousie marks a special milestone and celebrates its 200th anniversary.
This story originally appeared on Dal News. Continue there to read about Nicole Darymple, a second year Master of Library and Information Studies (Faculty of Management) student.