Dalhousie Science News
»
Go to news main
Remembering Ransom "Ram" Myers, 25 years after the cod collapse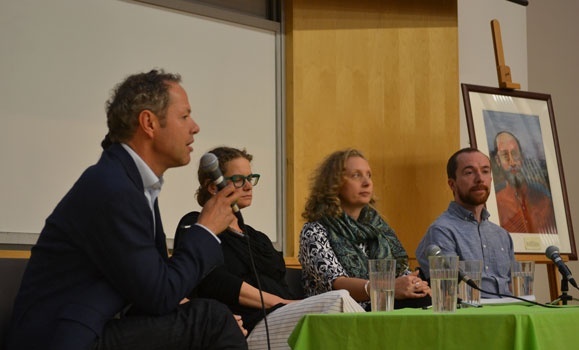 A decade ago, the world lost one of its most accomplished marine biologists and conservationists when Dal researcher Ransom A. Myers died at the age of 54.
A lecture series established in his honour at Dal marked its 10th anniversary last week with a panel discussion on the collapse of Canada's Atlantic cod fisheries in the early 1990s — a topic the late researcher held near and dear to his heart.
Four of Dr. Myers's former students, all now leaders in related fields themselves, returned to Dal to take part in the event, sharing fond memories of the man they called "Ram" (based on his initials) during short presentations prior to the panel.
They p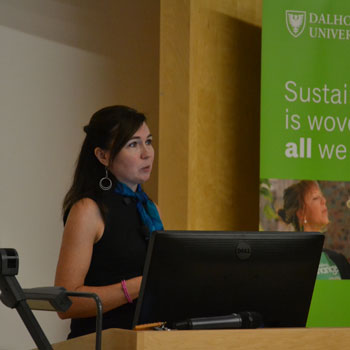 ainted a picture of a brilliant scientist, a committed conservationist, a family man and an eccentric friend who profoundly impacted their approach to thinking about the ocean and the work they do today.
"He saw something in each of us, and once he chose us he had this unerring faith and trust that we could do whatever near impossible task he set upon us," said Julia Baum (left), a former graduate student of Ram's who now teaches and runs a marine-biology lab at the University of Victoria.
"He instilled this confidence in us and that's one of the most important things a mentor can do," she said.
Using data to make a difference

Nearly 500 people came out to Ondaatje Hall for the event, which was organized by the Department of Biology and the College of Sustainability. Dal Biology Adjunct Professor Derek Tittensor, a graduate student of Ram's when he died from brain cancer, served as MC for the evening.
Other speakers/panellists included Cóilín Minto, a statistical ecologist and fisheries scientist at the Galway-Mayo Institute of Technology in Ireland; Stephanie Boudreau, a scientist with the Department of Fisheries and Oceans (DFO) in Moncton; and Susanna Fuller, the senior marine conservation coordinator at the Ecology Action Centre.
Dr. Fuller said Ram taught her the importance of persistence and using data to make a difference. She spent her years as a doctoral student collecting data on sea sponges in the Northwest Atlantic, but said he always gave her the leeway she wanted to explore other topics such as policy as well.
"I really learned that you had to sometimes go all the way," she said. "Once you did the science, you had to then take it to the world. Then once you took it to the world, you had to make the world do something."
Learning from the collapse

Dr. Myers gained international recognition during the 1990s and 2000s for his work on the impact of overfishing and discarding on fish stocks around the world. A paper he published in 2003 showed that several large predatory fish communities around the world's oceans had declined by about 90 per cent, a shocking revelation that drew global attention and helped land Ram on Fortune Magazine's 2005 list of top 10 people to watch.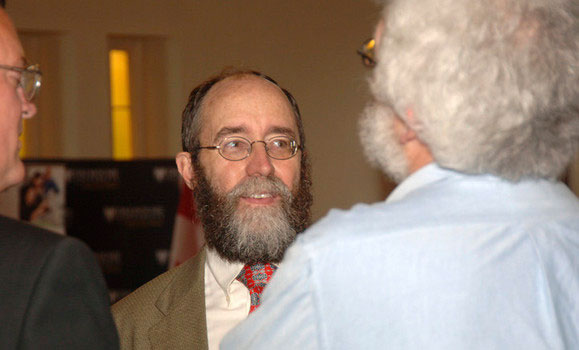 Ransom "Ram" Myers. (File photo)

He paid particular attention in his work to the collapse of the Atlantic cod fishery in 1992. A moratorium on cod fishing enacted by the Canadian government in response to the collapse was at the heart of last Thursday's panel, which was moderated by Jeffrey Hutchings, Dal Biology professor and close collaborator with Dr. Myers.
Dr. Hutchings said the cod collapse (which left 35,000 Newfoundlanders unemployed) and the resulting ban enacted by the Canadian government spawned an enormous amount of research and media interest worldwide into why fish stocks collapse and what kinds of factors affect their recovery.  
Dal Biologist Boris Worm, who was invited to the stage to take part in the panel discussion, said the crisis taught those involved that we need to tread a little more carefully and to consider how the species we care about relate to other species in a larger system.
"We can't look at things in isolation," he said, noting that scientists and policy makers need to be even more discerning in trusting data and arguing on the basis of data.
The way forward

Others stressed the need for scientists to be more deeply involved in the policymaking process and the importance of establishing targets.
While cod stocks have shown signs of coming back in recent years, panellists said throughout the night that recruitment among certain species — a key indicator of future sustainability — remains weak.
Dr. Boudreau, DFO researcher, said the cod collapse had made it clear that there's more to fisheries management than just good science and data.
"There's important information that harvesters or fishers hold, or that First Nations people hold," she said, noting that this information is starting to be integrated more into decision-making.
An audience member recalled how Ram often encouraged people to practice humility when it comes to science, asking how well we are able to found our management practices on the basis of science when we are discovering how little we understand.
Dr. Worm, a close colleague of Ram's when he was alive, said it helps to view ocean science as one might a human life.
"We're coming out of our crazy teenage years and we're trying to maybe have a plan and have that plan based on past experience," said Dr. Worm. "But is it a good plan? We'll find out by doing it. There's no other way of finding it out, and we should be doing it carefully as Ram said."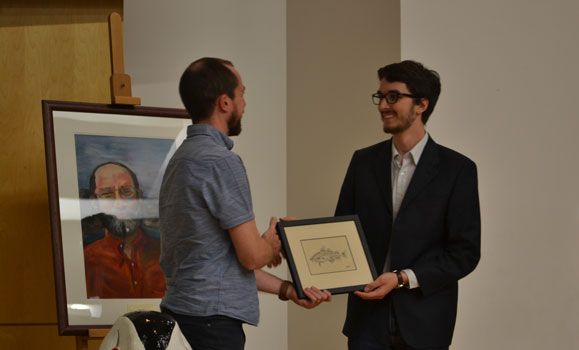 Above: Carlo Myers, Ram's son, presents a piece of artwork he prepared for Cóilín Minto. Myers presented a unique piece to each of the panellists to pay tribute to their work.