Dalhousie Science News
»
Go to news main
Discovering a new passion in plants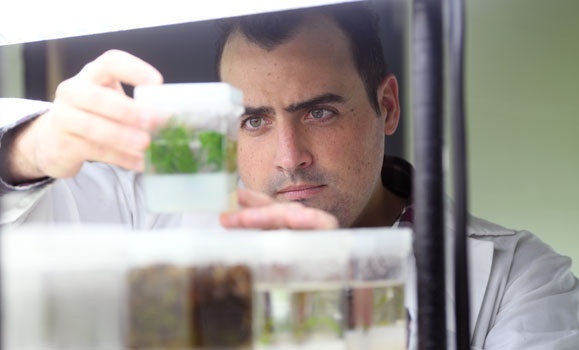 Adrian Dauphinee was a commerce student in Toronto a decade ago when he decided to move back home to Halifax to help tend a business he'd started in high school.

He ended up discovering an entirely new career path in the process.

Although Adrian enjoyed working on the souvenir wholesale business he'd co-founded with his brother under the guidance of their parents, his lifelong interests in science and technology led him to take the risk and enrol in the Bachelor of Science program at Dal.

A few short years later, he started as a volunteer in professor Arunika Gunawardena's lab and before he knew it was in the honours program and presenting a paper at an international botany conference in Australia — all while still an undergrad.

"I just loved every minute that I was in the lab, and I wanted to spend more and more and more time in here," says Adrian. "As soon as I got started on some research projects, that's when I really knew this was the right career path for me and what I really wanted to do."

Adrian stepped away from the business when he started grad school, focussing his energy on helping investigate the phenomenon of programmed cell death (PCD) in lace plants.
A part of something unique

Dr. Gunawardena played a pivotal role in the early to mid-2000s in introducing the lace plant as a compelling species through which to study PCD, a process whereby cells purposefully self-destruct as part of an organism's natural development. Human foetuses, for example, develop fingers through the killing off of certain cells through PCD. Similarly, lace plants — native to Madagascar — develop their distinct lattice-like appearance as PCD creates surface perforations.

While a lot o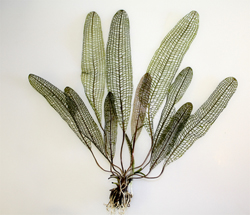 f researchers in plant biology stick to more established model species, the lace plant's unique features offered the potential for new insights. When Dr. Gunawardena proposed a long-term live imaging experiment to track dynamic changes during programmed cell-death process, Adrian saw the opportunity to be on the cutting edge of something new.

And, indeed, he was. In 2012, Adrian captured a 72-hour long video sequence using lace plant samples to show cell-death events on imaging technology in Dr. Gunawardena's lab. They were the first scientists to witness the process in the species from start to finish and describe this dynamic process.

"That was something really exciting and new, and it's because of the features of this unique plant that we could pull something like this off," he says. "We are getting a better understanding of how plants and all organisms as a whole might employ these kinds of critical developmental processes."

Adrian has used some of those same cell-imaging techniques in studies since to see how different manipulations or treatments impact cell death in plants, an approach that could eventually yield insights into how to regulate the process. These mechanisms could then potentially be applied elsewhere in fields such as agriculture (to improve agricultural yields and reduce waste) and medicine (to see how different plant compounds and proteins affect various human diseases).
Growth and new adventures
 
The recipient of Killam Trust and NSERC scholarships, Adrian has also won top presentation awards at local, national and international conferences and a prestigious award from the Canadian Botanical Association for a paper he co-authored.

He credits Dr. Gunawardena's guidance as a supervisor and the strength of her lab group for his growth as a scientist since he took a chance all those years ago.

Dr. Gunawardena and Adrian inspect a plant culture.

Graduating Tuesday with his PhD in Biology, Adrian is now set to embark on his next move — this time to Uppsala, Sweden, where he will work with one of the world's leading experts in PCD and autophagy (self-eating, a process related to PCD) for two years as an NSERC postdoctoral fellow.

"I'm excited to get into a new lab setting and learn their systems. I'm sure it will be all consuming" he says. "But leaving here is going to be tough. I've worked with so many talented and great individuals during my time at Dal. Hopefully, my research and career path will lead me back someday."