Dalhousie Science News
»
Go to news main
CMOS honours Dal contributions to ocean research
Posted by
Meaghan Bartlett
on August 3, 2017 in
All News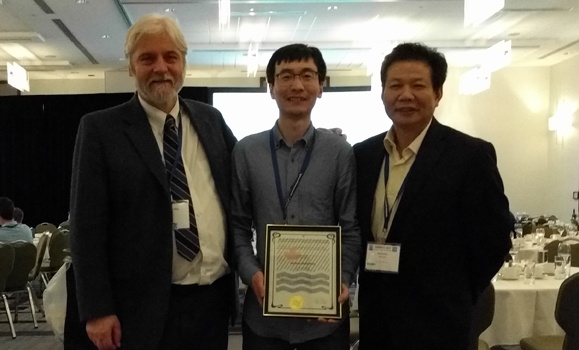 Three Dalhousie academics have been recognized by The Canadian Meteorological and Oceanographic Society (CMOS) Awards.                              

Keith Thompson, professor in Oceanography and Mathematics & Statistics, received the J.P. Tully Medal in Oceanography from the Canadian Meteorological and Oceanographic Society (CMOS). The medal was awarded "... for his profound and lasting contributions to the understanding of the oceanography of Canadian waters and his commitment to providing predictive tools for oceanic variables of societal concern."
Thompson's research focuses on understanding how the ocean works and predicting how it will change. He uses complex ocean models and observations from a variety of platforms (e.g. ocean gliders and satellites) and ties them together using advanced statistical methods. His interests cover a wide range of time and space scales (from tidal to centennial, coastal harbors to the global ocean) and likes to exploit the synergy between theoretical research. Some of his work is already in use as part of Environment Canada's flood warning system.
Oceanography postdoctoral fellow Shiliang Shan received a Tertia M.C. Hughes Memorial Graduate Student Prize in recognition of his excellent doctoral thesis. The award is given to students for contributions of special merit.  
Shan's doctoral thesis focused on the Scotian Shelf, and the deep waters around it. Using a state-of-the-art ocean circulation modelling system which he developed, Shan examined the circulation, physical features, and related variabilities of the Shelf. He also investigated how the distribution and migration of marine animals, such as American eels, respond to changes in the marine environment.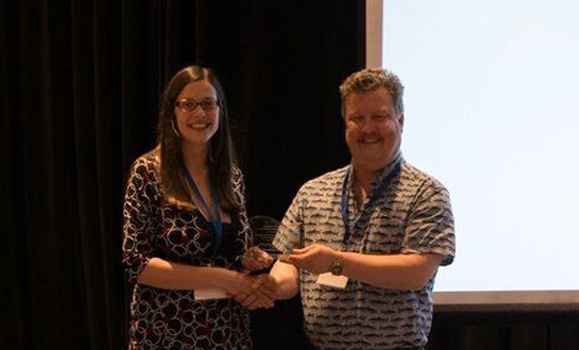 Kimberley Davies (pictured left), postdoctoral fellow and adjunct scholar in Oceanography, received the second Canadian National Committee for the Scientific Committee on Ocean Research (CNC-SCOR) Early Career Ocean Scientist Award. The award is presented to an early career oceanographer/marine scientist (within 10 years of completion of a Ph.D.) for an outstanding contribution to marine sciences in Canada.
Davies' research and publications cover a range of areas: factors in ocean water mass variation such as acidification, structuring of copepod and larval invertebrate aggregations (cluster formation), recruitment, and habitat connectivity; tidally forced aggregation mechanisms; and universal energy content relationships. Her work has produced new oceanographic, marine-ecological and marine-mammal insights and has led to effective and practical conservation policy changes.
The awards were presented at 51st CMOS Congress in Toronto on June 7, 2017.
With files from the Canadian Meteorological and Oceanographic Society and the Scientific Committee on Oceanic Research.