Dalhousie Science News
»
Go to news main
Science alumna experiences tall ships first hand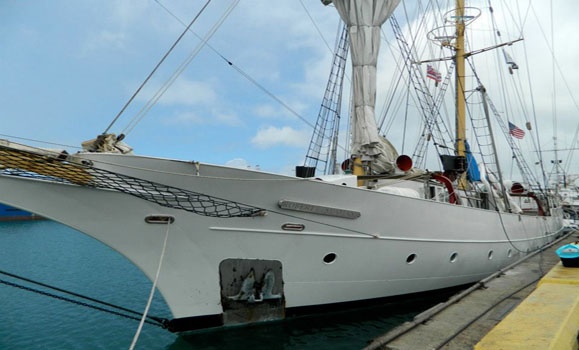 Sailing onboard a tall ship isn't new to Dalhousie's Faculty of Science. For alumna and Masters student, Jessica Gould (BSc '14, Marine Biology, Oceanography) she's had the opportunity to sail many times, even onboard a tall ship.
In 2012, Jessica received the opportunity of a lifetime to do a two-month study with the SEA Semester program onboard a 134-foot tall ship.

"I was looking at programs outside of Dal. I was looking to get out on the ocean because my background was in Marine Biology. No other program could provide this type of opportunity on a tall ship. I was able to take a university course and do something completely different," says Jessica.
Jessica sailed onboard the SSV Robert C. Seamans, one of two tall ship research vessels operated by Sea Education Association. The SEA Semester program is unique and provides training on land and sea.

"I spent one month on land and one month at sea. We sailed from Honolulu to San Francisco. It was pretty awesome but we didn't see land for entire month. It was totally new for someone who hasn't been at sea," says Jessica.
Prior to sailing, Jessica did one month of training on land. "On shore, we learned a technique, called celestial navigation or using the stars. We didn't use any modern navigation techniques," says Jessica.
Living on a tall ship is not all fun and games. "It's a lot of work to run a tall ship. It is very physically and mentally demanding. You're up at 5:00 a.m. and working a five-to-six hour shift," says Jessica.
The experience is definitely something I'd do again. "It was my first taste of open-ocean. It definitely got me thinking, this is what I love to do," says Jessica.

Over the past five years, Jessica's been on multiple sailing excursions. In May 2017, Jessica and her Master's supervisor, Markus Kienast spent three weeks on a German research vessel sailing from Australia to New Zealand. The majority of their research was spent in the Great Barrier Reef.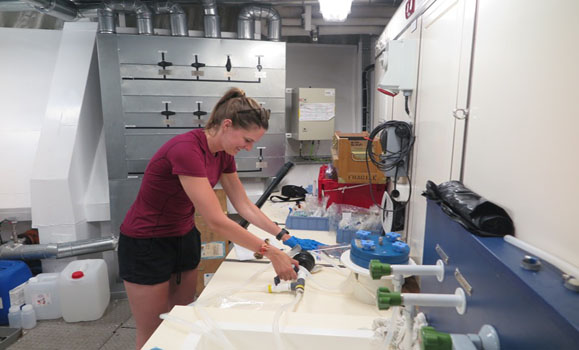 Jessica aboard the RV Sonne (German for Sun), a deep ocean research vessel in May 2017 (Photo credit: Jessica Gould).
"It was an awesome experience. It was really cool because it was international. There were research groups from Canada, Germany, Japan and Australia. It was an opportunity to meet other scientists doing similar research," says Jessica.
" Anytime you're out at sea it's always a different culture. It always feels similar but it's just different."
The city of Halifax will welcome over 30 tall ships to the Halifax Harbour during the Tall Ships Festival from July 28 - August 1, 2017.