Dalhousie Science News
»
Go to news main
Space or the ocean? Debating the next frontier during Dal's 200th
Posted by
Matt Reeder
on June 21, 2017 in
All News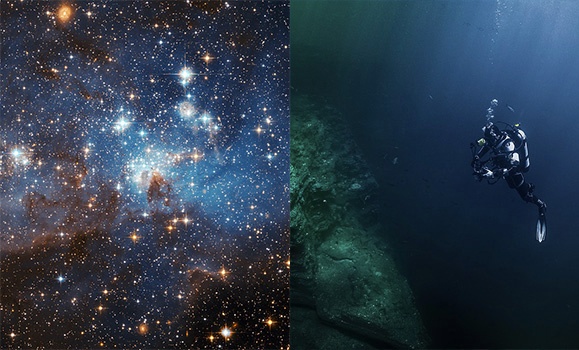 Editor's Note: Due to availability of panelists, as well as to make the event more accessible to students, the date of the Great Debate has moved to November 5, 2018. The story text below has been updated to reflect this.


This article is part of an ongoing series highlighting plans in the works for Dalhousie's 200th anniversary celebrations in 2018. For more features, visit our archives and learn more about Dal 200 at dal200.ca.

It's been said by many — including William Shatner and several other captains of Star Trek's U.S.S. Enterprise — that space is the final frontier.

But what about the other frontiers still ripe for exploration? In particular: what about the deep ocean?

"Oceans make up 70 per cent of the planet and yet we know less about the deep ocean than we do about the surface of the moon," says Chris Moore, dean of Dal's Faculty of Science.

Dalhousie researchers and alumni have made impressive contributions to exploring both sea and space over the university's 200-year history. But which frontier poses the greatest opportunities for science and discovery in Dal's third century — and beyond?

Next year, on November 5, Dal will bring some of the world's greatest minds in oceans science and space exploration to campus for a fun and engaging public debate inspired by the question: "What is the next frontier: space or the ocean?" Aimed at a general audience and experts alike, The Great Debate — an evening event to be hosted in the Rebecca Cohn Auditorium — will provide a canvas for a provocative and inspiring discussion.

It is one of several signature projects being planned as part of Dal's upcoming 200th anniversary celebrations in 2018. Other projects already announced include The Year of Belonging, the Dal Originals initiative and a visual history of Dal's first two centuries.
"It seemed like it hit a lot of the buttons for a signature event for this kind of celebration," says Dr. Moore, who took over leadership on the project from Dal's outgoing vice-president of research, Martha Crago.
Considering the future of discovery


Dal makes a natural backdrop for the panel given that the university serves as host to the Ocean Frontier Institute and has dozens of researchers across its various faculties engaged in ocean-related research. Home to the Research in Astrophysics and Cosmology group, the university also has extensive expertise in space-related research.

"As we do more work on the discovery of the nature of our own ocean, more and more fascinating things come to light," says Dr. Moore, "and so we just thought that juxtaposition of space and oceans was an interesting angle to try to get at two of those naturally compelling topics."

The panel will feature six world-renowned leaders in the fields (three for oceans, three for space) and a well-known, highly respected moderator. Names will be announced as the event draws closer.

The format for the event is still under discussion, but Dr. Moore says the intention is to make it as accessible to the general public as possible. Junior high and high school students will be encouraged to attend and the debate will be live-streamed online for those not in Halifax.

"We would like for this to be an event that engages the community," says Dr. Moore, "so it is going to be presented in a kind of way that anybody can take in and connect with."