Dalhousie Science News
»
Go to news main
Bringing it all back home
Posted by
Matt Semansky
on June 12, 2017 in
All News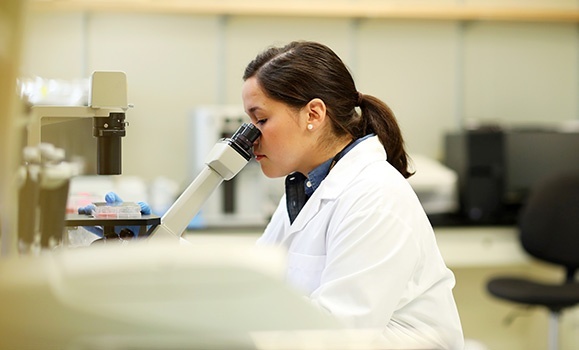 Karlee Johnson has come a long way from her home in the Eskasoni First Nation to study at Dalhousie. But she knows her future path, wherever else it may take her, leads back there.

Karlee is a third-year undergraduate student in Medical Sciences and a member of the first class in the program's history. Designed to prepare students to pursue careers in medicine, dentistry and other professions in the health care sector, Medical Sciences was a perfect fit for Karlee, whose goal is to become a family doctor in Eskasoni.

"The main reason I felt I wanted to come to Dalhousie was this program specifically," says Karlee. "I felt like it gave me a purpose for leaving my community.

"I felt like it was what I always wanted to do, so I should just go for it."

Setting sights on medicine studies

Growing up in a small community where she was familiar with most of the people around her gave Karlee self-confidence and a sense of pride. Being part of a Mi'kmaq immersion program through her pre-university education further connected her to her culture and its traditional language.

Around Grade 7 or 8, Karlee recalls, she became determined to improve her grades and set her sights on a career in medicine. At the same time, she noticed as she grew up that many of her fellow Mi'kmaq speakers in the community struggled to receive quality health care due to language barriers.

"I want to be there as a Mi'kmaq-speaking doctor. I know it's kind of difficult when a Mi'kmaq speaker goes to the doctor and they can't relay the information. I want to be able to break that barrier and make sure people are getting the proper care."

Culture shock

Karlee has taken several important steps toward that goal – even if the first step wasn't easy.

"Going from my community to Halifax was challenging in my first year," she says. "I experienced a culture shock."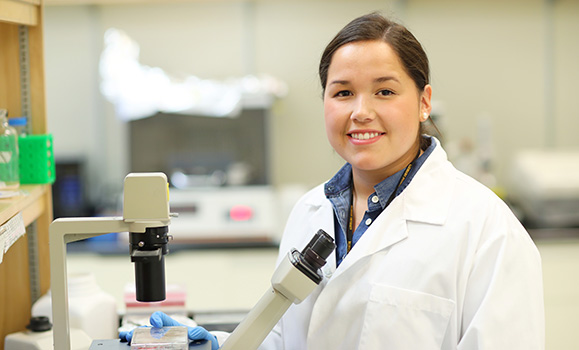 To balance her new life at university with her attachment to the community that raised and sustains her, Karlee frequently makes the four-hour trip home. And, from the beginning of her degree, she has successfully found opportunities to gain academic and practical experience in her hometown.

"The summer after first year, I went home and worked with (Nursing professor) Dr. Margot Latimer on research about Aboriginal children and pain. I was able to work from my community and I also travelled to different First Nations communities as part of that.

"After my second year, I worked as a Mi'kmaq camp coordinator in my community, and this is now my first summer staying in Halifax."

Finding mentors, seeking advice

Karlee is staying on campus this summer because of two more research opportunities. Having received a placement through the Summer Research Program, she is working in the lab of Dr. Elizabeth Cowley, a professor in the Department of Physiology and Biophysics, testing the protein Interleukin-22 and its effect on cystic fibrosis cells.

Dr. Cowley is one of a handful of mentors who have helped Karlee find success in and out of the classroom.

"Dr. Cowley taught my Physiology class in second year and I really enjoyed her style of teaching. She always made students feel confident about their studies," says Karlee. "I decided I would look for another class with her, and found her Advanced Respiratory class for my third year. Now I'm working in her lab on research."

In addition, Karlee will spend part of her summer helping School of Nursing professor Amy Bombay by collecting survey data for a research project on mental health in the Halifax region. In her fourth year, she'll be a mental health first responder for the Dalhousie Campus Response Team.

For her people & her community

Overall, Karlee says her studies and practical experiences through the Medical Sciences program have prepared her for the next step after she graduates next year.

"The program has allowed me to prepare myself for the MCAT, and if you wanted to go into Dentistry or Pharmacy, it prepares you for that, too. And it's made me want to pursue medicine even more."

Karlee is quick to note that she's motivated less by personal achievement than what her success could mean to the Eskasoni First Nation.

"Whatever I do is for my people. That's what Mi'kmaq culture is all about – we all help one another," says Karlee, who has been featured in media outlets such as the CBC and the Cape Breton Post as a speaker on issues that affect her community. "I want to show that there are positive role models in our community that are willing to make a change.

"One of my greatest challenges transitioning from my First Nation reserve was being told numerous times that university was too difficult for any Indigenous person to become successful. It was not until I realized the growing amount of representation of Indigenous leaders who have become educated and are very successful in today's society that inspired me that it was indeed possible.

"So for any Indigenous student interested in furthering their education after high school, I just want them to know that it's possible and they can do it too."