Dalhousie Science News
»
Go to news main
Lots to learn from playing in the mud
Posted by
Patti Lewis
on June 7, 2017 in
All News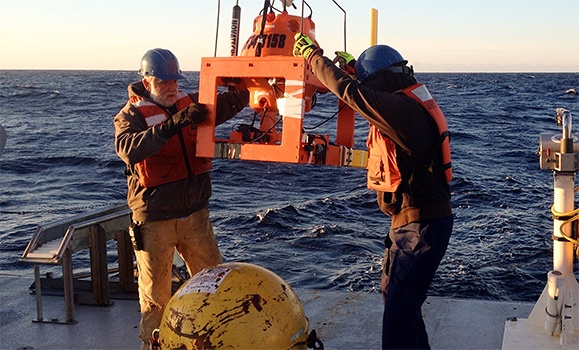 Research laboratories usually conjure up visions of pristine environments: bleach-white lab coats, sterile tongs and thermometers, spotless glass beakers.

But not David Barclay's lab. He recently participated in a fact-finding mission south of Martha's Vineyard in a very murky part of the Atlantic Ocean known as the "mud patch."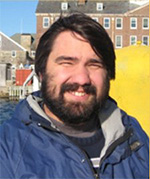 Dr. Barclay (left), an assistant professor in Dal's Department of Oceanography, was examining how sound moves through shallow water overlaying a thick muddy seabed. The U.S. Office of Naval Research, which sponsored the research work, wants to better understand how to conduct surveillance when the water is less than crystal clear. That's because advancing long-range acoustics in muddy water is an important aspect of defense, search and rescue. And the Martha's Vineyard location was ideal, providing mud that was ten metres thick for his research.

"Mud is a complex medium and we need a better understanding of how the particles are organized and react to sound if we're to advance information gathering and marine safety," said Dr. Barclay, Canada Research Chair in Ocean Technology Systems.

Deep acoustics

In addition to studying how sound waves move in shallow muddy water, Dr. Barclay is also examining acoustics in the Mariana Trench, the deepest part of the ocean. This work has led him to design autonomous underwater vehicles that can withstand the extreme water pressure that occurs at these depths.

Dr. Barclay is applying his acoustical expertise to two modules being undertaken by the Ocean Frontier Institute — safe navigation and environmental protection, and strengthening ocean observations.

The Ocean Frontier Institute (OFI) is an historic partnership between Memorial University of Newfoundland, Dalhousie University and the University of Prince Edward Island. Established in the fall of 2016 through $220 million in funding from the Government of Canada and various private and public sector organizations, OFI supports multi-year research projects at the universities.