Dalhousie Science News
»
Go to news main
Grad profile: A diamond in Dalhousie
Posted by
Meaghan Bartlett
on June 2, 2017 in
All News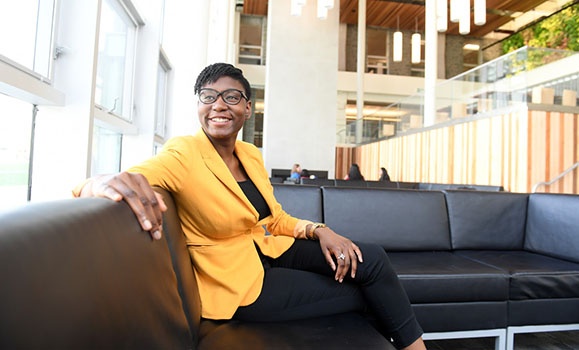 This article is part of a series on graduates of Spring Convocation 2017. Read more grad profiles or, to learn more about the ceremonies, visit the Convocation website.
A degree is more than a piece of paper — it's physical proof of a student's dedication, achieved goals and success. But in many cases a degree can symbolize perseverance.

This is especially true for Njillan Forbes, who on Friday this week receives her honours degree in Earth Sciences.

Njillan came to Dalhousie in 2012 from her home in The Gambia, a small country in West Africa. Her family members were enthusiastic supporters, encouraging her to attend Dalhousie. It was an exciting step. But suddenly she was alone in an unfamiliar city, with no community to call her own.

And then she received a painful, shocking phone call that changed her life. Forbes was told her mother — her biggest cheerleader — had passed away.

"It was a big struggle," recalls Njillan.

Being so far away from her family in mourning was devastating. But she knew her mother would want her to continue with her studies — after all, her mother was a firm believer in the power of education and ran a private junior high school back home. Njillan knew she had to finish what she started.

"I still had to focus on schoolwork," says Njillan. "Support was crucial at that time."

Njillan was awarded the Slaight Family Foundation Scholarship for African Students, which allowed her to complete her education at Dal when her family's financial support suffered following the tragedy.  

Growing up in The Gambia, Njillan was raised to value community. "I've seen the strength in that and I would like to carry it with me wherever I go," she says. With financial support now behind her again, finding a community to belong to became a priority in her grief.

A home-away-from-home

Originally accepted into Chemical Engineering at Dal, Njillan switched into Management during her first year and then found she missed the science she so enjoyed. A friend taking Geology told her about the Department of Earth Sciences, which piqued her interest. But she was missing a few science credits to head into second year of a Bachelor of Science program; she had some catching up to do.  

"I took one class over the summer, and if I did well, they would push me into second year Earth Sciences," says Njillan.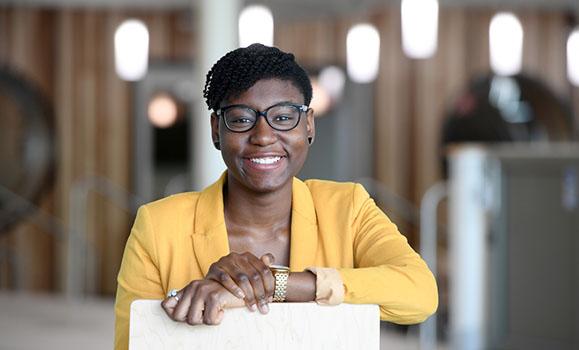 Once in, Njillan discovered her life-long fascination with diamonds could translate into a discipline called mineralogy — the study of mineral growth. To her surprise, Professor Yana Fedortchouk was conducting mineralogy research on the surface features of natural diamonds.

Njillan knew she wanted to be involved in this research and, if she was accepted to the Honours program, it would allow her to work in Dr. Fedortchouk's lab during her final year of study. But her grades weren't where they needed to be to meet eligibility requirements. She didn't back down when she learned she would need a certain GPA to be accepted, though.

"It was a goal," says Njillan, noting many late nights spent in the library. "I worked really hard to improve my GPA."

While she tells her story of overcoming grief and improving academically, Njillan is quick to recognize the relationships she gained at Dal. Receiving care and help from teaching assistants and professors and building new friendships with fellow students helped her find her home-away-from-home.

"My department is amazing," she says. "Not just academically by teaching me things, but by providing a sense of community."

Njillan's dedication and perseverance is matched by her compassion and desire to give back. She's passionate about serving her community, wherever that may be. She's currently volunteering weekly at St. George's YouthNet, an after-school program in Halifax's North End community.

The close of a chapter

Now, as she comes to the end of her undergraduate degree, Njillan reflects on her time at Dal.

"These four years have been so significant because it started this big change in my life," she says. "I didn't just get a degree. I became more confident."

Njillan has a few new goals now. While working towards permanent residency in Canada, she hopes to pursue an education degree with project management training down the road. She inherited her mother's school in The Gambia, and hopes to one day continue her mother's legacy of providing meaningful education to others.

Much like diamonds in a way, the pressures Forbes endured have transformed her — revealing a strength she didn't know she had and making her light shine even brighter.