Dalhousie Science News
»
Go to news main
Understanding the future productivity of the ocean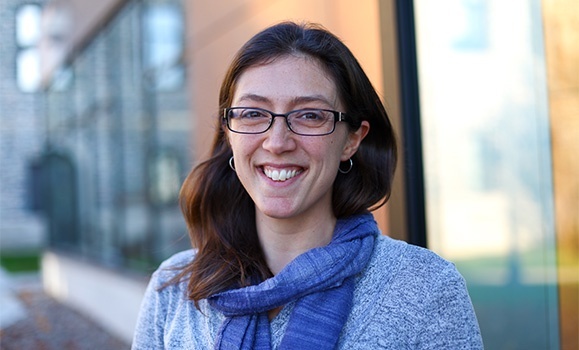 Located on the fifth floor of Dalhousie's Life Sciences Centre, Dr. Erin Bertrand's lab can be easily identified by its cheerful magenta coloured doors. A fitting choice, since it's the colour of vitamin B12, one of the molecules she is studying in the ocean.

Dr. Bertrand, who is an assistant professor in Dal's Department of Biology and Canada Research Chair (CRC) in Marine Microbial Proteomics, has been researching microbial oceanography for 14 years. She came to Dalhousie a year and a half ago from the Scripps Institution of Oceanography at the University of California, San Diego and the J. Craig Venter Institute in La Jolla, California. As part of her CRC, Dr. Bertrand was the recipient of funding in the spring of 2015 from the Canada Foundation for Innovation and the Nova Scotia Research and Innovation Trust.
"I knew I wanted to come back east and I was excited to hear about the big push behind ocean research here at Dalhousie," says Dr. Bertrand. "I fell in love with Halifax when I came to visit, so it was a pretty easy decision to move here when I was offered the job."
Contributing to ocean research excellence

On April 13, Dr. Bertrand was announced as the 2017 recipient of the Simons Foundation Early Career Investigator in Marine Microbial Ecology and Evolution Award. The purpose of the award is to help launch the career of outstanding investigators who use quantitative approaches to advance the understanding of marine microbial ecology and evolution.

Dr. Bertrand is "excited" to be receiving the award, which comes with a $540,000 USD research prize.

"I'm really grateful to have this vote of confidence and investment in the future work that I will do," she says. "It will allow me to employ more people to work on projects I am passionate about, and I'm really excited for what that means for ocean research at Dal. We're really building a lot of momentum here with new initiatives like the Ocean Frontier Institute, and it feels good to be able to contribute."

With the money she is receiving from the Simons Foundation, Dr. Bertrand will focus her research on understanding how the trend of warming temperatures is going to change the nutrient requirements of phytoplankton.

Rising temperatures, changing nutrient demand

Phytoplankton are microscopic organisms that grow on the surface of the ocean. They form the base of the food webs that support our fisheries and are a major factor in determining the relationship between the ocean and the amount of carbon in the atmosphere.

Three primary factors influence the growth of phytoplankton: temperature, light and nutrient availability. Requirements for nutrients, including micronutrients like vitamins, can vary in phytoplankton. The way those requirements vary is not always clear, and remains difficult to predict.

"Studying the nutritional requirements of phytoplankton is important because it helps us better understand where they are going to grow and how much of them are going to grow," says Bertrand. "We expect temperatures to change those requirements in some ways, but it's poorly studied and has left a question mark when we try to estimate what ocean productivity and photosynthesis is going to look like in the future."  

That's what makes this research is so critically important. Dr. Bertrand and others are seeing evidence that phytoplankton in some ecosystems are becoming smaller. Relative to larger phytoplankton, these smaller cells appear to get consumed and recycled more quickly instead of being passed up the food chain or sinking out of the surface ocean. This may have important implications for both marine food webs and ocean carbon storage.

"With higher temperatures, and a little bit more stratification of the ocean, it becomes a more favourable environment for small phytoplankton," she says. "That can have some pretty important consequences for global cycling, like how much carbon the ocean actually takes up compared to what's being put into the air through fossil fuel burning."

Understanding those consequences and their future importance requires us to gain a better sense of how temperature and micronutrient availability interactively influence phytoplankton growth.

Focus on the Scotian shelf

The main field site that Dr. Bertrand is focusing on is the Scotian Shelf. With the help of the Bedford Institute of Oceanography, she is able to collect samples from the Halifax area out past Brown's and Sable Island Bank.

"The samples we collect will allow us to look at the nutritional content of the plankton as they are growing in the ocean," she says. "By measuring the single cell concentrations of organic micronutrients, we hope to better understand what the future productivity on the Scotian Shelf might look like."

Coupling these measurements of Scotian Shelf samples with careful lab experiments, Dr. Bertrand's work will help create better models that predict where the hotspots for productivity are going to be, and where the sources of change are coming from.

"I've always looked at the world as extremely interconnected, and I want to better understand that, and be able to better articulate those interconnections," she says. "More broadly, what I like about my research field is that I can study how the demand for a rare, tiny nutrient can shape patterns for fisheries productivity and influence interactions between the ocean and atmospheric carbon."

More information about Dr. Bertrand's work can be found here.