Dalhousie Science News
»
Go to news main
Humble beginnings: how the Discovery Centre found a home in Halifax
In the 1970s, Gerhard Stroink — then a professor of physics — helped the Department of Physics (now Physics & Atmospheric Science) host open house days, where children and youth could come to Dalhousie's Sir James Dunn Building to participate in hands-on experiments and other interactive exhibits. The intention, says Dr. Stroink, was to inspire curiosity about how the world works, allowing youngsters to appreciate science in a meaningful and relatable way.
Sound familiar? That's because the very same idea helped build Halifax's Discovery Centre from the ground up.
"The initial Discovery Centre exhibits grew out of physics open house exhibits and lecture demonstration materials that I took around in the area," says Dr. Stroink when explaining how the idea of an interactive science centre in Halifax developed over time.
Dr. Stroink, now professor emeritus, was one of three co-founders of the Discovery Centre, which has become a staple of the Halifax community since it opened in 1990.
"In physics, demonstrations are very important. The open houses were busy. Completely full," says Dr. Stroink, acknowledging the public's appetite for a chance to learn about science in a fun way. "If it weren't for the physics department, we may not have had any exhibits in the earliest days [of the Discovery Centre]."
Many don't know that five years prior to the Discovery Centre's first opening at Scotia Square Mall in 1990, it actually operated as a travelling science show "out of the back of a van", where volunteer experts like Dr. Stroink brought hand-made exhibits to schools, malls and community fairs while other board members worked tirelessly to raise funds.
(Pictured above: Dr. Stroink showing his son Joachim a demonstration during a Dal open house in 1977, with wife Maartje and colleague Pierre Stevens.)


Supporting science in the community
 
Dr. Stroink wasn't the only Dalhousie professor drawn to the idea of creating a special place for science in Halifax. Mary Anne White, then new to Halifax and the Department of Chemistry, also became a "hands-on" board member in the 1980s. She too would bring science exhibits on the road, sharing wonder and curiosity with children and adults all over the province. Both Dr. White and Dr. Stroink were chairs of the Discovery Centre's Exhibit Advisory Committee over the years. Dal professors from the Faculty of Engineering and Faculty of Medicine were also involved with the centre.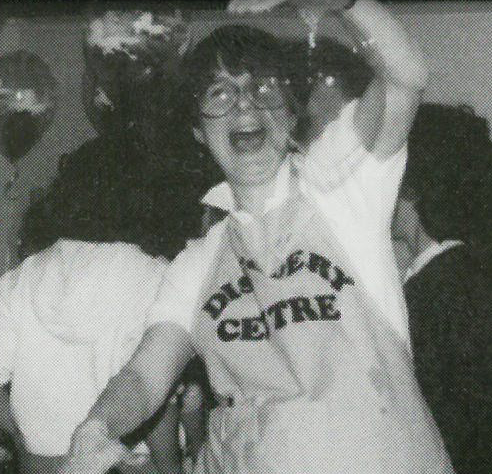 "Going to the Discovery Centre on a school day when it was on Barrington Street, when there were literally hundreds of school kids running past me to hang their coats up and start running around the centre, I just got this terrific feeling," recalls Dr. White, now Harry Shirreff Professor of Chemical Research (Emerita). "I realized that yes, the city needed this. People crave this."
From planning and building exhibits to donating funds and time, Dal professors, students and staff have been pillars of support over the years, helping contribute to what has since become one of the country's slickest science centres.
(Pictured above: Dr. White enjoying her time at the Discovery Centre.)


A new home and spectacular transformation
 
It's hard to imagine the Discovery Centre started in the back of a van all those years ago when you walk through the doors of its new home today.
"Our new facility is a wonderful place for people of all ages to share new journeys of curiosity, wonderment, and enlightenment through four floors of hands-on, experiential learning," says Dov Bercovici, president and CEO of the Discovery Centre.
Now located on the Halifax Waterfront, the new Discovery Centre celebrated its grand opening earlier in February, where it showcased an impressive collection of interactive exhibits that demonstrate STEAM subjects (science, technology, engineering, arts and math). And although subtle, older visitors strolling through the expansive new centre will recognize how the whole province rallied to prioritize its rejuvenation. From the IMP Aerospace Flight Gallery to the Michelin Innovation Lab, it's clear local industries share the Discovery Centre's mission to bring STEAM to life through fun, interactive learning experiences.
"It's a fantastic development," says Dr. Stroink, who spent many years of his life dedicated to the Discovery Centre's cause and researching successful science centres around the world. "I know how hard the current and past board of directors and Dov worked on this new centre."
Now, Dr. Stroink helps the Discovery Centre's Hall of Fame committee choose Nova Scotian inductees who've in the past and present made substantial impacts in their field, honouring the idea that a curiosity for science can lead to significant societal contributions.
Moving forward
 
Dal's commitment to the ever-important Discovery Centre continues today. Chris Moore, dean of science and professor in the Department of Psychology and Neuroscience sits on the current board of directors.
"With this new transition, the Discovery Centre has grown from a place for young children to play with science-themed activities to an exhibition that presents the latest in science, technology, and innovation to curious minds of all ages," says Dr. Moore. "Its innovation focus, cutting edge themes, and immersive dome experience will make it a destination for local community members as well visitors to our city.  It will serve as the first step on the path to a new and vibrant innovation culture in Nova Scotia."
Meanwhile, Dr. White is excited to introduce a new generation of her family and graduate students to the new Discovery Centre.
"I look forward to bringing my granddaughter here soon," says Dr. White. "And my research group will be doing an outing at the Discovery Centre in the spring."
With files and photos from the Discovery Centre, Dr. Stroink and Dr. White. 

Haven't made it to the new Discovery Centre yet?
Here's a sneak peek of what you can expect.