Dalhousie Science News
»
Go to news main
Nothing plain about the brain: Dal celebrates Brain Awareness Week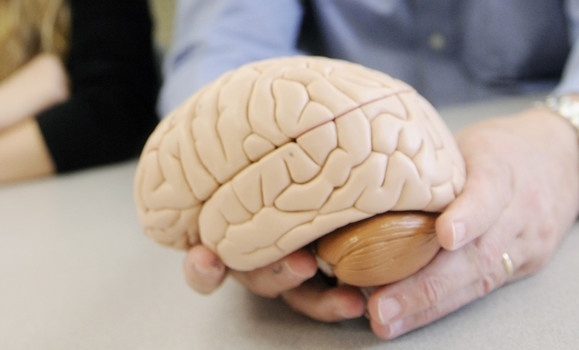 This is an excerpt. The full story appears on Dal News here.
When awake, the human brain produces enough energy to illuminate a light bulb. With that type of brainpower, its no wonder neuroscience has dedicated a full week to our body's most important organ.

Brain Awareness Week is a global campaign designed to increase public awareness of the progress and benefits of brain research. The event, happening this year from March 14-18, unites the efforts of various organizations to celebrate and educate people of all ages about the brain.

One of these organizations is the Halifax-based Brain Repair Centre. The centre is a partnership with researchers holding academic appointments at Dalhousie and clinical appointments at the QEII Health Sciences Centre and/or the IWK Health Centre. As a research institute, its mission is to discover and develop the tools to prevent, repair and potentially reverse damage in the brain and spinal cord.

This past Wednesday, the centre was proud to host its second-annual BRC Neuroscience Research Update at the new Collaborative Health Education Building.
Introducing the forum, dean of Dalhousie Medical School Dr. David Anderson said he hoped it would highlight some of the interesting research coming out of the institute. The event featured three Halifax-based researchers providing an overview of the current research being done by them and their colleagues.

The first presenter was Dr. Tara Perrot, professor and chair of the Department of Psychology & Neuroscience in the Faculty of Science. Her research focuses on stress: how stress is associated with behaviour, how to combat and manage stress, and how parents can help their children develop resilience through positive responses to stress. Her lab seeks to better understand what stress does to the brain, and how to mitigate these effects.
Read more about the event on Dal News.