Dalhousie Science News
»
Go to news main
Celebrating new Canada Research Chairs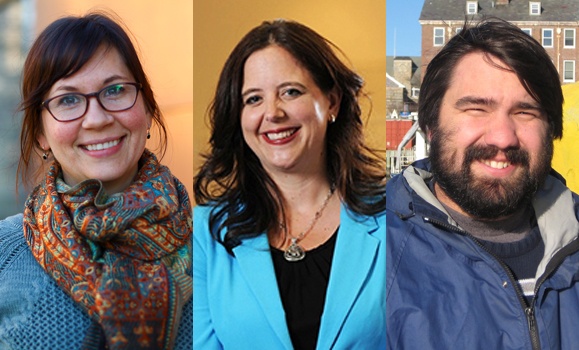 Yesterday, The Honourable Navdeep Bains, Canada's Minister of Innovation, Science and Economic Development, and The Honourable Scott Brison, President of the Treasury Board were at Dalhousie announcing the latest round of national funding for the Canada Research Chairs (CRCs) program. In this latest round, Dal is proud to celebrate six new CRCs.
Dal News coverage of the announcement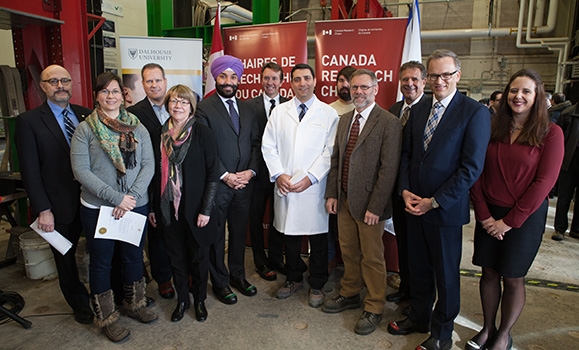 (Craig Buckley photo)
Within the Faculty of Science, Megan Bailey with the Marine Affairs Program, David Barclay with the Department of Oceanography and Christine Chambers with the Department of Psychology and Neuroscience were three of the six announced.
Megan Bailey, Canada Research Chair in Integrated Ocean and Coastal Governance (Tier II)

The tuna, halibut and salmon consumed all over the world pay no mind to international borders before they're caught. Shared fish stocks span the boundaries of nations and make up a third of the catch from oceans globally.
Ideally, countries should work together on sustainable seafood governance models that call for fair trade, conservation measures and well-managed seafood landing on consumers' plates all around the globe. The reality, though, is steeped in self-interest.
When the level of fisheries management cooperation between countries is examined, it depends almost entirely on one thing: the number of fish that can be caught legally.
Dr. Bailey believes that's why "self-interest always trumps the collective good." Through the lens of game theory in economics, this is a classic example of the prisoner's dilemma: every country doing what's right for themselves so the greater good takes a back seat. But as our climate changes, and with it the behaviour of fish, everyone must start thinking on a mutually beneficial global scale.
Dr. Bailey's research will focus on starting a dialogue that better recognizes the value of fisheries above and beyond the number of fish caught, like positive international relations and seafood processing employment opportunities for women in developing countries.
Further, she'll examine ways to facilitate more cooperation between countries and how private governance arrangements like certification and traceability can help push the sustainability agenda, especially in developing countries.
David Barclay, Canada Research Chair in Ocean Technology Systems (Tier II)
Mariana's Trench, the deepest part of the world ocean, is one of the most remote places on planet earth. In fact, its deepest zones are called hadal trenches — named after the Greek mythological king of the underworld himself, Hades.
These zones can be found anywhere from 6,000-11,000 metres below the ocean's surface. It's no simple task to study that kind of environment: light certainly doesn't reach that far and the pressure of the ocean above is 1000 times greater than what we experience on land at sea level. These challenging conditions call for an innovative approach to deep-water ocean engineering and technology.
Dr. Barclay designs autonomous underwater vehicles (AUVs) that withstand the incredible pressure in hadal zones like Mariana's Trench, the Tonga Trench and the Philippine Trench. Dr. Barclay's AUVs collect CDT (conductivity, salinity and temperature) data typical of most ocean profilers, but his are also listening.
As an acoustic oceanographer, Dr. Barclay designs technology that can record sound waves from the ocean's surface down to its deepest trenches.
Just as important however, will be his work to distinguish between noise—like the crashing of waves at the surface thousands of metres above—and auditory signals from marine life we may have yet to discover in the watery underworld.  The latter will make his technology an essential tool for researchers in marine biology and even naval defense and communications.
Christine Chambers, Canada Research Chair in Children's Pain (Tier I)
Poorly managed pain in children is a serious health problem resulting in unnecessary suffering with long term negative effects. Dr. Chambers (who is also a clinician at the IWK Health Centre) is conducting research that will improve the understanding, assessment and management of children's pain by studying the contributions of various developmental, psychological and social factors.
Pain, describes Chambers, is a "complex biological and psychological experience that is generally poorly understood by health professionals and the public."
Passionate about communicating scientific findings, Dr. Chambers' tireless efforts to get pain management information into the hands of parents don't go unnoticed. She's one of five Dal researchers who has completed a Mayday Pain & Society Fellowship—an initiative specifically supporting the communication and awareness building around pain research.
Most recently, Chambers and collaborators launched a Canada-wide social media campaign called It Doesn't Have to Hurt.
 "We know that it generally takes 17 years for research findings to change patient care," says Chambers. "Through the It Doesn't Have to Hurt initiative, we want to make a more immediate difference in the area of pediatric pain management—for the sake of parents and their kids."