Dalhousie Science News
»
Go to news main
Inspiring future scientists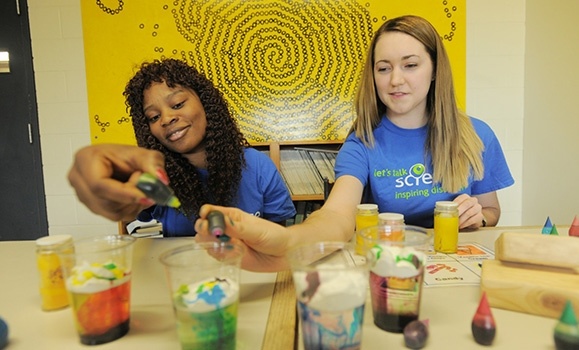 This story originally appeared on Dal News.

Dalhousie students Sandra Chukwu and Jordan Reynolds both developed an interest in science at a young age — really young.

Sandra, a fourth-year Math and Chemistry major from Nigeria, says she used to count things by herself as a toddler and became a bit of a whiz in math class at school. It likely didn't hurt that her father, an engineer, used to hammer home the importance of math and science to her almost daily.

Jordan, a third-year Biology student, remembers being four years old and collecting insects with her older sister to examine under a microscope their mother left kicking around the house. Her sister's interest in science continued to rub off on her as the years passed.

"We're five years apart, but I would always try to do her science homework, even when she was in high school and when she got into university," says Jordan, who is from Barrie, Ont. "I've always kind of looked up to her as a role model."
Forging connections

Since coming to Dal, both Jordan and Sandra have stepped up to be role models in their own way as volunteers with the university's local chapter of Let's Talk Science (LTS), headquartered in the Faculty of Science. LTS is a national outreach group that creates and delivers unique learning workshops that engage children, youth and educators in science, technology, engineering and mathematics (STEM).

Jordan and Sandra started out as volunteers with the Dal contingent and have since become co-coordinators of the local chapter, soliciting interest in the program from schoolteachers across Nova Scotia, recruiting volunteers in the Faculty of Science and helping plan some larger-scale events that bring students to Dal's Halifax and Truro campuses to learn.Volunteers help run hands-on workshops at schools and community centres across the province. One workshop called Feast for the Senses teaches children in kindergarten and first grade how animals use their senses to locate food, while another called The Sciences of Flight teaches kids in grades nine through 12 about how air travel works. Forensics, DNA, and weather are among the other topics covered in workshops.

Each year, the group hosts the Let's Talk Science challenge, a three-part quiz show/ingenuity test for children in grades six through eight. They've already signed up close to 100 kids (close to capacity) for this spring's event, which happens May 3 in the University Club hall.

This year, the group will also be hosting an ocean symposium for high school students that will include lectures from professors about oceanography, a tour of Dal's marine labs and even a squid dissection.
Getting engaged

Jordan says the key to engaging children in the activities is to get to the hands-on part right away. Giving a long introduction or rigidly sticking to a lesson plan tends to backfire, she says. Most important of all, though, is being enthusiastic.

"You have to be as enthused if not more enthused than they are," she says, explaining that she usually shows up to workshops in a lab coat. "When the kids walk in they get so excited. It's like there's a scientist in the room."

Given that many of the activities are based on using props and materials to illustrate topics, it usually doesn't take long for kids to get interested.

Sandra recalls the time a young girl got upset and started crying because she thought one of the props involved in an activity belonged to her mother. The child calmed down once her teacher came over, though, and as the activity got underway she started trying to open some of the bottles on the table.

"She was just very, very curious, which is something we look for in kids who are more science-inclined. I told the teacher, 'This girl's going to be a scientist one day,'" says Sandra, who hopes her own passion for science leads to medical school in the Caribbean after she graduates.

Every experience ends up being unique in its own way, but the underlying goal remains the same: To inspire more kids to take an interest in studying and potentially pursing a career in science or technology.

"That's what Dal really projected to me during my orientation week, so since then I've always carried that with me," says Jordan," who also carries a goal to work in animal conservation in Africa post-graduation.

"I guess when I am presenting that's what I want to do is inspire them."

Want to get involved as a volunteer with Let's Talk Science? Contact Jordan or Sandra at lts@dal.ca for more details.