Dalhousie Science News
»
Go to news main
Graduate students celebrate science communication with latest issue of Current Tides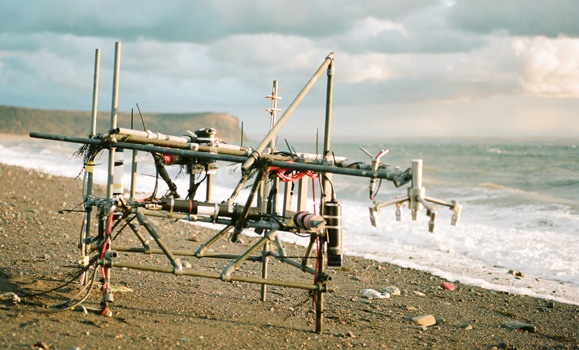 The second edition of Current Tides is hot off the press. The 36-page magazine, which was written and edited entirely by Dalhousie graduate students, showcases some of the ongoing research in the Department of Oceanography. The magazine comprises eight articles that summarize cutting-edge science from each of the four sub-disciplines of oceanography: geological, physical, chemical and biological.
"This isn't your typical peer reviewed scientific journal," explains Justine McMillan, a PhD student and this year's editor-in-chief of the magazine. "Instead, the articles are written in a style that emulates 'popular science' magazines like National Geographic."
The text is supported by plenty of vibrant illustrations and pictures that make the content accessible to a broad audience, ranging from high-school students to graduate students, and from the informed public to research scientists.
This year's edition of Current Tides contains articles on topics that range from the classification of whales using underwater microphones to the use of a remotely operated vehicle to study deep sea corals. The articles also describe several ways in which oceanographers collect data: by going on research cruises, SCUBA diving in zero degree water and conducting seemingly endless experiments in a lab. The most significant findings of major research projects are emphasized, however, fundamental scientific concepts are also explained, including the debunking of the myth that toilets flush in the opposite direction south of the equator.
While the primary objective of Current Tides is to make oceanographic research more accessible to a variety of readers, the production of the magazine also allows the authors to improve their communication skills. The ability to explain complex ideas to a broad audience of non-experts is crucial when trying to emphasize the importance of scientific findings.
The magazine could not have been produced without the expertise of graphic designer James Gaudet of Tandem Creative or the financial support provided by the Department of Oceanography, the Faculty of Graduate Studies, the Dalhousie Student Union and the Marine Environmental Observation Prediction and Response Network (MEOPAR).
A digital copy of Current Tides can be obtained by visiting currenttides.ocean.dal.ca. A hard copy can be acquired by contacting Justine McMillan (justine.mcmillan@dal.ca).