Dalhousie Science News
»
Go to news main
Chemistry's Mary Anne White named to the Order of Canada
Posted by
The Faculty of Science via Dal News
on January 8, 2016 in
All News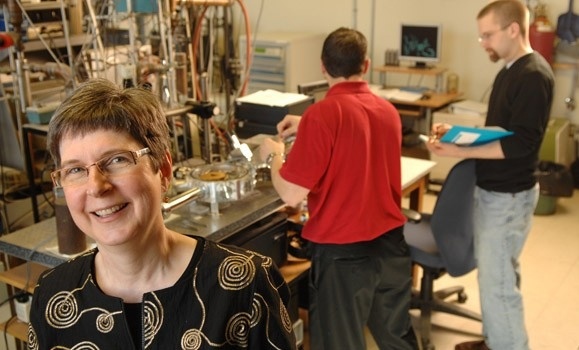 This story appears in full on Dal News.
Mary Anne White, professor in the Department of Chemistry, was part of the latest set of appointments to the Order of Canada—among the highest civilian honours for merit in the country.
Invitations into the order — as a member, officer, or companion — are made by the Governor General based on recommendations from an advisory council that considers submissions from members of the public.
Dr. White, who joined Dal from the University of Waterloo in 1983, is perhaps most widely known for her dedication to making scientific knowledge more accessible to the general public through various outreach efforts — one of the contributions cited by the Governor General for her appointment as an officer of the order.

"I just feel that science is so interesting and a lot of people have an interest in science, so we should talk about it more to the public," says Dr. White, who spent 14 years as a regular guest on CBC's Maritime Noon radio show and continues to appear in print and on radio and TV shows to answer science questions.

Dr. White also contributed, together with retired Dal physics professor Gerhard Stroink, to helping start the Discovery Centre in Halifax and spent time in the 1990s as the coordinator for National Chemistry Week. In that role, she helped produced booklets for teachers about classroom science experiments that are still in wide use today.
 
Dr. White's contributions to the fields of chemistry and materials research are no less inspiring. As the Governor General's citation notes, she's made huge strides in helping advance the understanding of the thermal properties of materials. She says she's especially proud of her work in developing new materials that store energy well or that change colour with temperature, the latter being used in erasable printer toner products such as Toshiba's e-blue ink that erases when you heat it up.

Dr. White was also one of the founding members of DREAMS, an NSERC-funded Dal research group that explores the intersection of advanced materials, energy and sustainability.

"We've broken down the barriers between chemistry, physics and engineering when it comes to these subjects, and that's how I think the world really is," she says, noting that program will be wrapping up this spring once its funding ends, but will have a lasting legacy on graduate research and teaching at Dal.
In addition to Dr. White, Dalhousie's School of Social Work's professor emeritus Fred Wien was also appointed to the Order of Canada. Learn about Dr. Wien's impact and community work on Dal News.