Dalhousie Science News
»
Go to news main
Discovery Awards: Honouring Nova Scotian scientific achievements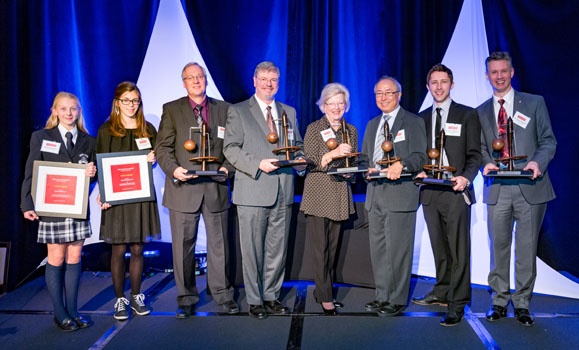 Congratulations to all the Dalhousie University researchers and alumni that took home Discovery Awards at last night's 13th Annual Discovery Awards Gala.
Hosted by Halifax's Discovery Centre every year, the Discovery Awards celebrate the brightest minds in Nova Scotia and honour them for their contribution to science, technology and innovation.

Axel Becke, Professor Emeritus with the Department of Chemistry, was inducted into the Discovery Centre's Science Hall of Fame. Dr. Becke's life work advancing a computational method called the "density-functional theory" (DFT) of electronic structure has landed him international recognition and Canada's top science honour: the 2015 $1-million Gerhard Herzberg Canada Gold Medal for Science and Engineering. Becke's DFT research has been cited over 100,000 times—the theory being used in the development of countless every day products, from toothbrushes to iPhones.

Upon receiving his Science Hall of Fame honour, Dr. Becke took his time with the audience to share the importance of theoretical science in today's fast paced, application motivated scientific community.

"I've never worked on applications. I'm a quantum theorist, working with ideas and mathematical formulas," said Dr. Becke. "Yet, thousands or perhaps tens of thousands of other researchers and engineers are using DFT methods in their applications. Such is the power of basic, discovery research."
Nick Nickerson, a Dalhousie Earth Sciences alumnus (PhD '14), was awarded Emerging Professional at last night's gala. Dr. Nickerson is the Chief Scientist for Dartmouth-based green technology company Eosense. Equipment designed and built at the company under Dr. Nickerson's leadership is being used world-wide to monitor greenhouse gases and ground source leak detection on oil and gas sites. Dr. Nickerson's PhD was awarded Best Thesis of 2014 for the Faculty of Science, in large part due to the research he conducted both at Dal and in the St. Francis Xavier University's Flux Lab.
"I really appreciate what the Discovery Centre is doing, trying to retain local talent in Nova Scotia and awarding people for staying in Nova Scotia," said Dr. Nickerson as he accepted his award.