Dalhousie Science News
»
Go to news main
"All aboard": Open Ship attendees get an up close look at research at sea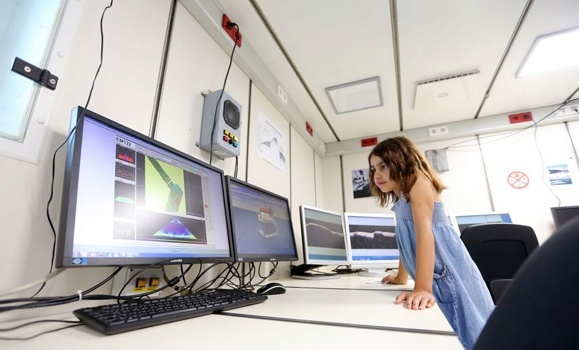 For the last decade, the Maria S. Merian (MSM) has been making ripples in oceans around the globe. Late last month, Halifax welcomed one of the world's most efficient seagoing research platforms to Pier 24 for a port call, and the opportunity for a first-hand glimpse at how ocean research is done in the Labrador Sea.

The Open Ship event on August 22 was hosted by the captain and crew of the MSM. The visit was sparked by the strong relationships that Dalhousie University researchers have been building with German colleagues. Theses relationships have grown stronger since German Chancellor Angela Merkel came to Dalhousie in 2012 and the Canada-Germany partnership in ocean science gained momentum.
Dalhousie's Faculty of Science researchers and students are participating in MSM research cruises. Members of Dr. Doug Wallace's CERC.Ocean team and Dr. Stephanie Kienast are aboard the MSM now on its 46th research expedition, while Dr. Markus Kienast and students Stefanie Mellon and Irena Schulten were on the previous one (research expedition 45).

Read the full story and view photos on Dal News.