Dalhousie Science in the News
»
Go to news main
Dal Ocean researchers track North Atlantic right whales by following their food
Posted by
The Canadian Press
on July 20, 2015 in
All News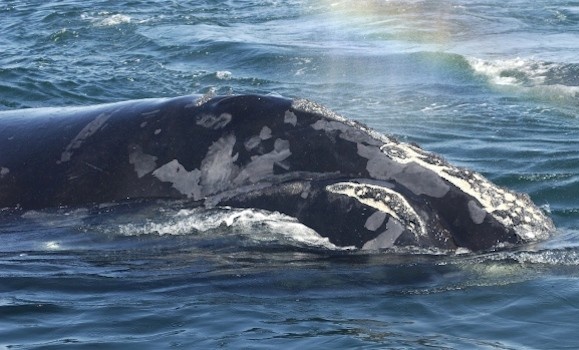 Dalhousie researchers are trying to uncover why Atlantic Right Whales are following the wrong path and heading into unprotected waters.
The whales haven't been returning to their usual feeding grounds located in the Roseway Basin—an area with guidelines in place that limit the size of ships that can enter. If the whales are now feeding outside of the Basin, they're at a greater risk of being injured by large ships or becoming tangled in fishing nets.
Partially funded by the Marine Environmental Observation Prediction and Response Network (MEOPAR), the Whale Habitat Listening Experiment (WHaLE) — which includes Dal researchers Dr. Kimberley Davies and professor Chris Taggart—is deploying gliders throughout the summer to listen for the elusive giants, locate zooplankton, and to profile their environment. This is all being done in hopes of better understanding their east coast migratory routes.
"Once we identify new habitats, we can use this information to help protect future generations of North Atlantic right whales," tells Davies.
To save energy, Atlantic Right whales follow large schools of rice-sized plankton called copepods so they can get more food with each dive. It's believed that the whales are following the copepods out of the protected areas into dangerous waters. Davies hopes that tracking the copeopds will allow the team to determine which waters need marine protection to lower vessel-strike threats to the whales.
"If we find other critical habitat areas, then we'll start looking at the human activities in them and see what we need to do to keep giving these whales a little more of an edge," Explained Davies. 
Read more on CBC News